Art
Art reviews and listings for London's best museum exhibitions and art galleries
Must-see art exhibitions in London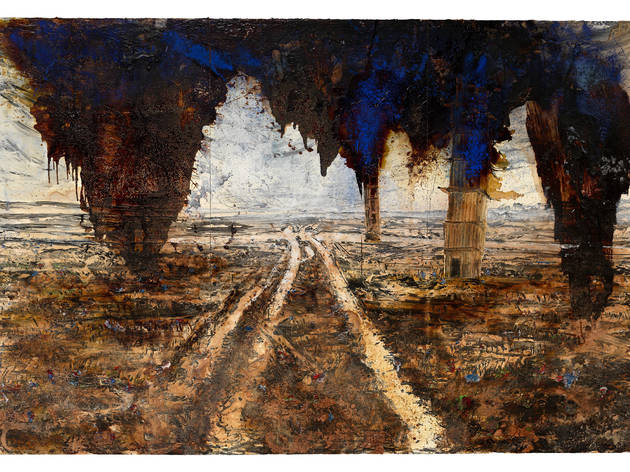 Anselm Kiefer: Walhalla
Wagner. Hitler. Kiefer. If you want to join the club of six-letter, ends in '-er', mythology-obsessed, visionary-crackpot creator-destroyers you've got to think big. Really big. I'm not saying Kiefer is like those two anti-Semitic, delusional, megalomaniac pricks, just that his response to their legacy has always been to adopt their weapons: size, volume,  density, humourlessness, repetition. His work is epic and totalitarian, forged out of industrial materials in art factories. And his latest show is quite something.  If you've had the lead nicked off your porch recently, there's a good chance it's down at White Cube. Kiefer's trademark material is everywhere: lining the walls, forming scrolls on which photographs are printed, splashed in huge eruptive gobs across giant canvases of ruined landscapes. The show is called 'Walhalla', the legendary afterlife of heroes slain in battle. Obviously Valhalla is mostly familiar to people through the 'Ring Cycle', and you get the sense that Kiefer isn't wholly sold on Wagner's take on Norse mythology, which so appealed to the Nazis.  First up is a dimly lit corridor of lead hospital beds. It's horrible: grey and dead. It speaks of the Holocaust. Of field hospitals and desperation. Of abandonment and flight. A machine gun pokes out of one bed like a skeletal leg. In another room, a bed is crushed beneath an enormous lead boulder, as lead wings droop either side. Another bed has the stalks of lead sunflowers poking out of it. A lead sh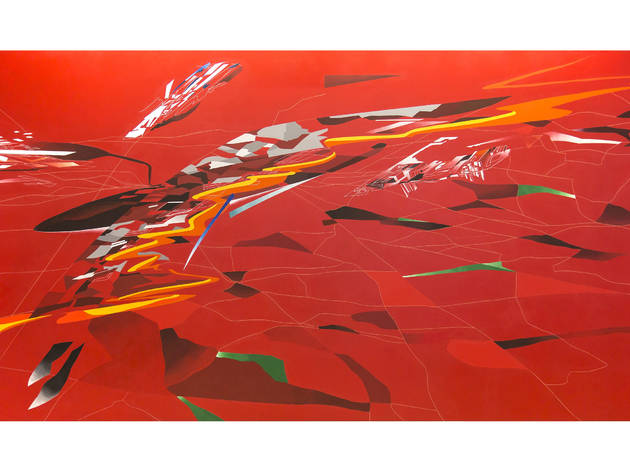 Zaha Hadid
Being an architect must be so frustrating. At every turn, your artistic vision gets constrained by town planners, clients and engineers. Even the laws of physics stop you in your tracks. Visionary architectural nutcase Zaha Hadid, who died in March 2016 at 65, must have felt that frustration more than most.
Robert Rauschenberg
If there are no original ideas left in art, it's probably because Robert Rauschenberg had them all. Over the course of his 60-year career (he died in 2008 aged 82), he reinvented, reused, recycled and revolutionised himself so many times that walking around this retrospective feels like stumbling through a textbook on twentieth-century art history.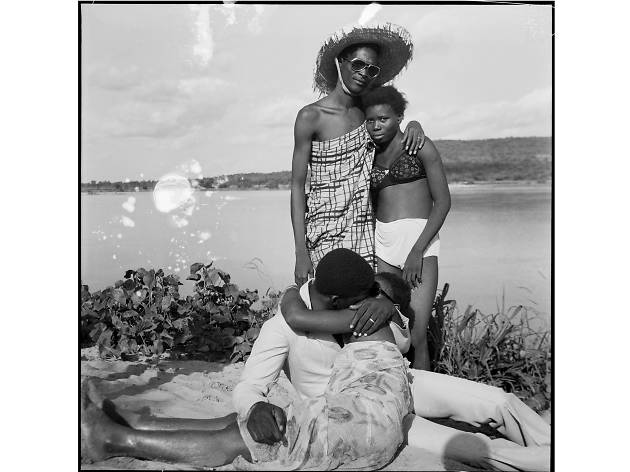 Malick Sidibé
Mali got its independence from France in 1960, and immediately became in thrall to a different kind of colonialism: a cultural one of rock 'n' roll, motorbikes and jeans. At a time when the West was fretting about whether photography was even an art form, Malick Sidibé was taking pictures of young people in Bamako which contain all the issues in that debate: authenticity, imitation, control of the image. Not because he was a theorist, but because all of those issues were also central to the newly emerging country. We see teenagers doing the twist, showing off their record collections, rocking drainpipes, then flares, then pimp suits. Friends relax by a river: everyone is young and carefree. But there are questions in these images too. The chronology is sometimes faulty: in a photo dated 1964, a girl holds a James Brown album released in 1968; an androgynous teenager poses in giant bellbottoms and oversized sunnies: it's dated 1963, but must be a decade later. It's like Sidibé's memory played him false, or maybe that these people simply exist in their own parallel universe where there's always a party and pretty boys and girls to dance with. With a brilliant soundtrack curated by Rita Ray, this show envelopes the watcher and makes you wonder what hardships lie outside the frame, what kind of future these kids found in the '80s, the '90s, the 2000s. They must be old, or dead. For now, though, and for ever, they are all intensely, radiantly alive. 
Making Nature: How we See Animals
Mental asylums. Mind-altering drugs. Dirt. The Wellcome Collection has carved out a rep for delivering exhibitions that are outlandish without ever being sensationalist. And while the premise of their latest show – the relationship between humans and animals – might not have the same WTF factor, it's still just as quirky and enthralling.  The first room kicks off with the Enlightenment-era craze for natural classification. On display is Swedish zoologist Carl Linnaeus's 'Systema Naturae' from 1735, which listed and filed the animal kingdom, humankind included (albeit as a kind of exception to the rule: this was pre-Darwin). So is Charles Bonnet's 'Scale of Natural Being' from 1783, a league table of best to worst in which humans, naturally, come out top. Older manuscripts show delightfully crap engravings of camel-like beasts the size of houses. Rooms two and three focus on our urge to observe and display animals. Maquettes of the Crystal Palace dinosaurs – the first ever models of an extinct species – show us a Victorian wonder of the big bad lizards that's never waned since. Dioramas of taxidermied foxes, intended to place them in their natural habitats, seem hopelessly twee and antiquated. Mind you, so do modernist architect Hugh Casson's early-'60s designs for a radical new type of elephant house. They might replace the painted fakery with concrete, but ultimate still treat the poor pachyderm as little more than a circus spectacle. These are historical curios, but the
See more recommended art exhibitions in London