Art
Art reviews and listings for London's best museum exhibitions and art galleries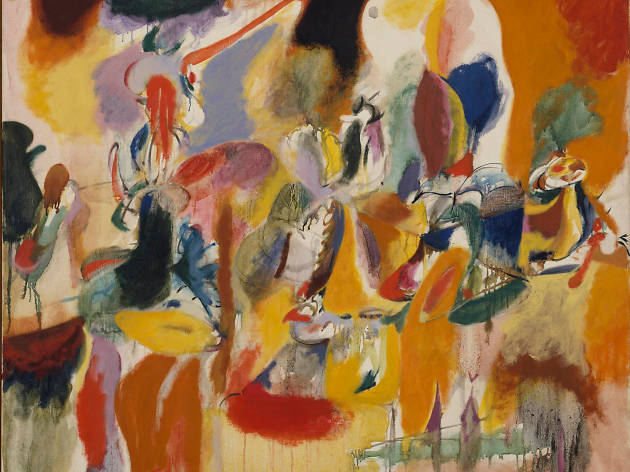 What the hell is abstract expressionism?
The RA is staging the first major abstract expressionism show in the UK for 60 years – here's six things you need to know
Read more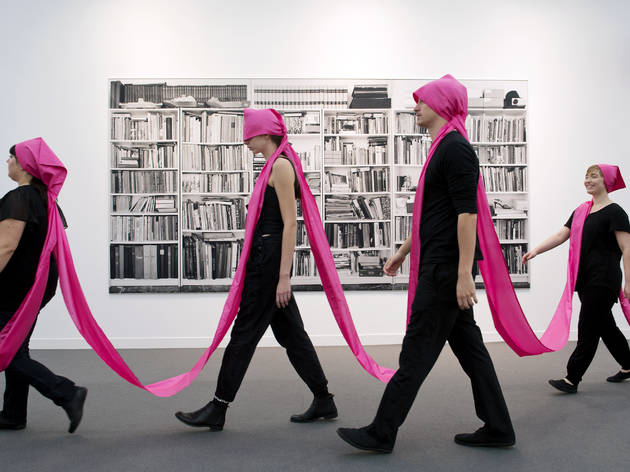 Your guide to Frieze London and Frieze Masters
The Frieze art fair phenomenon is a force to be reckoned with this October
Read more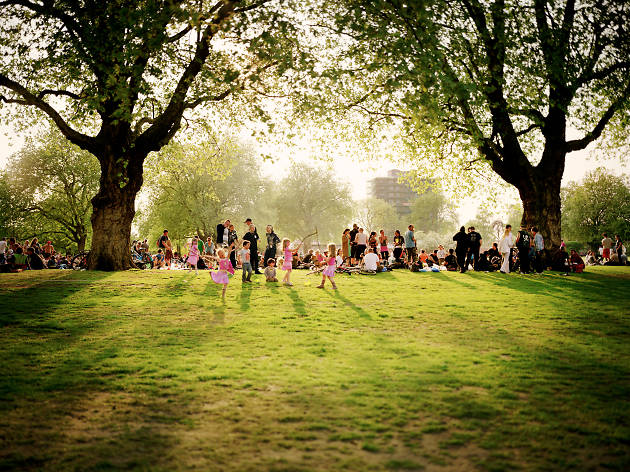 London art features
Your one-stop shop for a broader view of the London art world
Read more
50 best buildings in London
Churches, tower blocks and car parks – check out our unlikely list of London's top buildings
Read more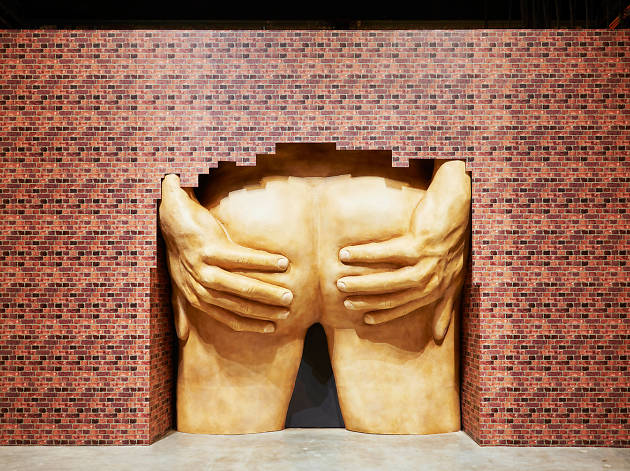 Awesome art coming to London this autumn
After a long summer break, here are five of the best exhibitions to look forward to
Read more
Must-see art exhibitions in London
The Infinite Mix
Video art is so fucking boring. Okay, not always. Some of it's great. Loads of it, even. But invariably, gallery shows of video art, especially group shows, involve countless hours of over-long, over-complicated, poorly shot nonsense in black and white, with loads of naked people reciting Baudelaire and rubbing ketchup into each other's boobs.
Read more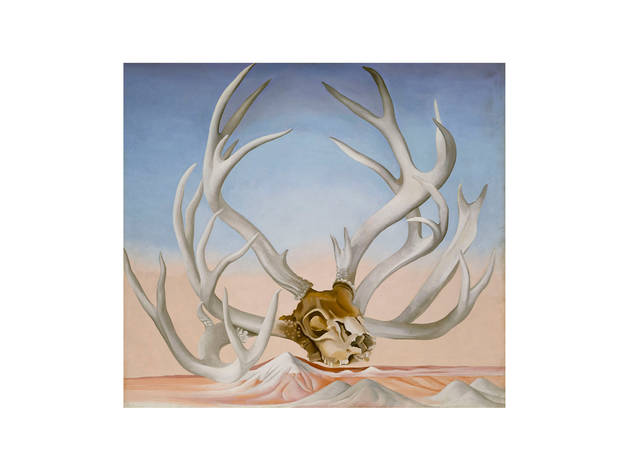 Georgia O'Keeffe
Forty-four million dollars is a lot of money. That's how much someone spent on a painting by the American artist Georgia O'Keeffe (1887-1986) in 2014. It set a record for a work of art by a woman. That last part there is important, because the most ever paid for a work of art by a man is around $300m. O'Keeffe doesn't even make the top 50, not even close.  In the art world, women are simply worth less. And not just financially. Throughout art history women have consistently been ignored. But modernism would be an entirely different beast without O'Keeffe. This retrospective is herfirst show in the UK in 20 years and, with none of her paintings displayed here in public galleries, it is depressingly overdue.  The show takes you from her early abstracts through to her landscapes of New Mexico, and she deserves every inch of space she's been given. The early works, all charcoal swoops and stark lines, ease you into her world. A neat appetiser for the explosion of colour that follows in her early paintings, filled with twisting shapes, hooded curves and plunging lines in bold, contrasting watercolour. Then there are her flower paintings, including that $44.4m masterpiece, before you're shoved head first into the desert of New Mexico, which she painted obsessively. You're going to look at some of these and think: Hold on, that looks an awful lot like a vagina (see our blog about that here). It's an idea she repeatedly rejected. But if you're looking for vaginas, you'll also find
Read more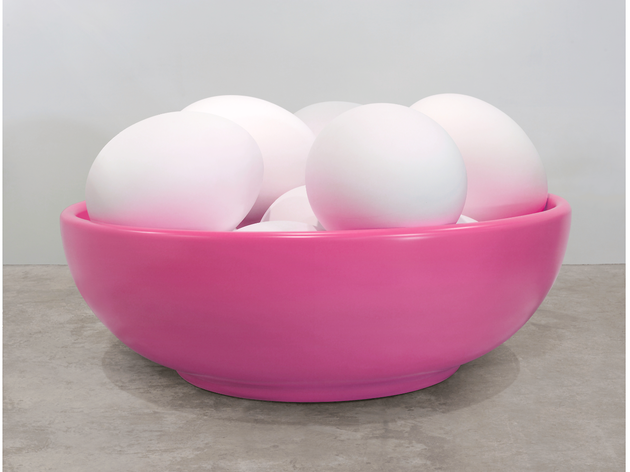 Jeff Koons: Now
Jeff Koons is why people loathe modern art. According to the haters, the American superstar is a cynical artistic oligarch, using shock and pop culture to make his pile: he made porn-art, he ripped off comic books, he did balloon sculptures – and he's become one of the most expensive living artists in the process. So it's no surprise that Damien Hirst has a massive collection of Koons originals, which he is displaying here in his fancy gallery. Hirst and Koons, a match made in hell. But the thing is, that view of Koons as megalomaniacal art moneylord, it's fun, but it's wrong. Dig beneath the glitzy surface, and there's an actual human heart in there somewhere. This show pulls together works from throughout Koons's career. It's not quite a proper retrospective, but it's near enough. It starts with his early Hoover readymades and ad paintings before moving on to the big stuff: a giant balloon monkey, some soft-focus porn, a giant bowl of eggs, basketballs suspended in water, framed Nike posters, inflatable lobsters and a huge pile of Play-Doh. It's what you expect from Koons: big, bold, glamorous and expensive-looking. But there's a fear in Koons's work, a deep insecurity. It's like he's trying to preserve everything for ever. He seals his readymades away, protecting them. He makes balloons and inflatables out of steel, he makes hardcore porn with his beautiful (ex-) wife, he preserves basketballs like scientific specimens. The inflatables are childhood made permanent in
Read more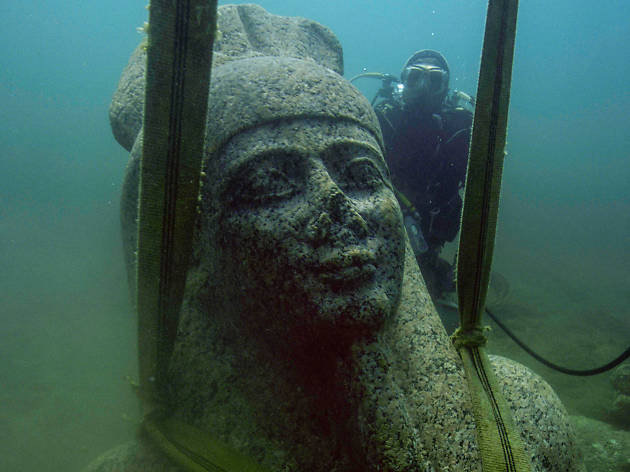 Sunken Cities: Egypt's Lost Worlds
Despite ancient texts being full of references to them, the Egyptian cities of Canopus and Thonis-Heracleion remained a lost mystery for years. It wasn't until the 1990s that an archaeological team discovered their remains – not on dry land, but a few miles off the coast, beneath the Mediterranean. This spectacular show is the first time these pieces from the drowned cities have been seen in the UK. The exhibition tells a pretty chirpy story of how, for many hundreds of years, the mouth of the Nile – where Canopus and Thonis-Heracleion once stood – was a major trading hub between Egypt and its Greek, and later Roman, neighbours across the sea. We think of these ancient empires being clear-cut and distinct, but in reality goods, art and even religions changed hands. So although the Greek settlers thought worshipping birds and cats was all a bit weird, they recognised the Egyptian deities as 'translations' of their own, and in Canopus they founded a temple to Serapis: a one-size-fits-all god who doubled as Osiris-Apis. Not everything on display here has been pulled from the depths: the museum has trawled its own collection and got some stunning loan pieces from Egyptian museums to flesh out the story. But it's the submerged stuff that's by far the most interesting, in turns exquisite (golden jewellery from the Ptolemaic era), surreal (a bronze ladle encrusted with barnacles) and monumental (20-foot statues of Greek monarchs dressed in pharaoh gear). The Indiana Jones-style e
Read more
David Hockney RA: 82 Portraits and One Still-Life
Imagine sitting perfectly still, locked on the spot, with an old man staring intensely at you, for three days. Sounds uncomfortable doesn't it? Like a horror movie, or Christmas at your parents'. That's the commitment you would have had to give the great David Hockney if you'd agreed to sit for one of the 82 portraits on show here. Then imagine the surprise when, after three days of your arse getting sore and feeling uncomfortable with this bloke eyeballing you, Hockney finally lets you see the finished work – the big reveal, tada! – and… it's a bit shit. Yeah, deflating.  Let's not mess about, Hockney is one of the best. He's a giant of twentieth-century art. His images are among the most iconic of his generation: you can't talk about modern painting without mentioning 'A Bigger Splash', or his contribution to pop art. Hockney, Francis Bacon and Lucian Freud: the holy trinity of modern British painting. And Hockney has continued to be a truly brilliant painter into the twenty-first century – his landscape show at the RA in 2012 was a total blockbuster, and his iPad drawings are great. But these, sadly, are not brilliant paintings.  Every one of them is, essentially, the same. They're all the same size, the sitter facing the same direction, painted against the same two-tone flat background. A couple of sitters only gave him two days, and one didn't show up (which explains the one still-life), but that's still well over 200 days that Hockney dedicated to one thing. It's a mo
Read more
See more recommended art exhibitions in London