The best London breweries
London's craft beer scene has grown at an astonishing rate, with a whole host of taprooms and brewery tours now open to the public. Here's our pick of the best London breweries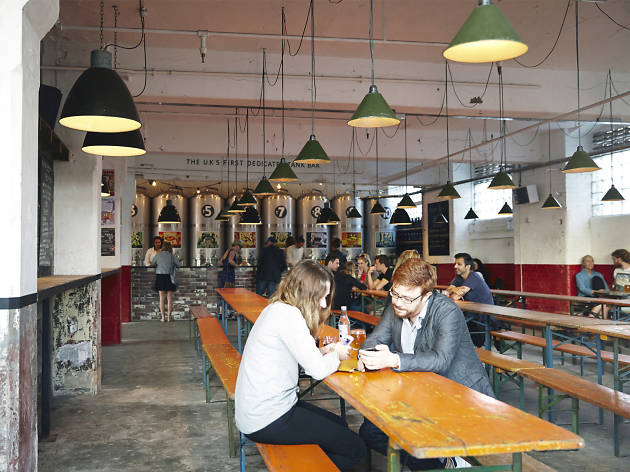 Sick of hitting the 'Spoons on a Friday night? Impress mates and dates by taking them to any one of these independent brewery taprooms, where London craft beers and house ales can be sampled in the comfort of the brewery or affiliated bar. After all, the best London breweries are surely the ones where you can sample straight from the source. Read on for our selection.
RECOMMENDED: Read our guide to the best craft beer in the UK
Breweries in north London
Barnet Brewery
Situated behind the Black Horse Pub in Barnet, house brewer Tim Longman keeps the taps flowing with a range of real ales.
Barnet Brewery, The Black Horse, Wood St, EN5 4BW. 020 8449 2230.
Mon-Sat noon-midnight. Sun noon-11pm.
From Thursday to Saturday, the brewery's taproom plays host to a variety of street food vendors along with beers such as the famous Camden Hells Lager.
Tue-Wed 2pm-9pm, Thur-Sat noon-11pm, Sun noon-9pm.
Read more
Specially matching their handcrafted beer to their food, the staff at The Bull pub in Highgate will always find something to your taste.
Sun-Thu noon-11.30pm Fri-Sat noon-midnight.
Read more
Breweries in east London
This unique venue created from scavenged material such as railway sleepers and bed springs features house beers and guest brews from around the world. Savour with a hand-rolled, made-to-order pizza.
Sun-Thu noon-11pm, Fri-Sat noon-midnight.
Read more
The first of its kind, this taproom serves its beer directly from the tank, as opposed to the more traditional cask or keg. It serves ten different beers, including the Howling Pils, as well as coffee, meats and sarnies.
Sun-Thu noon-11pm. Fri-Sat noon-midnight.
Read more
Inviting their favourite musicians and DJs along to complement the beer, these Bethnal Green brewers have turned their brewery into a destination.
Thu-Fri 6pm-12.30am, Sat noon-12.30am.
Read more
The Wild Card Brewery bar offers a range of bottled and cask beers as well as a selection of other, locally made alcoholic beverages.
Fri 5pm-Midnight, Sat 11am-Midnight, Sun 11am-10pm.
Read more
Breweries in south London
Breweries in west London
Through the back of the George and Dragon pub, the Dragonfly Brewery makes a range of seasonal cask ales.
Sun-Thu noon-11pm, Fri-Sat noon-midnight.
Read more
More than 200 years after a brewery originally opened on the site, the Ealing Park Tavern is now home to the Long Arm Brewing Company, which currently serves Red Ale, Pale Ale and an American IPA.
Mon-Wed 11am-11pm, Thu-Sat 11am-midnight, Sun 11am-10.30pm.
Book now
Read more
Find more craft beer in the capital
Craft beer – interesting, progressive beers made by small-scale breweries, and distinct from real ale – is often explosively hoppy and quite unlike traditional British beer. An increasing number of London bars and pubs are specialising in them. Here's our pick.
Read more