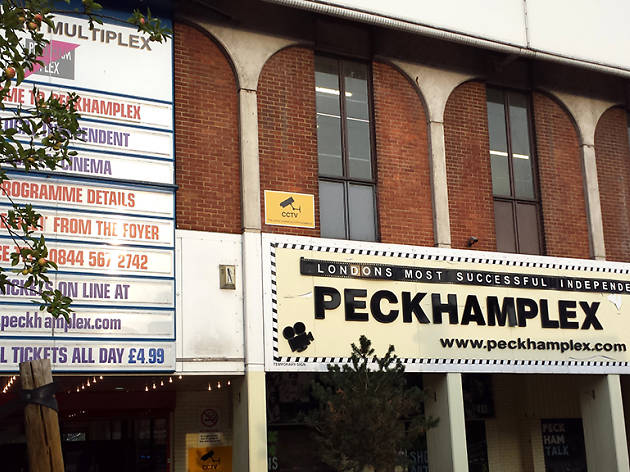 Few cinemas evoke quite as much misty-eyed fondness among South London film fans as the PeckhamPlex. It ain't fancy, and you'd struggle to describe the décor in entirely favourable terms, but this rough-around-the-edges Peckham institution, which recently celebrated its twentieth anniversary, has character and charm in spades. The only thing you really need to know about this place is that tickets are just £4.99 – or £5.99 if you want to see a film in 3D – all day, every day of the week. That's it: no nonsense, no frills, no faff. The programme focuses on the latest big releases as well as the odd smaller film, which you can read about on the cinema's delightfully gif-heavy blog.
Venue name:
PeckhamPlex
Contact:
Address:
95a Rye Lane
Peckham
London
SE15 4ST

Do you own this business?
Rating Breakdown
5 star:

19

4 star:

0

3 star:

0

2 star:

0

1 star:

0
I live in Peckham, I moved here back in 2014. Now the very first time I went to Peckhamplex cinema I got sexually harassed by one of the male ticket workers, he said some lame chat up line which was childish, I just wanted to see the movie, it ruined the entire movie for me. Now, Iv'e been to Peckhamplex many times after that & I have never seen that guy again, all the other ticket workers have been friendly & non-inappropriate, hopefully that guy was fired, I'm thankful that I never had to experience that again & I haven't let that person stop me from going to the cinema. The cinema itself is fantastic, great cheap price & the movie screen, surround sound, e.c.t is excellent.
It's really part of the community, PeckhamPlex, and that's what makes it interesting. It has a no-frills attitude but this makes it comfortable and more relaxing than your typical London cinema. Of course the prices help too, but it's just a good, nice place to be-it has a soul, much like the cinemas of old, which I think is quite uncommon for the flicks these days. They staff are lovely and they keep the adverts really snappy at the beginning of a screening which is a breath of fresh air, to be honest. It's the best cinema in London, without a doubt.
Nothing can beat the £5 tickets. The Q&A's are definitely worth keeping an eye on - every now and then you get to see some really interesting people discussing films/social issues/local matters.
Love this cinema! Super cheap, good quality and great films. Nothing compares to Peckham Plex
£5 for a film...what's not to like?
Geat price, friendly staff - say's what it does without the frills!
I love this place! The only cinema we can afford to go big screen as a family, and it has soul! I love the way it feels like the ramshackle, cosmopolitan, rag-tag, relaxed heart of the vivid peckham community.
Only sensibly priced cinema in London
I always tell my non Peckham based friends with so much pride that OUR cinema charges only a fiver for the ticket! We are very lucky to have it in the neighbourhood
Cinema ticket, snacks, and change from a tenner!. This is why we love the PeckhamPlex
The BEST independant cinema. Fair prices. Good screens and sounds. Varied programming. Did I say independent? 😀
Cheap and cheerful - who needs the West End
£4.99 any film, any time. A bloomin bargain. A kitsch classic. And did I say £4.99 a ticket!!!