Adam Buxton interview: 'A snooty stand-up purist could say that what I do is not proper live comedy'
As he prepares for his first major stand-up shows, the sushi-obsessed comic tears himself away from his laptop to talk about computer failures and naked audiences
By Sonya Barber Tue Sep 10 2013
Since his cult mid-'90s Channel 4 show with Joe Cornish, 'The Adam and Joe Show', Adam Buxton has flitted between radio, TV, films and even live work, hosting the BFI's regular music video showcase Bug. But now the beardier half of Adam and Joe is jumping into the deep end of live comedy, with tech-heavy solo 'stand-up' show 'Kernel Panic'.
On YouTube, Buxton has created some supremely silly music vids of his own – such as the remarkably catchy 'Sushi' song; a two-minute ode to eating raw fish (although the fish got its own back in our photoshoot). He's also funnied-up existing clips from 'Songs of Praise', 'Richard and Judy' and more. On stage, Dr Buckles (as he's known to some) doesn't stray far from his latop, showcasing new video creations, presenting ludicrous internet findings and reading the most ridiculous YouTube comments he can find.
Away from any online distractions, I chatted to Buxton on the sun-drenched roof of Time Out Towers about going solo.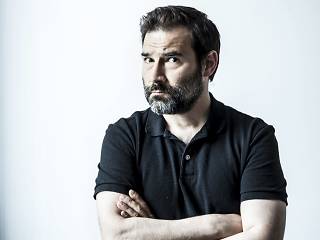 © Rob Greig
How have you found putting together a whole show of pure Buxton, with no music videos?
'It's a little bit nerve-wracking, to be honest, because you're suddenly in the position where it's you that people are coming to see. That's a bit uncomfortable, as I haven't been in that position for years. I get a break doing Bug where I just watch the video, sit down and relax. Whereas with this I have to concentrate for a whole hour.'
Is there a theme to your live show?
'Not really. It's vaguely based on my relationship with technology, whether it's my experience with comments online, reading criticism of my own stuff or just generally wasting a lot of time on the internet.'
So how many hours do you spend online?
'A lot. When I'm at my home, I'm in front of my computer for at least six hours, and all that time I'm online generally clicking away and distracting myself. You know how it is.'
Oh I do. The show relies heavily on your laptop. Are you prepared for any technical hitches?
'The short answer is no. That's why it's called 'Kernel Panic' – that's the technical term for a massive hard-drive failure. I live in fear of that, the more live stuff I do. It's happened once or twice at warm-up gigs, and the whole show just grinds to a halt. I ask if there's an IT person in the crowd, try not to cry and think, Fuck, what am I going to do now? I'm not from that background of just riffing, one-man-and-a-mic style.'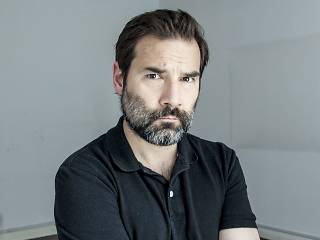 © Rob Greig
Do you not consider yourself a proper 'stand-up' since you started performing live?
'No, not really. In fact, I make a few jokes in the show along those lines because I really admire the craft of stand-up.'
So, there must be some stand-ups you particularly admire…
'I love Stewart Lee, Tony Law, Tim Key, Tom Basden and Joanna Neary. Years ago, Tony Law came to see me read out YouTube comments on stage and said, "Is that it? You just read out other people's comments?" He was teasing, but it did make me think, Shit, maybe that's not in keeping with the craft. But then, I've put in the hours, and all the comments are going through my comedic filter. Hopefully, I bring something more to it than just some bloke reading random comments. I think that's the area where a snooty stand-up purist could say that what I do is not proper live comedy. I suppose it's a hybrid. Or a lowbrid.'
Do people need to be familiar with Bug or Adam and Joe to appreciate the show?
'Oh no, I hope not. If there are any in-jokes, they will be lightly sprinkled. They won't be the backbone to the thing.'
Not too many 'Stevens' [a long-running in-joke from the Adam and Joe radio show], then…?
'I'm happy to respond to any Stevens that I get. It happens every now and again, but less and less. I think in the same way as I assume that the radio show is sort of over, the audience does as well…'
'I'm just hoping things go very wrong for Joe and we'll be able to get together again soon'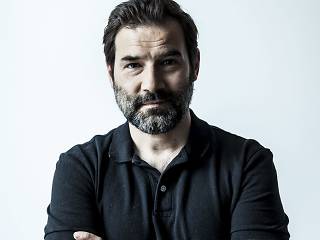 © Rob Greig
Is it really over? Would you be up for bringing it back?
'Oh God, yeah, always! Joe would as well, but it's a question of time. He had an opportunity to pursue a film career and when that became a realistic possibility, he had to grab it. Once things are going well in that world, it's hard to do it in tandem with anything else.'
You must get sick of being asked whether an Adam and Joe reunion is on the cards…
'Sometimes I think I should draw a line under it and say, "We're not going to do any more stuff together, so don't ask!" But then I think, Why not? It would be nice if we did. I'm just hoping things go very wrong for Joe and we'll be able to get together again soon. I feel very lucky where I am. I've got a very privileged place in the margins and it's really nice that I can do what I want and there's no real pressure on me. If I had one wish, it would be to do stuff with Joe more often – that's about it really. Other than that, I don't have anything to complain about.'
How would you describe 'Kernel Panic' to a complete Buxton newbie?
'It's like a stupid funny TED lecture. Brilliantly intelligent, funny, subversive, innovative, groundbreaking, ahead of its time, unmissable, life-altering etc.'
You're playing the Union Chapel, which Time Out readers voted their favourite music venue.
'Yes, it's really nice in there. I just like it when I know people are comfortable. It makes me more relaxed.'
Hmm, church pews aren't that comfortable… Perhaps you should give out cushions?
'If I could get everyone stoned, that would be the best show of my life. Give everyone cushions, get stoned, get naked. Now that would be perfect.'
The 'Adam' half of 'Adam & Joe' grabs his MacBook and workshops new tech-heavy material. Basically, Buxton + a laptop = brilliant buffoonery. This venue is tiny, so tickets will be snapped up super-quickly.
See all Adam Buxton tour dates
---
More from Adam Buxton
The 'Bug' host and internet whizz reveals some of his favourite clips on YouTube
The Norwich-based comedian tells us about his favourite London hangouts
---