Katherine Ryan's ultimate glam role models
The panel show regular talks us through her idols
By Ben Williams Tue Apr 15 2014
When Ontario-born comic Katherine Ryan moved to the UK in 2008 she hadn't heard of a 'glamour model'. 'We have girls who get their tits out in Canada,' she says, 'but we don't have a name for them. You guys put them in the jungle, in mainstream magazines and even on comedy panel shows! No wonder some people think women aren't funny when these humourless fluffbags are the reference point.'
After six years of living in our celeb-obsessed country, Ryan's latest stand-up show focuses on her fascination with the shady world of glamour modelling and her desire for celebrities with authentic, powerful voices. 'Like who?' we hear you ask? Here are Katherine Ryan's ultimate glam role models.
Grace Dent
© Chris Floyd
'A sharp, sexy, genuinely fall-down-funny lady with an absolutely massive dick for mealtimes. Grace Dent's most charming role is the Evening Standard's food critic. She masticates in public every night of the week, and does it with style. In her articles she often namechecks her dining companions, and that's what eating should be all about: nourishing your soul with friendship, conversation, laughter, food… and then de-nourishing it with vodka. It's all about balance.'
Leslie Mann
'You may have seen this comedy actress tearing up "Big Daddy", "This Is 40" and "Knocked Up". Leslie Mann happens to be a famous someone's wife [Judd Apatow's], but she's the furthest thing possible from a Wag. I don't know a thing about her personal life but I would trust her tomorrow with my home, my dogs and my full bikini wax. Having a laugh is the most meaningful thing in my whole world, and as such she is a goddess to me.'
Arianna Huffington
'This media mogul and founder of The Huffington Post is a bit too "yogi" for me, but I'll take it. I should probably start meditating myself, really – it might stop me screaming at the dogs just for licking themselves too loudly. Huffington sites her children as her top priority. In a recent interview she said, "If your family is okay, everything else sorts itself out." I believe that inner confidence comes from simplifying your life. Work, money, boys, boobs... I am so comforted by the knowledge that absolutely nothing matters. Especially not little old me.'
Michelle Williams
'After years of taking a backseat to Kelly and Beyoncé, the extra member of Destiny's Child finally took a stand on Twitter recently by gently slamming the trending hashtag #PoorMichelle, which featured pictures of her looking ostracised from the group. She tweeted, "#PoorMichelle – not what my accountant said. Y'all be blessed!" Amazing! She is talented, just not compared to Beyoncé. But who is talented next to Beyoncé? Michelle proves that you don't always need to come first to make an impact. Oh, and the shoes on her feet? She bought 'em.'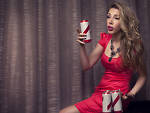 Biting Canadian stand-up Katherine Ryan finds humour in the things in life than make us bitter, and now she's bringing her brand new solo show, 'Glam Role Model', to the Soho Theatre. Ryan's had a phenomenally successful couple of years, popping up regularly on the telly, from 'Mock the Week' to 'QI', '8 Out of 10 Cats' to 'Live at the Apollo'. Her latest solo show explores the murky world of glamour modelling. She's quickly becoming a hugely popular comic.
See all Katherine Ryan tour dates
---
---