Just announced: the latest London gigs
Get 'em while they're hot: here's our weekly list of the capital's top tickets. Be sure to book now for the best live music in London
By Time Out editors Fri Oct 17 2014
Looking for live music in London? You've come to the right place. Day in, day out, we keep our eyes peeled and our ears to the ground for the latest gig announcements in the capital. Check out the newest shows to be anounced below, or if you're browsing for the best gigs month-by-month, see our ultimate London concert guide here.
This week's hottest ticket
With Oasis now a distant memory, Gallagher senior has well and truly taken flight with his High Flying Birds. As you might expect, there are lots of '60s-leaning, jangly pop and psychedelia-inspired moments to enjoy and sing along to, but with his sky-high avian bandmates Gallagher's voice – literally and in songwriting terms – is bolder and more direct than ever. With the announcement of a second HFB album, following on from their self-titled, UK chart-topping debut in 2011, it's a safe bet that this gig will be an opportunity for the band to showcase new material.
---
Gigs just announced
---
---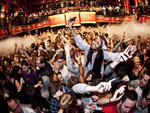 Check out our guide to gigs in London