Just announced: the latest London gigs
Get 'em while they're hot: here's our weekly list of the capital's top tickets. Be sure to book now for the best live music in London
By Time Out editors Fri Nov 28 2014
Looking for live music in London? You've come to the right place. Day in, day out, we keep our eyes peeled and our ears to the ground for the latest gig announcements in the capital. Check out the newest shows to be anounced below, or if you're browsing for the best gigs month-by-month, see our ultimate London concert guide here.
This week's hottest ticket
It's pronounced 'Kaiser', and it's the stage name of Canadian singer-songwriter Kiesa Rae Ellestad, a former navy codebreaker and Miss Universe Canada contestant who's now turned her hand to infectious house-pop. You've probably heard her debut single 'Hideaway' (a Number One here) – now catch her live as she continues to ascend that slippery slope to superstardom.
---
Gigs just announced
---
---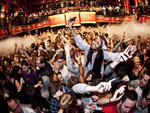 Check out our guide to gigs in London