Bonfire Night firework displays in London
Ooooh, ahhhh, wow... Admire London's biggest and best fireworks displays this Bonfire Night
By

Time Out London Things To Do
|
Gone are the days when Bonfire night meant twirling a few sparklers while watching a piddly display that lasts all of 30 seconds. Now fireworks come with dodgems, laser shows and banging tunes to boot. So wrap up snug and head to one of the capital's many bonfire displays to enjoy a high tech spectacle over London's top attractions and beyond.
When is Bonfire Night?
Remember, remember the fifth of November (the main firework action takes places on Monday November 5 2018, although events will run before and afterwards). Start planning your night of pyrotechnic fun using our listings below. Missing out this year? Don't get firework fomo, just make sure you're in the Capital in November for the Lord Mayor's Show and Fireworks.
What is Bonfire Night?
Bonfire Night a.k.a. Fireworks Night, a.k.a Guy Fawkes Night traditionally marks the anniversary of the end of the plot to blow up the Houses of Parliament in 1605.
Where is Bonfire Night?
Firework displays take place across the whole of London. Stay in your local area, or venture further afield, and pick a fireworks party that's sure to end with a bang.
*We'll be updating this page with events for Bonfire Night 2018 as they are announced.*
RECOMMENDED: The best things do do in London this November
Bonfire Night events in London 2018
Head to north London for a double-whammy of fireworks celebrating both Diwali and Guy Fawkes night. Part of this year's light show will be set to Hindi music while the rest of the pyrotechnics are set to pop music. So whether you're out to celebrate the Festival of Lights or just fancy belting out your fave chart-toppers, Harrow has you covered. Stalls, food traders, henna hand art and face painting should keep all ages entertained.
Sack off your neighbour's pants display and head to Gilwell Park for lasers, lights AND musical effects. If fireworks alone don't do it for you, active sorts can go rock climbing, tackle the high ropes or just join the rest of us in the dodgems. Plus, there will be a bar and catering vans to keep you fed and watered. Just don't show your neighbour the pics.
The Alexandra Palace Fireworks Festival is easily one of the biggest, baddest displays in town. In fact, it's so lofty, this year it's happening TWICE. As well as impressive fireworks exploding with a glittering panoramic view of London as its backdrop, there'll be plenty of street food and craft beer stalls.
See London's best fireworks in photos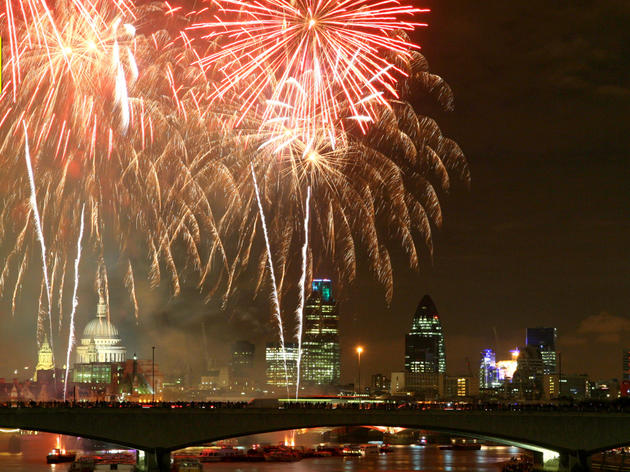 Bringing a bit of sparkle to the dull nights of winter is Bonfire Night (and New Year's Eve, let's not forget), when an array of glittering firework displays light up London's skies. But if standing out in the cold isn't your vibe, flick through our gallery of fireworks and enjoy the beauty of the occasion from the comfort of your seat.