Classical concerts in London
Looking for great classical music in the capital? Look no further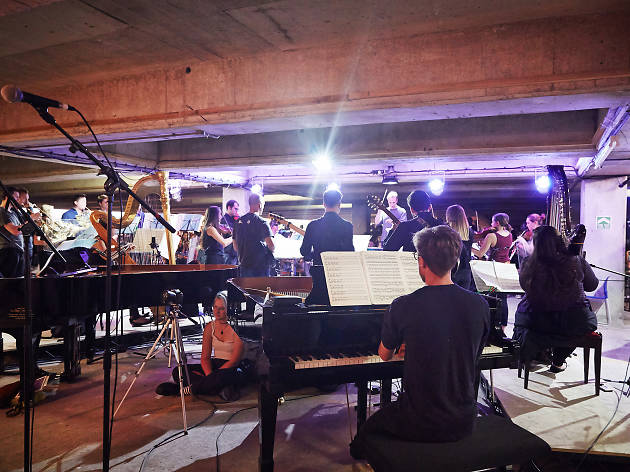 London is one of the world centres of classical music, and there's a staggering number of concerts, recitals, festivals and lunchtime services taking place in the capital every month. Our advice? Head to any of the shows recommended below and you'll be in for a treat.
The best classical concerts and opera in London
Cape Town's Isango Ensemble have returned to the Young Vic, where their Magic Flute was an Olivier Award-winning success in 2007, with another inspired operatic retelling. This time, rather than Mozart, they've chosen a timely true life refugee story.  When civil war ravaged Somalia in 1991, an eight year-old boy called Asad set out on an epic journey after his mother was shot in front of him. Travelling through five countries via various extended family members he eventually reached South Africa, where writer Jonny Steinberg met him and wrote down his story. It's a harrowing one, of course, but there is little time for sentimentality as Asad must learn to survive the hard knocks. From a gorgeous Marimba overture to a selection of moving arias, the production - which features music composed by Mandisi Dyantyis and the company - is beautiful to listen to. As with Magic Flute it fuses African choral and European classical to stunning effect, with dynamic choreography (by Lungelo Ngamlana) that makes full use of the expansive playing space.  The story of Asad, who is played by various members of the 24-strong company as he advances to manhood, is perhaps too linear in its arrangement. At times, particularly in the second act, the narrative gets bogged down as a result. But there are plenty of moments to savour, and welcome levity - particularly a neat recurring gag about Asad and his aunt dreaming of life in America, where 'there are no guns' and 'everyone is rich'. Asad's s
Read more
Nonclassical, the longest running and coolest regular classical club night in the UK, continues its Dalston pub residency. Co-run by scene-leading composer Gabriel Prokofiev, it regularly features the most adventurous contemporary musicians alongside resident DJs spinning a mixture of classical remixes and leftfield electronica.
Read more
In their 140th anniversary year, The Royal Choral Society presents their 134th annual performance of Handel's oratorio. With the Royal Philharmonic Orchestra and Senior Choir of the City of London School for Girls under Richard Cooke, and soloists Mary Bevan (soprano), Wendy Dawn Thompson (mezzo), Jamie MacDougal (tenor) and Derek Welton (bass).
Read more
Jordi Savall on lira, vielle and rebab, with Dimitri Psonis on santur, moresca and percussion, and Montserrat Figueras on voice and cithara. A journey through a range of Christian, Sephardic, Turkish, Arabo-Andalusian and Mediterranean music, exploring the musical diasporas of the Middle Ages.
Read more
More classical concerts and opera in London
The Chamber Ensemble in Residence performs Johann Strauss II's Kaiser-Walzer arranged by Arnold Schoenberg For Flute, Clarinet, String Quartet And Piano and Johannes Brahms's Piano Quartet No 1 In G Minor.
Read more
The quartet utilises Indian raga, traditional folk song, medieval plainchant and extended percussion techniques, performing pieces from their debut album This World Alone. With support from Quest Ensemble.
Read more
The trio play rarely performed pieces featuring Schumann's Piano Trio In D Minor, Richard Birchall's Contours and Brahms's Piano Trio In B.
Read more
Krzysztof Urbansk conducts the orchestra for a performance of works by Grieg and Mussorgsky. With pianist Nikolai Lugansky.
Read more
The tenor is accompanied by pianist Glynn, for the London premiere of Jeremy Sams's new translation of Franz Schubert's Die Schone Mullerin.
Read more
Internationally acclaimed Hungarian conductor Adam Fischer conducts the orchestra for Beethoven's Egmont Overture, Mozart's Symphony No 38 In D, Prague and Symphony No 41 In C, Jupiter.
Read more
Hear young musicians from across the UK performing together to exercise their right to arts and culture.
Read more
John Nelson conducts Berlioz's Le Corsaire Overture, Chen Gang and He Zhanhao's The Butterfly Lovers Violin Concerto, Saint-Saens's Introduction and Rondo Capriccioso plus Dvorak's Symphony No 9. The soloist is violinist Yi-Jia Susanne Hou.
Read more
American mezzo-soprano, Barton, makes her Wigmore Hall debut, accompanied by pianist, Baillieu, for pieces including Joaquin Turina's Homenaje A Lope De Vega, Johannes Brahms's Standchen No 1, Antonin Dvorak's Gypsy Songs, Charles Edward Ives's The Things Our Fathers Loved and Jean Sibelius's Svarta Rosor (Black Rose) No 1.
Read more
Show more