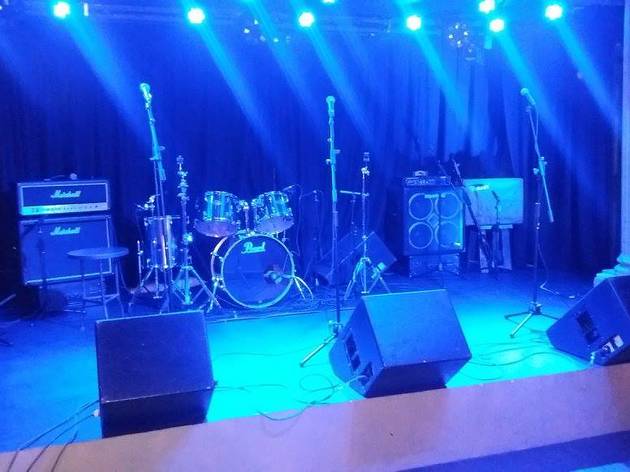 An impossibly small stage in a back room lends itself to the sort of intimate, ear-bleeding, crowd-surging nights for which Water Rats has become renowned. The down-at-heel indie boozer has a spectacularly varied booking policy that takes in rock, tech metal, cheery folk pop and everything in between.
More
Less
The Water Rats says
Live music venue. Oasis, Bob Dylan and Katy Perry are just a few of those that have passed through our doors. Recently, Marc Almond appeared to a packed and happy audience. Breakfast, lunch and dinner available. Real ale is on offer. We're close to King's Cross. Comedy and live bands well attended.
More
Less
Venue name:
The Water Rats
Contact:
Address:
328 Grays Inn Road
Kings Cross
London
WC1X 8BZ

Transport:
Tube: King's Cross
Do you own this business?
Average User Rating
4.6 / 5
Rating Breakdown
5 star:

13

4 star:

2

3 star:

0

2 star:

0

1 star:

1
Re-opened on the 29th October 2015. Live music venue and cafe bar located on the Grays Inn Road just 3 mins away from Kings Cross station. Now fully loaded with a D&B sound system and Yamaha TF5 digital desk with 32 channel recording capability. Full LED light rig controlled with a piano keyboard. Video projections and hazer. A series of music programmes has been filmed there by VintageTV over the last 6 months. Including The Zombies, Marc Almond and Toyah. They open for a full English at 8.30am. Food all day and Sunday roasts too. Champagne, Cocktails and a great cellar.
I have now had two amazing nights at The Water Rats in one month. Looking at the appalling reviews below it's plainly obvious that the pub and music room are under new management. The live space is awesome, with Orange sound system that is both loud and crisp. Simple lighting rig adds colour and atmosphere, but here (now) it's all about the artists. Last month I caught The Greasy Slicks - a young Blues Rock three-piece that show a lot of potential. This week I gave the venue a second visit and was truly astounded by the talent of Carrie Haber. This young singer songwriter delivers amazing vocals sat at her keyboard. A true rising star. Something tells me The Water Rats is back as one of London's top live music venues. Good to see !
Here's some footage I shot on the night.
https://www.youtube.com/watch?v=AWjOFdraB9Y

lovely food, nice chilled vibe,friendly staff and awesome drinks :) *****
This place is pure class and of historical significance...great atmosphere and hospitality!
Think you might have the wrong picture showing for this place, it is not red like that and the lights are very different, the stage puts you really in the show, you are so close to the performers, saw Marc Almond here recently, fab show, fab people, fab place - had two cocktails for price of one great place going back for Halloween
We had a work party at the Venue. They organised great food, drinks and music. The service was exemplary with friendly helpful staff. The venue is perfect for gigs and private parties with a separate function room with its own bar.
The Water Rats has had a total make over since October 2015 its been saved as a Live Music Venue, performances this year alone to name a few have included Toyah Wilcox, Marc Almond, The Zombies all filmed for Vintage TV, Live Entertainment is one most evenings, showcasing New and International Talent, Spoken Word, Theatre and Performing Arts - serves Draught Beers & Ales, Cocktails 2 for the price of 1 Mon - Fri 4.30pm till 7.30pm, Fine Wines & Spirits, Coffee & Teas, Breakfast, Brunch, Lunch and Dinner, free Wifi all within a 4 minute walk to Kings Cross Station and Eurostar - such a transformation! Brilliant!
BIG SMILEY FACE on the trudge back to the tube after every gig ever seen here.
Top PA system, Full backline, Large Stage, Amazing kitchen, Unbeatable transport links, Terrific staff, Fantastic bands. Check it out!!
Re-opened on the 29th October 2015
'The Water Rats' is a live music venue and cafe bar located on the Grays Inn Road just 3 mins away from Kings Cross station. Now fully loaded with a D&B sound system and Yamaha TF5 digital desk with 32 channel recording capability. Full LED light rig controlled with Showcad. Video projection and hazer too. Open for a full English at 8am. Food all day and Sunday roasts too. Champagne, Cocktails and Best Bitter available too. Bookings and cards are taken.
First time back and wasnt sure if Id come to the same place!! The bar is warmer, fresher and with a new lineup of drinks I think from last time? All looking and smelling very spruce but comfy, yet still very much a local. As for the music, its just totally changed. I had a wonderful evening last Thursday enjoying live music as Id never heard it before at The Water Rats, a mix of acoustic artists and band, with seating and standing to arranged to accommodate all, even little tea lights on the table. The headline artist, Carrie Haber was just astonishing, look out for her, outstanding. And a great entertaining indie rock band Axel Jansson had everyone swaying along and enjoying themselves. Highly recommended I loved it, will be checking back to book another date.
Great music bad pub. Made you pay to get in and shut early. Had 2 beers for my £8 entry then refused service at 10.30. Made it more than clear they weren't interested in any of the customers. Good music venues deserve better.
Great Venue, Great Music, Great Crowd. Monto Water Rats deserves a longer review because there are thousands of London establishments with "bar in the front, music in the back," yet few nail it as they do. They took the time to understand how to be better than everyone else at it. Music venue: create a venue that sounds great, and you're likely to draw bands that sound great too. This is how they generate a whole that's greater than the sum of the parts (often drawing bands that tend to play larger spaces). The sound, which can be tricky in a room that small, doesn't sound like it's banging against a garage door. The room is also as wide as it is deep, so it's generally easy to work your way horizontally to get a good view of the band on the stage. Bar: basically a cool square room. This is particularly clever, because anyone that has ever thrown a party knows that bodies avoid large open spaces and drift towards the comfort of narrow areas. It's wide enough to walk through, but skinny enough to avoid feeling awkward in any one spot. Also, the music doesn't blast into the bar area, so you can easily talk at the bar / fail at picking up a boy / girl, if you're so inclined. Water Rats had an unexpectedly friendly, neighborhood-y vibe. The bouncers warmly greeted and chatted with my friend, a regular there. And after the opening set, the bassist simply hopped off the stage to hang with his friends in the audience. The crowd was also great- no obnoxious haters, just a bunch of energetic music lovers. Looking forward to seeing more shows here.
Oh, these reviews smell like fakes... probably written by monto's staff :) The venue is good, though, and music can be enjoyable sometimes.
i've been going to tuts for appr 15 years, and still love the place. Its a good place to go for a drink on a saturday evening. DJ's are excellent! The place is what it is, anyone coming here expectinig anything fancy will leave disappointed, but in general, its a great little cubby hole to drink and be merry. the area where the gigs are is cool and really intimate. the gigs i've seen here have always had an excellent atmosphere, and the crowd have always left satisfied. check the website if you're planning a trip to London, see who's playing and grab some tickets (which are always reasonably priced) and enjoy!
More venues
Sponsored listings