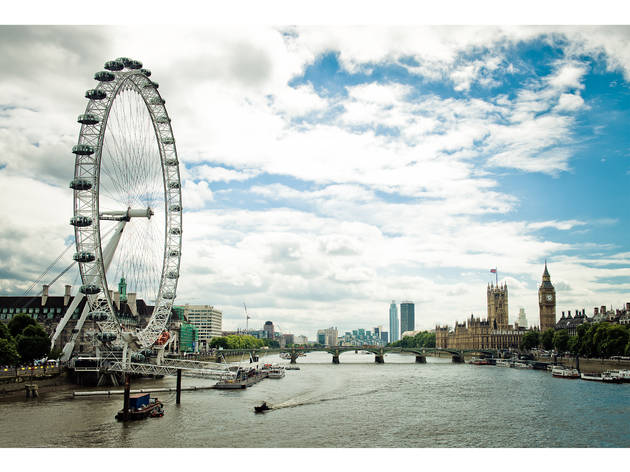 1/5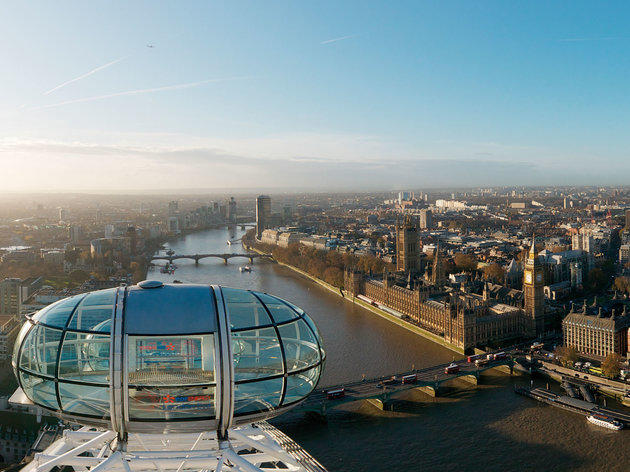 2/5
3/5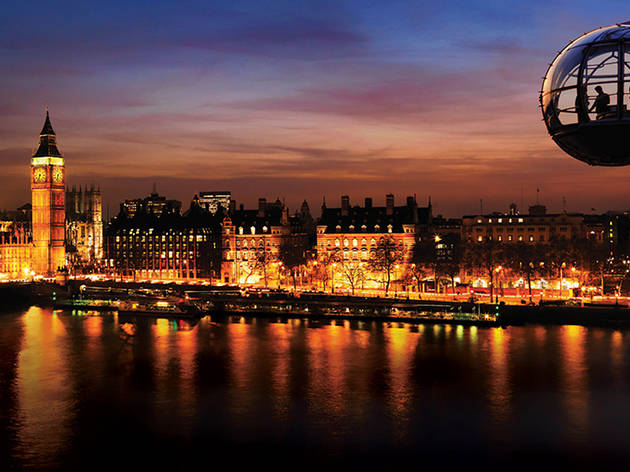 4/5
5/5
A sightseeing icon that's as beautiful to look at as it is to look out from
Originally designed as one of the capital's main commissions to mark the turning of the millennium, the London Eye has established itself as one of the skyline's most loved features, long after the Y2K bug and the 'Dome' were forgotten.
The London Eye first started turning in spring 2000 and remains the world's tallest cantilevered observation wheel. But wordy technical definitions aside, it's simply a gloriously over-sized ferris wheel that carries its passengers in space-age pods on a elegantly paced journey to 135 metres up above the Thames and back down again.
The experience begins with a short 4D film featuring aerial photography over London. After this ticket-office taster, you join the queue to step into one of the huge glass pods. There's plenty of room to move around so you can look out of the floor-to-ceiling windows at sights in every direction. On a clear day you can see as far as Windsor Castle, and on most days you can usually see if the Queen's opened the curtains yet at Buckingham Palace.
The trip takes 30 minutes for a full rotation and, unless you have a serious aversion to heights, it's a mild ride that suits any age. It's fully wheelchair accessible, too. Because the Eye rotates slowly, it's boarding almost constantly, so waiting time isn't usually too painful. However, in school holidays and on bright sunny days, it's worth booking your tickets in advance (your ticketed slot is the time you join the queue).
The popularity of the London Eye has drawn other attractions to the same stretch of the South Bank, between Westminster Bridge and the Golden Jubilee walk bridges. County Hall is a pleasure palace, housing the London Eye's ticket office and cinema, a hotel, and the SEA LIFE London Aquarium, The London Dungeon and Shrek's Adventure London. Nearby Jubilee Gardens offers a chance for young families to run off steam after the queues and crowds, and the London Eye Pier directly below the wheel is a great place to jump onto one of the regular riverboat services that stop off at several points between Westminster and Greenwich.
Venue name:
London Eye
Contact:
Address:
Riverside Building
County Hall
London
SE1 7PB

Opening hours:
2016 opening times. Apr daily 10am-9pm; May 1-26 and June 6-30 Sun-Thu 10am-9pm, Fri and Sat 10am-9.30pm; May 27-Jun 5 daily 10am-9.30pm; Jul and Aug daily 10am-9.30pm; Sep to Dec 10am-8.30pm (except Dec 24 10am-5.30pm, Dec 25 closed, Dec 31 10am-3pm).
Transport:
Tube: Waterloo
Price:
From £21.20 (online), £16.10 (online) under-16s, free under-fours (free valid ticket must be booked).
Do you own this business?
Average User Rating
4.1 / 5
Rating Breakdown
5 star:

13

4 star:

15

3 star:

5

2 star:

0

1 star:

1
I would have reviewed 5, but it turns out I am surprisingly afraid of heights. My girlfriend loved it though, and thought seeing me go pale every time it stopped was incredibly funny. It was our 1 year anniversary, and I thought it would be nice to do something spectacular, and the views (what I could see of them sitting down with my eyes half shut anyway) certainly were spectacular. overall had a good time, and would probably do it again now I know there is no chance of dying horrifically. Thanks guys!
Such an iconic landmark in London and part of the City landscape, that's something nobody can doubt. I really love walking past or pictures in which it is featured. Now as impressive or lovely as it might be from the outside, the ride on it is yet a totally different (and disappointing I must say) experience.
It was just not what we were expecting. After so much queuing, you end up in a packed cabin with 20 more people and, yeah, try to see or take a picture of something if you can with everybody else barrelling towards the windows to try to take a selfie. In addition the windows on my cabin were not that clean so overall not the relaxing experience I was expecting. Views are quite spectacular, but there are other viewpoints in London with similar views but minus the queues, the price and the tourists.


Just been back to The London Eye for the first time in ten years. Man it's still a good ride and on a clear day you can see for miles - but the PRICE OF THIS ATTRACTION - I think it would be cheaper to hire a helicopter lol.
I booked the London eye as a birthday surprise for my husband, neither of us had been up in the evening, and the skyline was beautiful! Staff were all very helpful and ushered us through quickly ahead of a large school party. All in all, a wonderful experience!
APPALLING EXPERIENCE! As I made two bookings for a total of 3 people through TimeOut site i was refused entrance to the attraction on the grounds that i should have printed the vouchers beforehand. given that i was a tourist in London it was hard for me to print it let alone the fact that nowhere in your site stated that I would be refused entrance if i didnt. So i had to queue TWICE ( approx. 50 min per time) only to be asked to RE-BUY the tickets and asked for a refunfd from TimeOut. When I contacted TimeOut customer Service i was directed to " encore" company. A week later i m still waiting for a single reply to my letter of comlaint. BOTH THE EDF ENERGY LONDON EYE and the TIMEOUT are REDICILOUSLY IRRESPONSIBLE given the tasks and responsibilities they assume as of that of a World famous attraction such as the london Eye. I regret every minute i spent booking the attraction and I would expect both Companies to have already acted towards my refund instaed of redirecting me here and there. APPALLING!
amazing view of bful city
I went at nighttime, and the light over London were beautiful, I am not a massive fan of heights, so I thought it would be really scary!! But it wasn't that bad, and I absolutely loved it!!
This is a real test of calmness for a tourist as you need to queue for quite a while. So before visiting the London Eye you need to practice being calm and patient. If you need something to amuse yourself while waiting, you could check out the Party Ideas Incubator on YouTube from your smartphone. Some people send me tweets @bigsands and I send them links to my Pinterest board with more images of London - http://www.pinterest.com/bigsands/things-to-see-in-london-images-of-london/ After surviving the queues, get ready to capture some amazing views of London. If you tweet, then get someone to take a picture of you up inside the capsule with Big Ben in the background and send it to @bigsands. The best thing about the London Eye is that they allow you to hire a private capsule. They may even allow you to have 2 or 3 musicians as you enjoy champagne in your private capsule.
Enjoyed a lovely view of the whole of London on the London. It was a cold snowy day in London. most parts of London were covered with snow. Beautiful Scene. No queue either.
One of the top Land mark of London . very sophisticated ..
amazing view, especially in the evening!