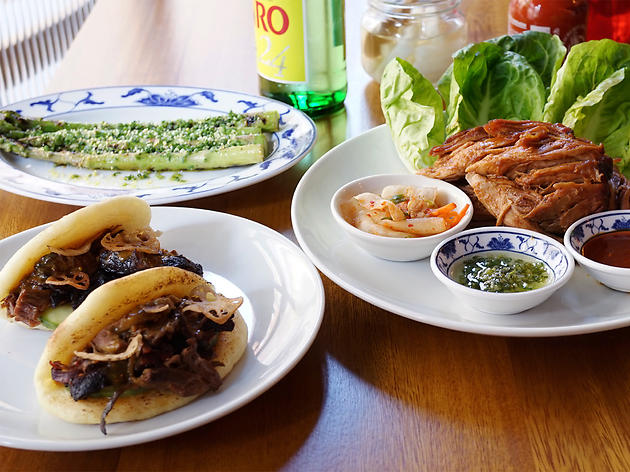 1/8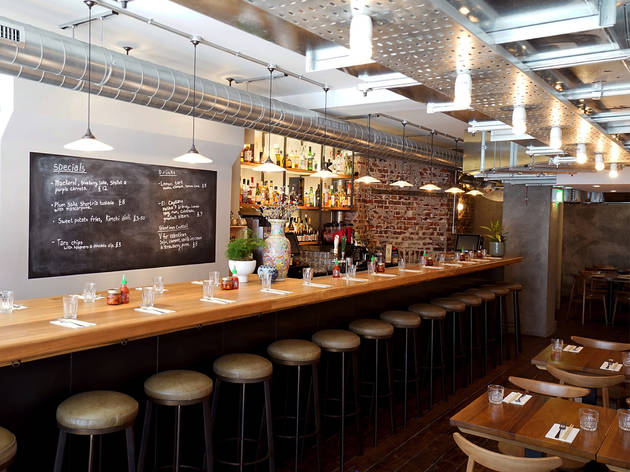 2/8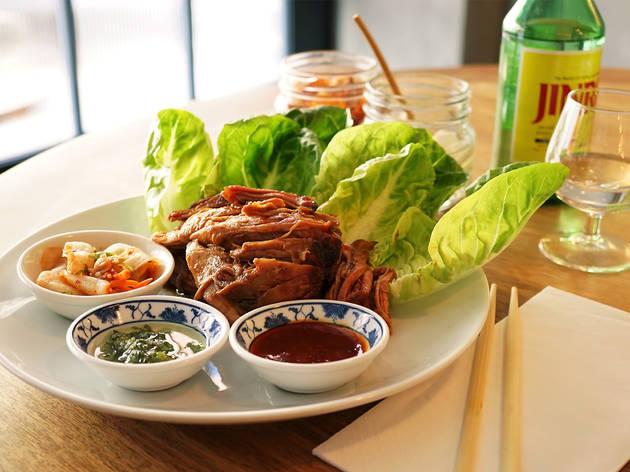 3/8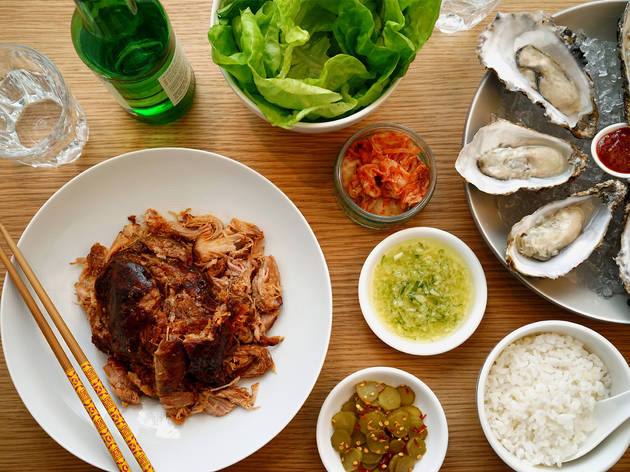 4/8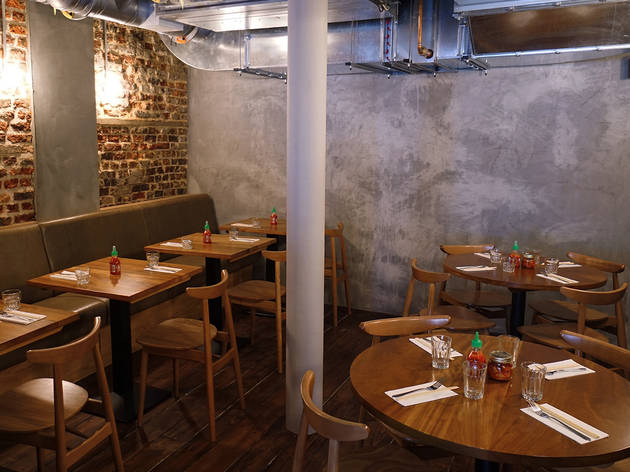 5/8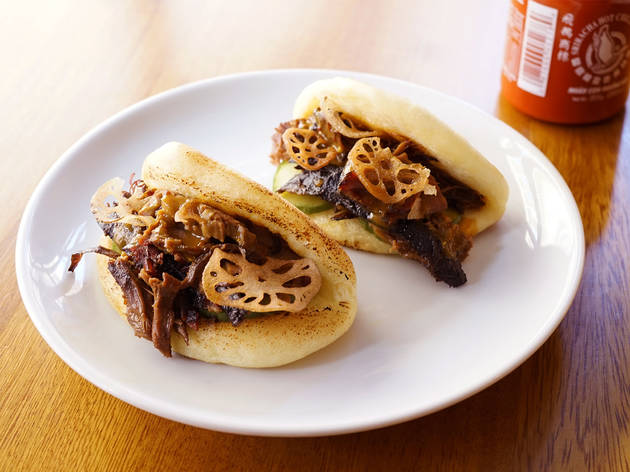 6/8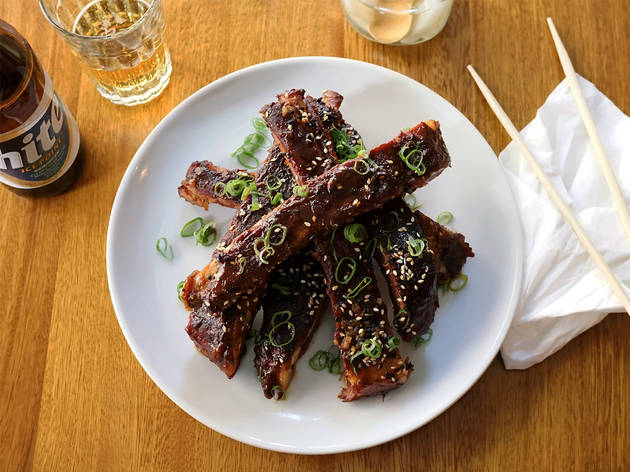 7/8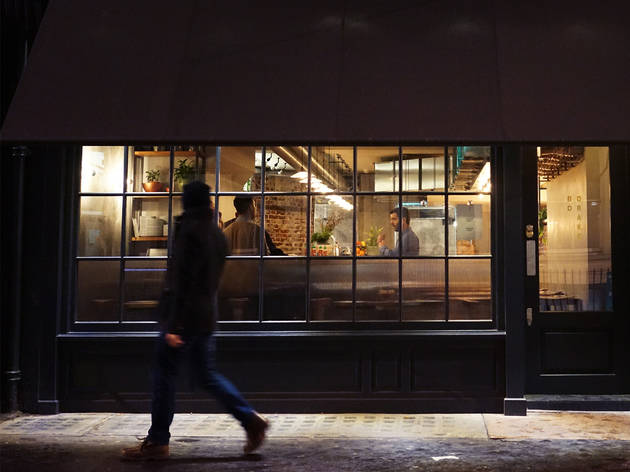 8/8
Venue says

: "New menu coming soon!"
An East Asian barbecue restaurant and Anju bar from Roka alumnus Jan Lee.
'Korexican' sounds like a kitchen-worktop material, or a sicko's name for a drug used in treating eating disorders. In fact it means Korean + Mexican, and some people – at least 20, I'm sure – think it's going to be a big food trend.
Bó Drake, in theory an example of the trend, prefers to call itself an 'East Asian barbecue restaurant' – much more accurate. It could also be called an American/Asian fusion restaurant, having elements in common with David Chang's Momofuku group in New York and the Kogi 'taco trucks' (Mexican tacos, but with Korean-style meats) set up in Los Angeles by Seoul-born Roy Choi.
While the Mexican connection is indisputable, the dominant palate at this no-reservations restaurant is Korean. And the flavours are splashed on with vigour. To eat here is to surf on wave after wave of umami flavours.
Three meat dishes were sensationally good: long-smoked brisket served in a bao (soft bun) with tangy relishes; smoked pork ribs in a finger-licking pear sauce; chargrilled rib-eye (served rare as requested) with miso butter. Kimchi quesadillas were a surprisingly subtle starter, mild cheese in a crisp tortilla sauced with poblano cream. Pan-fried cauliflower came with a smoky mushroom purée. Salty, crunchy sweet potato fries (served with kimchee mayonnaise) were irresistible. The waves of flavour are incessant, but incessant in the most pleasurable way possible.
There's a big communal table at the front and smaller tables, dimly lit, at the back. The decor is the legally mandated industrial-steel-and-concrete-meet-rustic-wood. Service was charming, though it lagged a little in the early stages. There's a reasonably priced cocktail list, original drinks and classics; a martini was good, but a Bramble was an epic fail. Wines are few in number and fair in price, but this kind of food is better with draught beer (Brooklyn Lager or Camden Pale Ale).
So: what do you call Bó Drake's cooking? My answer: who gives a damn? It's the food, not the label, that matters.
More
Less
Bó Drake says
Bó Drake is an East-Asian restaurant. Our food is modern and bright, combining sweet and pickled influences from East Asia alongside slow-cooked BBQ methods from the Americas and Europe.
More
Less
Venue name:
Bó Drake
Contact:
Address:
6 Greek Street
London
W1D 4DE

Opening hours:
Mon-Thu noon-2.30pm & 5.30-11pm; Fri noon-2.30pm & 5.30pm-midnight; Sat noon-midnight; Sun noon-9pm
Transport:
Tube: Oxford Circus
Price:
Meal for two with drinks and service: around £85.
Menu:
View Menu
Do you own this business?
Average User Rating
3.7 / 5
Rating Breakdown
5 star:

9

4 star:

8

3 star:

2

2 star:

1

1 star:

4
What an excellent experience. I love asian food and this did not disappoint. There was a unique take on everything we tried from a family known Korean receipt for the steak sauce, asian based drinks I hadn't tried and all good value. I will be going again.
Lovely food lovely service. This is our second visit. Definitely recommend it.
we loved it. my friend and I had the pulled pork, the slow-cooked ribs and the onglet steak and and some sweet potato fries. it was all excellent with rapid service. sticky and unctuous, the ribs were moreish and i didn't want the pulled pork tacos to end. and you have to try the kimchi mayo - so good!
Poor food, the kitchen tried to do too much but failed. For 2 person we ordered the pull pork bao(acceptable), slow-cooked ribs(nothing special), kimchee ravioli(tasteless), sweet potato fries(again, not the best) and the chorizo kale (super salty). There are just more options out there, not worth it, I will not visit again.
Loved this place every time I've been. A strange mix of food but all of it was incredible, really flavorsome and most enjoyable. The bill can add up quite quickly you order a lot of littler things, but the portions are actually really generous. The cocktails were also delicious and seems like a lot of thought goes into them.

Absolutely delicious. Came here for a friends birthday and we all had a great night. Delicious food, amazing cocktails and fun music. Will be coming back.
Fantastic little place in Soho. Stumbled across this place by accident, tucked away from the main tourist areas. Great cocktails and delicious sharing plates. We had the Bao, KFC and Sliders, all so good. Staff warm and friendly. Would definitely recommend.
Most awful food I have ever had!
Starter: beef togne tastes like jelly! No taste no flavour!
KFC, worst than the kfc scandal in China! Besides sugary, there is nothing else!
Main: pulled pork, come on! You ruin it! No spice no flavour just sugar again!
Poussin, I can't taste anything at all!
And all these came with a whopping 60 pounds! For someone from Roka came with these shit ideas, it is a disgrace!
Please think before you make your decision to come eat here!
Very disappointing; nice place with nice staff, but the pork ribs where dry, actually so was our starter and everything else.
Such an awful experience ! Went in a very good mood .. Waited not too long to be seated .. Competent manager sat me at the bar .. Not too much waiting .. Wow ! I thought I was in luck ... How wrong was I ! Asked for a cocktail to start with .. Went to the toilet .. Came back .. 30 minutes later the cocktail was not ready yet . Never managed to order the food either .. Eventually the same manager who sat me took the order 45 minutes later .. The did never arrived .. When I was about to leave without food eventually a waiter came over with the food ( 1 hour after I sat down ) , I said I was ready to leave without food ... A manager came over apologised and said the food was complementary because of the misshap . . I declined , they insisted , the manager which sat me down insisted on giving me a complementary cocktail .. I said ok .. When I was about to leave I asked for the bill and I was presented with a full bill ... . I have no further comment to make . However I am disgusted by the whole evening .. Wish I never went there
It's an awesome place to go out with a few friends, the staff were great (and I really mean it). The owners are so friendly, like all the staff members there, they were coming to our table and asking for our honest opinion about the place and the food... Ahhh the food! It was one of the best places I ever been to eat in London. At the beginning we had like some mini pancakes with some meat inside (see the picture above), they were my favourites, and the ribs were just incredible, really, really good. My boyfriend used to be a cocktail barman and was blown away by the mixologist. Delicious cocktails, mixed by a guy who really cares.
I think Bo Drake it's a great concept and I am looking forward to visit them again. I would recommend this for sure!
Really love this place - been a few times already and it just gets better each time! The steak was perfect, and the ribs and pulled pork really are amazing. The interior is beautiful, cocktails wonderful, and the staff are extremely friendly and helpful - making this an all round excellent experience which I would most highly recommend. I will be back!
Amazing new place in Soho! I've been here many times already and I have tried almost every single dish. My favourites so far are Brisket Bao, Kimchi quesadilla, the Korean lam cutlets and the Onglet Steak. I also loved the cocktails, especially Cucu Sour and the red slush! I deffo recommend this place!

Our mediocre meal was tainted by an incredibly rude waitress and was further compounded by a manager unwilling to hear us out. When we tried to explain our issues the manager's response was 'my staff are amazing and I won't apologise for them'. Extremely disappointing all round.