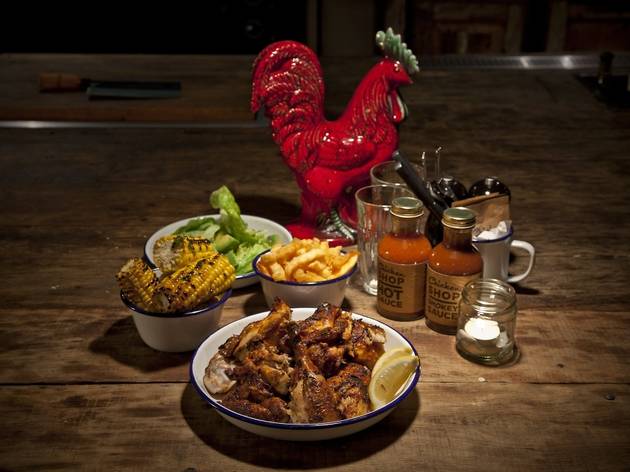 Why did the vegan cross the road? Because there was nothing to eat at the Chicken Shop. This venture underneath Pizza East and Dirty Burger makes a similar virtue of its specialism. Chickens turn and blacken on a medieval-looking wood-fired spit, a man in a chain-mail glove hacks them into quarters, and your order of a whole, half or quarter bird arrives without delay. Spicy but not too much so, blackened but not excessively, it is, yes, finger-lickin' chicken.
The price of the free-range chooks appears keen, but profit-boosting sides such as great crinkle-cut chips and aïoli mayo dip, red cabbage coleslaw with a more creamy than tangy dressing, and a salad of butter lettuce (old-fashioned floppy leaves rebranded) with avocado, redress the balance. The decor is a mash-up of 1950s furniture, reclaimed timber, mahogany shop fittings and American wooden beer crates. Wines are wittily bracketed into house, decent and good, red, white and rosé; not so amusing is the outrageous mark-up on the prosecco.
The music is loud, the lighting dim, the service swift, the desserts just three: hazelnut brownie; rather ordinary lemon cheesecake and an excellent lemon- and cinnamon-spiked apple pie.
Venue name:
Chicken Shop
Contact:
Address:
79 Highgate Road
London
NW5 1TL

Opening hours:
Meals served 5pm-midnight Mon-Fri; noon-midnight Sat; noon-5pm Sun
Transport:
Tube: Kentish Town
Price:
Main courses £4-£8. Meal for two with drinks and service: around £40
Menu:
View Menu
Do you own this business?
Average User Rating
3.6 / 5
Rating Breakdown
5 star:

2

4 star:

8

3 star:

4

2 star:

2

1 star:

0
Great vibe, great venue and great food.
The Soho House Group. Hmmm now there's a quandary. I quite LIKE Shoreditch House. And I've had so so food in both Soho and Shoreditch House. But the reality is that their 'houses' along with their restaurants are more hype than substance and in some ways sum up the growing trend of non-bookable long queues places to eat in the capital. Chicken Shop was a disappointment. Initially I was impressed - the place itself has a lovely vibe to it. It's dark, cosy, comfortable and buzzing without being intrusive. Contrary to other reviews we found the service to be poor. Orders were missed and they have this poor bloke serving the food who barely understood what we were saying and is actually apparently powerless to take orders?! Anyway the food. The chicken was so so - it's all a bit messy for my liking and whilst the char is a nice taste this is of course really only all over the chicken skin. So the main 'event' - i.e. the chicken was ok but nothing spectacular. I've had far better roast chickens in pubs! The corn was great but expensive, the chips very good and the local pale ale very pleasant. What I found unforgivable is the sauces seems to be brought in and were not homemade, clearly showing that they contained preservatives! I HATE preservatives and this seemed totally bizarre. Provide special homemade fresh sauce, not outsourced bought in junk! After wolfing down the chicken, slaw (pretty good too) and everything else I then tried the Apple Pie. Which was pretty good. So basically Chicken Shop is a nice enough place but it's not cheap and ultimately the main draw, i.e. the chicken was just not good enough to warrant a second visit. Chicken Shop like so many other 'new' places in town relies heavily on sides and hype (And sauces) to dress itself up.
Brilliant concept – a limited chicken filled menu done to perfection. Everything is beautifully seasoned with yummy condiments, and the best fries I've had in months. The staff are really friendly, quick service and the place is always lively with a buzzy atmosphere. I would recommend getting there early on a Friday or Saturday night though as you can't reserve tables and it gets super busy!
Great simple menu, tasty chicken and sides. Desserts a must.
Simple food well done. Love the atmosphere.
If you are lucky enough to get a sit in this buzzing basement restaurant then you're in for a treat. Great service from the waiters who are always friendly. The chips are always crisp to perfection and the chicken is pretty good too!
This one beats Nando's by far. Best chicken restaurant ever!
Yes, I'm late to the chicken party, forgive me. But last night, I was taken to Chicken Shop by a potential suitor. Top marks for low-key date points, as it's easy-going, dimly lit (so if you end up with a face-full of chicken juice, no one can see) and you don't have to worry about someone stealing your grub because you're probably going to end up ordering the same thing - chicken. That is, after all, what this place is all about and they do indeed do it well (kudos to the bloke whose job it is to turn the spit and portion the chickens - almost hypnotic to watch). The chicken is very succulent, well-seasoned and a hearty portion (I ordered a quarter and it was enough). Sides-wise, you have an option of four. Date and I shared coleslaw - tangy with buttermilk and a very generous portion for £4 - and the butter lettuce & avocado salad - nicely dressed, fresh and crisp - but worth the £6 price tag, I'm not so sure. The star of the show was the infamous apple pie - we shared a slice (read: wedge) with vanilla ice-cream and couldn't finish it. They present to you an enormous pie dish filled with piping hot, zingy, sweet and gently spiced apple pie and scoop it out in front of you; the theatre, the flavour and the sheer indulgence is worth the trip here alone. Service was good, friendly and easy-going, the food was tasty and what you'd expect from a small, concentrated menu. It's worth a trip if you're a fan of chicken and shabby chic; prop yourself up at the bar, watch chicken-man chop away, sip on a tumbler of Prosecco and enjoy a speedy, semi-reasonable and pretty tasty chicken dinner
Chicken Shop (from the Soho House Group) has chosen rotisserie chicken (and nothing else!) to do really really well. Chicken is flavour-full and sides are tasty. Ambience is great. Full details can be found on my blog: http://hyhoi.com/2014/12/chicken-shop-holborn/

- Nina
Have You Heard Of It? | HYHOI.com | Bar & restaurant recommendations

I'm going to fess up. I like the Chicken Shop a lot because it serves chicken and chips which means my kids will eat there without asking for things to be removed. It does have issues. For some reason the management seem to run it like North Korea which is a shame as the waiting staff are always really nice and helpful. Even if the place is half empty they do seem to struggle with the concept of moving tables to accommodate a larger than 4 party. Anyway the chicken is good, the chips are good and speed with which everything is served is either really intense if you are not with kids or amazing if you are with kids.
It does what is says on the door and often that is all you should ask for.
As always, Soho House designers deliver. It is a really remarkable remake. Soho House is not known for creativity and inspiration when it comes to food/drinks. Like Apple products, the price is massively and unacceptably inflated (if judged on performance). If you want a fast, value for money quality computer/smart phone you have cheaper alternatives with superior benchmark results. Most competitors make equally good or better food at similar or lower prices. However, unlike New York's foodie's darling Eat where talking is 'verboten' and you are expected to focus on the food only and nothing else- Soho House Group always believed in context (environment/interior design/vibe). The concept is that you eat with your eyes. Great architecture, great interior design, staff and guests are more attractive than average.
High quality is starting to slip...
More venues
Sponsored listings