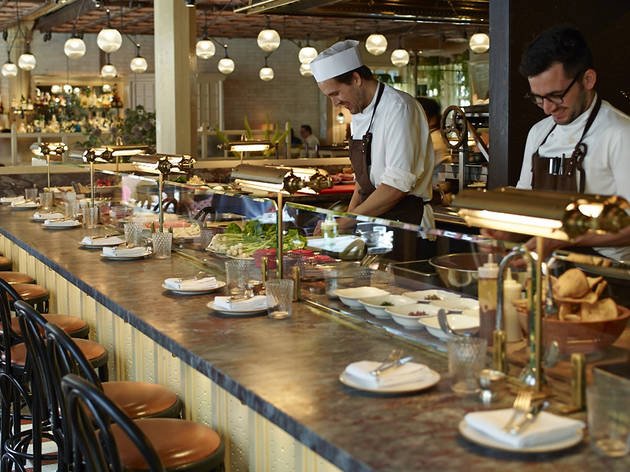 1/7
© Britta Jaschinski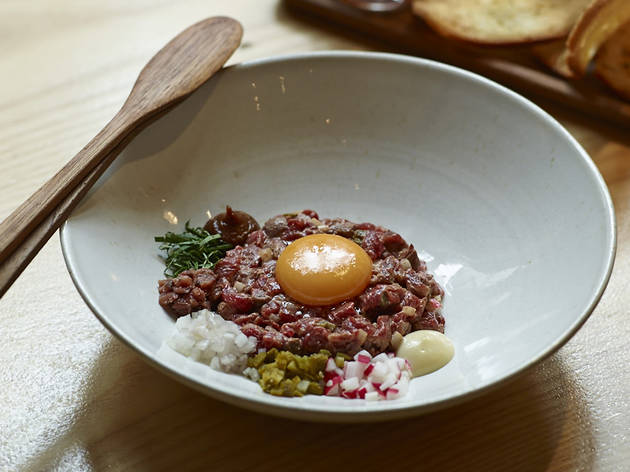 2/7
© Britta Jaschinski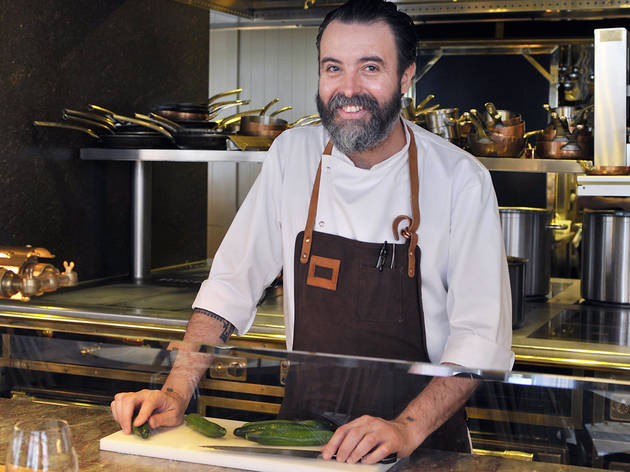 3/7
© Britta Jaschinski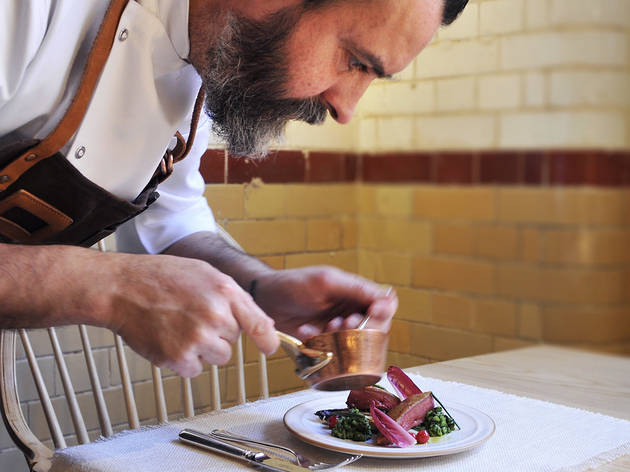 4/7
© Britta Jaschinski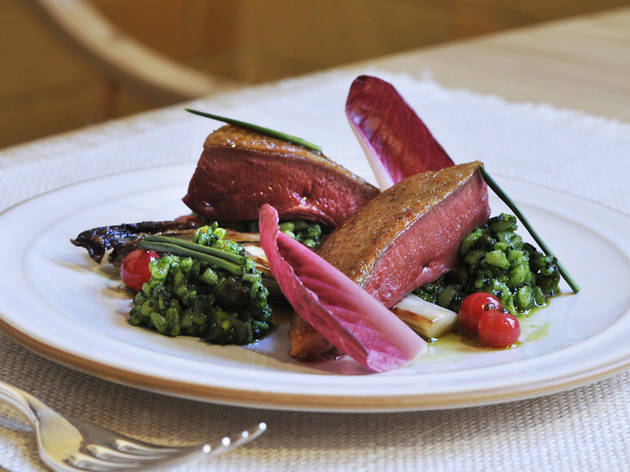 5/7
© Britta Jaschinski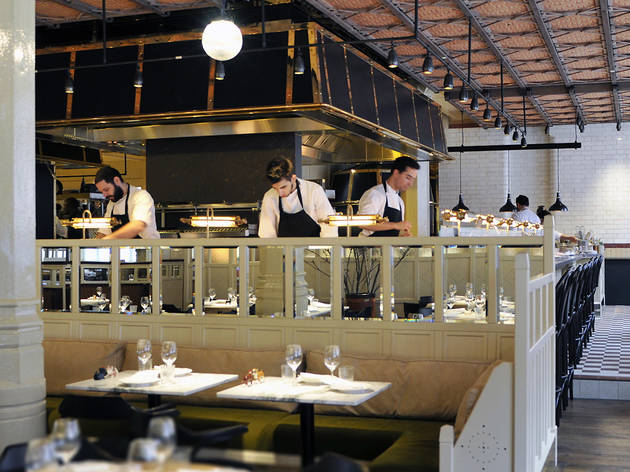 6/7
© Britta Jaschinski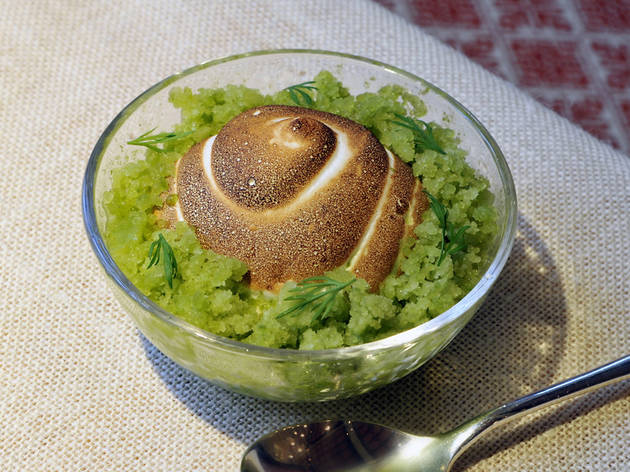 7/7
© Britta Jaschinski
One of London's hottest (and hardest to book) restaurants, with culinary fireworks exploding in every trend-conscious but wonderful dish.
André Balazs is one of the world's most eligible bachelors, with a net worth estimated at $450 million. But rather than follow the example of George Best (who once said 'I spent 90 percent of my money on women, drink and fast cars; the rest I wasted'), the Hungarian-born US citizen has set about building a hotel and restaurant empire, starting with Chateau Marmont in Hollywood and progressing through The Mercer Hotel in New York City, among many others.

Chiltern Firehouse is Balazs's first hotel outside the US. A lovely 1889 Grade II-listed Victorian-gothic fire brigade building has been rebuilt from the inside out, and now boasts a discreetly gated garden as the entrance. The staff's aura of professionalism and sincerity hits you immediately: they're uniformly well drilled and rarely go off-script. Checking in feels a bit like arriving at a Scientology meeting.

The best seats are at the kitchen counter, where you can watch the chefs at work in their lavishly appointed huge open kitchen. Nuno Mendes – formerly of Viajante – is in residence, creating a menu that reflects current trends in top international restaurants.
The kitchen can do fiddly and pretty, exemplified by stunning appetisers such as the tiny, slider-like 'doughnuts' filled with crab meat. But pretty's only part of the story here. Good flavour combinations and modern cooking techniques are also to the fore. We watched as our squab starter was expertly carved, the pigeon meat shockingly pink but the skin crisp. Assembled with braised chicory and a herb-infused barley risotto, it was a stunning dish.

A main course also greatly exceeded expectations. Monkfish was cooked in a sealed pan using hot charcoal and fresh pine – similar to the French technique of éclade, with the pine aroma infusing the flesh. The monkfish had a lobster-like tenderness that needed little more than some fennel and small dollops of moist puffed barley to make a dish.
Inventive, but not overplayed details are a theme here: a slick of smooth roasted aubergine purée with perfectly tender grilled octopus or a dense jus reduction with slow-roasted beef short ribs.

The desserts are equally simple, equally clever. A 'panna cotta' was more like a baked alaska, the ice-cream below the grilled swirl of meringue kept cold by a moat of frozen green granita. Of course, such skill and such a swanky setting don't come cheap, especially with a tempting list of wines and cocktails at premium prices.

Ask for a tour of the hotel if you're visiting, as it's illuminating to see how the rich travel; the 26 suites are stunning, and a trip up the firehouse's watchtower to admire the view is a treat. In fact, our only reservation was our reservation: it took us three refusals from the booking desk's email, then three visits in person, to secure our dinner table. Firehouse is so hot right now.
Venue name:
Chiltern Firehouse
Contact:
Address:
1 Chiltern St
London
W1U 7PA

Opening hours:
8-10.30am, noon-3pm, 6-11pm Mon-Fri; 11am-3pm, 6-11pm Sat-Sun
Transport:
Bond Street or Baker Street tube
Price:
Dinner for two with wine and service around £150.
Do you own this business?
Rating Breakdown
5 star:

9

4 star:

9

3 star:

6

2 star:

1

1 star:

0
Had an amazing dinner here last night. The space is stunning; don't miss a drink in the beautiful bar before taking your table. And I can't wait to sip a G&T on the summer terrace when the weather warms up. The staff and service is exemplary. It's old school glamour all the way. As for the food, Nuno is on fire - literally. Every dish was delicious; the crab donuts, the maple glazed salmon, the cornbread, the chocolate torte. It's like the Hollywood Hills have arrived in Marylebone. And it's my new local. Can't wait to go back. Andre, we salute you.
Not bad but A bit over-rated
Very disappointing. The service was woeful, waiters kept on bumping into one of our seats and the food went from average to mediocre. You pay for beautiful surroundings and the privilege of a reservation, but do not expect an enjoyable culinary experience.
After having wanted to see what all the Fuzz is all about at the Celebrity hot spot Chiltern Firehouse, I was finally able to secure one of the extremely sought after tables for two for a romantic dinner (Well my friend got the table by pulling some serious strings). upon arrival you are immediately blown off your feet by the stunning venue. The old Firehouse has been converted in such a beautiful and respectful way. So we went for a few snacks to start, then two fish mains and followed by a rather peculiar dessert of pear and licorice. Don't get me wrong ... the food was good, but definitely not worth the extortionate price tag. Service was lovely, but it was fairly obvious that they wanted our table back quickly (you can't really blame them - we were having the cheapest bottle of wine on the menu). So I would definitely go back to Chiltern Firehouse, but next time I would go for bar snacks and cocktails on the amazing courtyard.
i was certain this place couldn't live up to the hype but i wasn't disappointed. Great food, relaxed atmosphere and a bit of celeb spotting all at lunch time. The Steak tartare with the spicy sauce and the crab donuts are the must try items.
Managed to get a booking for brunch by calling the night before, so don't assume it's 'impossible' to get a table, like everyone seems to think. The eggs florentine was excellent, and the almond milk in my cappuccino tasted like it was homemade which was impressive, the selection of fresh juices are a delight as is the courtyard- the flowers are beautiful! Would highly, highly recommend.

I get it. Good food, shabby chic interior, good food. Definitely glad I have been and may well come back. Good service. Worth a try
Visited The Chiltern Firehouse a couple of weeks ago and absolutely loved it. A group of 4 of us shared a midweek business breakfast to celebrate a birthday.
The building is stunning and the service was warm and attentive without being fussy. The food lived up to the hype too. Would recommend a basket of pastries with your coffee while you're waiting.
If you work in media like the group I was in, be aware that it's proximity to an agency down the road means you will know half the people in there.
Star Rating 3/4
We visited the Chiltern Firestation Restaurant last Sunday, 20th July for dinner, the booking for 18.30. We enjoyed the meal, except for the "server" constantly interrupting our conversations. However, towards the end of the meal, the server came to say that we had to leave the table because it had been booked by another party. We agreed that we would leave after we had finished our coffee and paid the bill. However, on two other occasions the server came over and insisted that we leave immediately. Reluctantly we decided not to have coffee, particularly as we were embarrassed that other people were listening. We left after settling the bill. At no time were we told at booking that the table was booked for the evening and we had to leave at a certain time. This restaurant may be "flavour of the month" but to be treated in this manner was distressing and uncomfortable. When the duty manager was informed about our problem, no apology was given. We left, never to go there again and be embarrassed.
Delicious dinner, beautiful converted location... And very inventive, as I had come to expect of Nuno Mendes, having been privileged enough to experience his tasting menu at Viajante.
Nibbles of cornbread with maple bacon butter, fried chicken, followed by in season asparagus, and then monkfish on green barley risotto. And for dessert? Carrot cake crumbs with juliette baked carrot strips and the most amazing horseradish ice cream. It really worked.
Plus the maître d charged my iPhone during dinner. Slick.
Well done Mendes and Balasz.
More venues
Sponsored listings