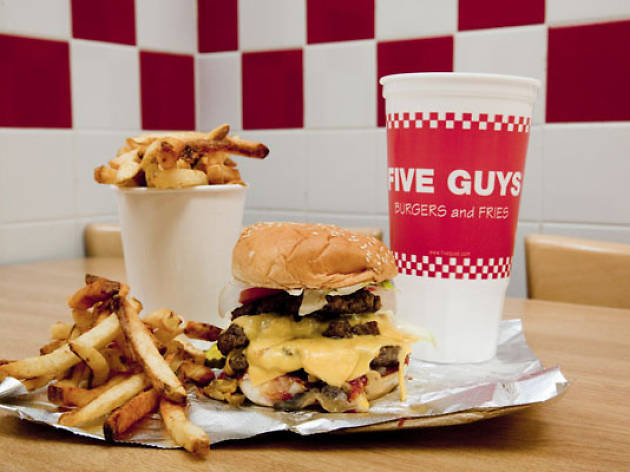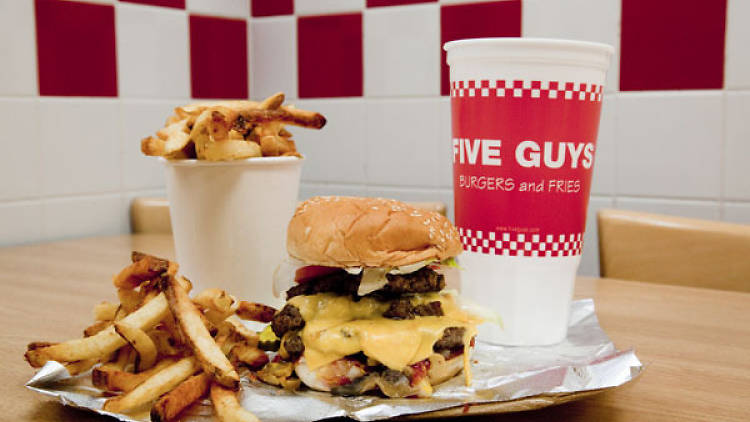 1/3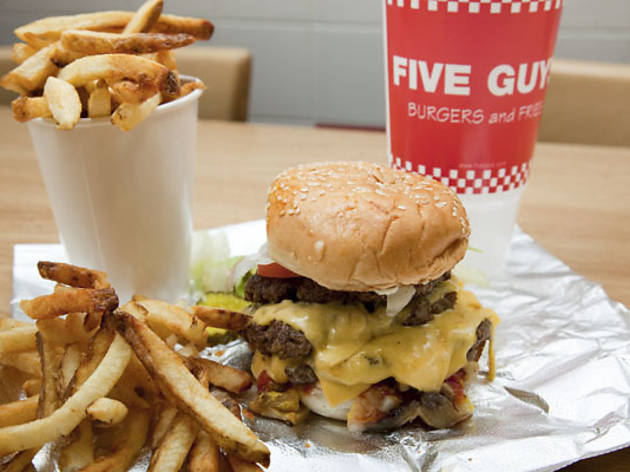 2/3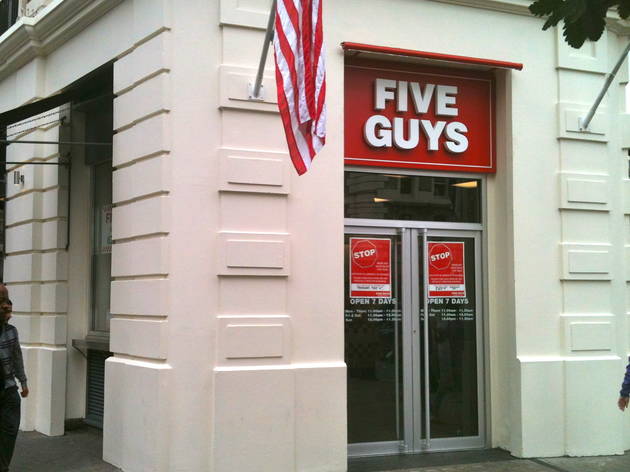 3/3
First UK opening for the popular American burger chain.
Venue name:
Five Guys
Contact:
Address:
1-3 Long Acre
London
WC2E 9LH

Transport:
Tube: Covent Garden or Leicester Square tube
Do you own this business?
Average User Rating
3.2 / 5
Rating Breakdown
5 star:

4

4 star:

6

3 star:

7

2 star:

3

1 star:

3
Five Guys always delivers for good honest burger fare!
It's my dream burger:melted cheese between two juicy patties... and all toppings free!
The burger is too tightly wrapped in the foil, so by the time you get a table and open it up, the burger bun has become all soggy and the whole burger has pretty much lost it's shape. As much as you can customise the burger, without all those toppings, the burgers are quite average. However, we can't fault the service or the free monkey nuts. It probably did make a difference coming to the flagship store. So we'll definitely be coming back to this one!
Full review: http://yummyjubbly.com/review-five-guys-burger-london/
If you want the best burger in town, then look no further. Two juicy patties covered in cheese and your choice of toppings...it really does take some beating. I think the success is genuinely down to the simplicity of it; just a great burger and fries. I've heard some people compare Five Guys to McDonalds, but quite frankly it's on a different level to other trendy burger specialists, let alone McDonalds! The price is a tad high (as is the fat content), but for a once-in-a-while treat, it's definitely the best in town.

Great atmosphere, nice big restaurant with many staff around so lines move quickly! Great food, very tasty burger, I can agree slightly with the others that it is a little greasy, but every now and then never hurt anyone!! Be warned, huge portion sizes, regular fries are more like a large, and the burgers come as doubles, so you could survive with the smaller ones which I think are called little burgers! Toppings are free for as many as you want as well. Slightly bloated, but happy tummy :-)
Fairly Good burger and fries. American style experience. Big portions and priced as any other place in the centre. No waiters but good organisation between ordering and collecting food. Queue outside always but fairly fast...
The fries were amazing - seriously good - and the drink mixes are novel. The burger however was dry and the bun average. Not what you'd expect for the price. Had better in Meat Liquor and GBK recently
ATTENTION: BURGER MADE ME ILL. Stomach found it hard to digest a 'little burger' which I didn't even finish (never happened to me before) was in discomfort for 5 hours after eating. DESCRIPTION: Burger patty was thin hard and dry, yet soaked on the outside with oil to such an extent it was dropping out the bottom of the burger. Burger tasted similar to plastic, no taste. Toppings did not taste very fresh. Bun as standard in McD's. Price reflected that of a high end burger place – overly expensive, disproportionate to the taste. Fries were fine, generous proportions (you would expect this for a fiver). No mention of organic or anything. NOTE: The walls are dressed with PR and marketing, you also find Five Guys on many blogs and websites, I believe this is to get people into the store, and once in the resto they are brainwashed by the walls into thinking it is good because other people say so. DO NOT BELIEVE THEM! RECOMMENDATIONS: Anyone who thinks this is a good burger – Do you know what a burger tastes like? I'd say Shake Shack is MUCH better, expensive, but tastes good, which is all you want from a meal. I'd recommend DIRTY BURGER in Kentish Town and I always find burgers in farmers markets fab! I regularly go to the one on Saturdays in Hampstead Heath and for £5 you get a giant juicy, organic AMAZING burger.
Five Guys burgers are generously filled, succulently, conversation-stoppingly addictive circle disc shapes of meat between a bun wrapped in foil with a small numbered sticker on top. Oh and they have peanuts for you vegan's that bravely decide to tag along with your meat loving friend.
What on earth is the hype about - it's not that much better than McDonalds. Stunningly average. I'll go to Honest, Tommi's burger... or even a good old Byron any day! Not buying into this place, it sucks.
Don't waste your money! The burgers are dry and tasteless, the buns get soggy because the whole thing is wrapped in foil and the fries are burnt and not crispy at all. You'll find much better burgers anywhere in town - your local kebab shop or McDonalds will make a better one, I'm not even talking about GBK - their burgers are heavenly compared to Five Guys! I asked for relish topping and got diced gherkin - this says it all! Save your money and get your food elsewhere. Yikes.
This was a very disappointing experience after all the hype. Any American should be embarrass to have this place representing "An American Hamburger" The meat was over cooked, not much flavor and the fries over done on the out side soggy in the middle. Free toppings? When I order a Hamburger I expect it to come with Lettuce, Tomato, Mayo, Onions, Ketchup, pickles. What's the point another mediocre hamburger shop. At these prices you could get a better deal at Burger King. Would not waste time or money on another visit. This Yankee can go home!
Loved it! Went to one in New York so was really excited when I heard they were opening up in London. Delicious burgers and not too expensive. Will definitely be going back.
Absolutely scrummy. I've been waiting for Five Guys to open for ages and it didn't disappoint. Try their hot sauce on the burgers instead of ketchup it's a revelation. Welcome to England guys.
I was lucky enough to grab a burger from there today and it was one of the most authentic and tasty burgers I've ever had in my life. It tastes exactly like a real American burger should taste. Succulent, rich and not fancy or messed around with. Great to have them over here. Can't wait to go back and try the hot dogs.
More venues
Sponsored listings