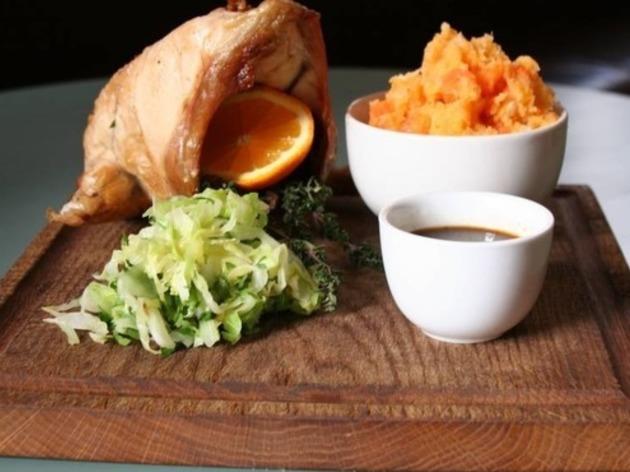 'Home of the Camden Town Brewery' reads the menu. But yes, this is the heart of Hampstead – presumably Jasper Cuppaidge, the thirtysomething Australian who runs both this cheery pub and the brewery (which has moved from the pub's basement to close-but-no-cigar Kentish Town), thought naming a beer label after one of London's poshest neighbourhoods might alienate more drinkers than it would attract. You'll find the full range of Camden keg beers here (Ink, a moreish stout, is comfortably the best), alongside cask ales, bottled offerings and an above-average wine list, but the food's no afterthought. On weeknights, a pretty standard gastropub menu takes hold.

But the place really hums at weekends, when you'll need to dodge buggies, children and the occasional dog if you want to enjoy comfort cooking that sits on the fence separating brunch from lunch: on Saturdays, creamy macaroni cheese, eggs benedict, gigantic burgers best ordered medium rare; on Sundays, roasts galore. You won't find many surprises, but everything's done very well. We've heard grumblings about slow service in the past, but we had no complaints.
Venue name:
Horseshoe
Contact:
Address:
28 Heath Street
London
NW3 6TE

Opening hours:
Open 11am-11pm Mon-Thur; 11am-midnight Fri; 10am-midnight Sat; noon-10.30pm Sun. Brunch served 11am-4pm Sat. Lunch served noon-3.30pm Mon-Fri. Dinner served 6-10pm Mon-Thur; 6-11pm Fri, Sat. Meals served noon-9pm Sun
Transport:
Tube: Hampstead
Price:
Main courses £8-£26
Menu:
View Menu
Do you own this business?
Average User Rating
3.4 / 5
Rating Breakdown
5 star:

4

4 star:

4

3 star:

5

2 star:

3

1 star:

1
Best beer in London, hands down. All Camden brews (including unique editions) plus a curated selection of "guest" beers.
Great beer/ale selection but the new food menu is awful. I don't mind Austrain/Bavarian food but to only offer a handful of such niche food is misleading/poor value for money when they call themselves a British Gastro pub.
Beers good, main dishes average to good, dessert disappointing presentation and overpriced, service OK , atmosphere pleasant.
Excellent atmosphere! Delicious food. Just about the only cool place to hang out in Hampstead apart from the Holly Bush. Wait staff however leave something to be desired and carry an air of brewing aristocracy but the buzzy, sexy, well-heeled ambiance more than compsensates. Not a bad place to go solo or with friends, take in the best eye candy in hampstead and enjoy perfectly prepared food and great selection of wines and beers.
Happened across this pub while visiting Hampstead on Sunday last. It's been almost 10 years since I've been back in London socially, but it's clear to see that the food and pub offering has improved immensely. This place is a great find - excellent food, prepared with some thought, seasonal, fresh and tasty. A great selection of craft beers, all served to me (I sample a few!) were delicious and distinct in flavour.
Good beer, average food and a terrible service. Definitely worth a visit..........
I always make sure I come to The Horseshoe if I'm in the area. I decided to take a good friend of mine on Wednesday night for dinner. She wanted to experience proper British 'grub'. We both decided on the whole pheasant which came with spiced red cabbage and bread sauce, it was absolutely scrummy. The whole evening was perfect, the beers and wine which our waitress recommended, the atmosphere and of course good company. My friend wanted to pass on her thanks, as do I! 5 stars all round!
We went to the Horseshoe for a Sunday Roast. I am a regular frequenter of the Camden Town Brewery next to Kentish Town West station and the staff are cool and down to earth. However the same cannot be said about the staff at the Horeshoe. We had booked for a family and upon entering the restaurant were greeted without a smile and rudeness to be frank. Also the waitress then got snooty with my wife informing her that there were no highchairs available, upon informing her we had requested this when we had booked she sighed and went off and came back with a highchair. This place was full of pretentious service, the Camden town beer is great and to come to the home of it was meant to be fun, but not a great way to kick off when you cannot sustain the level of charm and service that the brand demands. We debated whether to stay or not, but thought we should as the food was recommended and the environment seemed nice. I'm glad we did as the chef's came up trumps and I have to say the Roast was a good one. The pork was superb, cooked well with excellent crackling. You can tell there was a lot of love to the food, so fair play to the chefs, nice work. The poor service continued, until the server swapped over and from then on it got slightly better. The dessert was mediocre. A banana, cream and ice cream dessert, pre made and very average. £6.50 for something pre made and average is poor for a pub of this standard. Therefore let's say roasts are great, service is terrible, desserts are very average.
This place was recommended by a friend of mine, she said how nice the beers were. The beers were nice indeed however I also dined there.... first of all the service was slow and terrible, it took quite a while before a waitress acknowledged me to take an order, I ordered fish and chips (which you would think you couldn't get wrong) it was oily and tasteless. The waitress looked very unhappy when I complained therefore I lost my patience and just paid and left swiftly, I couldn't deal with the attitude of this place anymore and will defiantly NOT be going back! Although saying that I have to admit the beers were nice, there was an extensive selection. The place itself lacks any character, to be honest there are other better places to go in Hampstead for a nice beer/wine and a bite to eat.
This is one of our favourite spots in Hampstead. We used to come for the excellent beer selection (including Camden ales, which are brewed on-site), but then discovered that the food is superb. The brunch menu is the best in London. Service is excellent and the decor and ambiance are nice. The only problem is that the windows for food service are narrow and you have to come at the earlier end of those windows in order to get a table (if you're planning on eating). It fills up quickly for good reason!
I love the beers these guys have on this week. Some Camden Town ones and a bunch of others from around London. The girl serving me today was lovely and I got a big smile when I came in :) Fish 'n chips Yum! x
Decent food, great beer and friendly, attentive staff make The Horseshoe a great local hang out. I will be returning!
Nice decor and beer selection. Appalling service
Nice pub but overpriced as one would expect on Hampstead High Street. Food is usually OK but sometimes disappointing. Had the fish and chips for lunch yesterday. Fresh haddock with a good batter, though a little small and overcooked. Mushy peas fresh and minty. Chips were a let down as the cook thought it was OK to scrape the bottom of the pan for my serving. At 12.50, its not OK to serve a bowl of grizzle. Service is indifferent. At these prices there should be higher standards, levels of consistency and attention.
Been to the Horseshoe more often than any other gastropub over the last two years. Love the food, the wine, the atmo. Recently though standards have varied - one rubbish meal, laid back matey service (just do the job first please, then we can be friends) and bills added up wrongly. Shame - don't mess up. For now, still our preferred gastropub in North London. Love you too much to see you fail
More venues
Sponsored listings