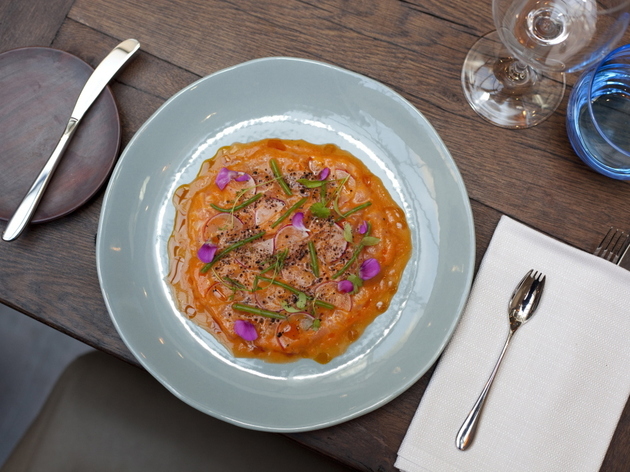 Part of the 'Peruvian wave' of restaurants to hit the capital in 2012, Lima London pitched itself squarely at the high end. The modish rear dining room mixes the hum of low-level beats with polite chatter; only the occasional Inca-patterned cushion adds colour.

Well-drilled staff bring out a medley of carefully crafted small plates. Our sea bream ceviche saw chunks of fish in 'tiger's milk' (the ceviche marinade) flecked with shards of hot aji limo chilli, and pieces of roasted corn (added at the table so as not to lose their crunch). Later, we enjoyed thick wedges of suckling pig – part dense meat, part salty, crispy crackling – nicely matched by a rough corn mash spiked with two kinds of peppers (piquillo and green rocoto).

Only pudding went too far, with a perfectly adequate scoop of sweet dulce de leche ice-cream subjected to a barrage of unnecessary frills: from crumbs of Andean maca root (a radish-like indigenous plant reputed to enhance the libido) to a splodge of beetroot emulsion. The experience is prefaced by 'complimentary' breads and amuse bouches, but you'll pay for it in the end, with a bill that's as high as the Lost City.
Venue name:
Lima London
Contact:
Address:
31 Rathbone Place
London
W1T 1JH

Opening hours:
Lunch served noon- 2.30pm, dinner served 5.30-10.30pm Mon-Sat
Transport:
Tube: Tottenham Court Road tube
Price:
Main courses £16-£26. Set lunch (Mon-Fri) £20 3 courses.Meal for two with drinks and service: around £100
Menu:
View Menu
Do you own this business?
Average User Rating
3.6 / 5
Rating Breakdown
5 star:

7

4 star:

4

3 star:

1

2 star:

3

1 star:

2
From the reviews this seems like a love-it or hate-it kind of restaurant. I agree that the pricing wasn't cheap but certainly didn't feel robbed. It came to about 50 pounds a head including 2 cocktails each and coffees to finish. The two of us shared three starters; the stand-out dish was defintely the sea bream cerviche, bursting with zingy hot and sour flavours. We mopped up all the juice with the excellent bread served (with two equally delicious dips- ask for it if it doesn't come automatically!). The salmon tiradito was another hit but the artichoke impressed less. We shared a delicious beef main course and then a to-die-for dulce de leche ice cream. Having just returned from a trip to Peru I was happy with the authenticity of the food and the flavours and would definitely recommend this spot as a relaxed but buzzy night out.
The Sunday Long Lunch menu is one of the best experiences London has to offer. I really mean that. Lemme elaborate (I'm still tipsy from the free flowing Pisco punch that accompanies the menu):
- First: for a menu coveted by a Michelin star, it is amazing value. Of course, London has a tradition of great value lunches at high-end places, from Club Gascon in Farringdon to Heston's Dinner in Hyde park, but this beats them all! Value is unheard of for London.
- Second: It's lovely lovely food. We're quite big fans of Peruvian cuisine and this is the best establishment of the nations modern style. Starters - Ceviche is balanced and flavorsome (don't expect the in-your-face tastes of traditional street-food ceviche). Causa is tasty, I was never such a fan now I am. Mains - you get it all on one large board - pork, lamb and chicken. ALL amazing! I was surprised how chicken stood up to other meats. Sides are more traditional Peruvian with a twist. Btw, it is a LOT OF FOOD! Desert - surprisingly lovely although understated. Alfajores with dulce de leche is out of this world. Purple corn jelly, tasted nice but I am never convinced of it (but understand why it's there, it's really a Peru staple and should be represented).
This all is accompanied by choice of free flowing prosecco or pisco punch. Pisco punch packs a real punch, I was drunk by the end of the meal. Again I have to repeat the value here: this is 4 cocktails for a tenner... It would make any Londoner suspicious, but trust me it's amazing.
- Third: Staff is lovely! Attentive, but we were given all the space and time to enjoy. Maître d'hôtel is an absolute pro. Don't know his name but, thank you very much for serving us seconds !! (yes we had seconds)
Lastly, for London to host first star for a Peruvian joint in Europe, and for this value, is really quite cool for London.
Just delicious! I am a Peruvian food lover and this place is just the best. I've been there 4 times now and could go 10 more.
Food and service are good enough but portions are tiny (especially for the main proteins) for the prices.
Food for the eyes and that's all! Despite the good presentation, LIMA's portions are seriously small and the flavors pretty unexciting. It is worth a visit? Well, If you eat like a bird and have enough money to pay £18-22 for a starter-size main course, perhaps you'd be happy to give it a try.
pre booked for last night, arrived, waited over 5 minutes at reception while 4 members of staff looked straight through us....finally seated waited another 10 minutes, zero service, picked up our coats, on leaving the manager said he did not know anybody had been seated at the front, empty part of the restaurant....
One of Londons best restos for sure. Just great food.
Make sure you eat before going there...
I am surprised by the good reviews for this restaurant. I visited last night with great expectations and was sadly disappointed. The portions are tiny, the flavors are unexciting and - having spent some time in Peru - hardly authentic. It was a pity, really. The sea bream ceviche was the only acceptable dish. The worst was the crab with 4,000 metres potato was bland and boring. On the plus side, the pisco sours are pretty good, so I would stick to cocktails and go get food somewhere else.
Lima, overpriced and over rated! My husband and I had been looking forward anxiously for Lima's doors to open, he even became a fan in facebook following all the preparations for the opening. We tried it last night, and it was the biggest disappointment ever. Overpriced for the size of the portions and the Pisco Sour, a typical Peruvian drink, was quite bad. Would not be able to recommend it for the portions were so small I could not quite really taste each dish!
The place is amongst the best restaurants London has to offer, been there on a short trip to england for the olympics,,,,and peruvian food always enchants me, the best!
high cuisine without any doubt,nice place, however the portions are too small,our whole group had to grab some food somewhere else on our way back to home,
The food is elaborate, but very well executed - both starters and mains. This is high end Peruvian cooking, with excellent service and good cocktails, but pricey.
More venues
Sponsored listings