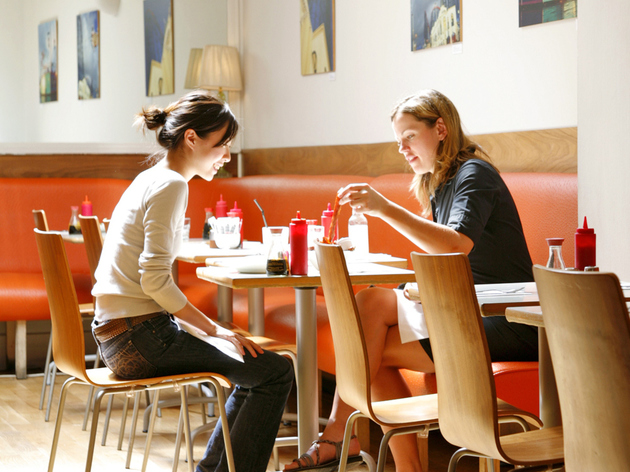 Serving the veggie massive for more than a quarter of a century, Mildreds has earned the right to call itself a Soho institution. There's a no-bookings policy, so expect a lively queue hovering around the front bar area (where you can be seated reasonably quickly) and an even longer wait for a (shared) table in the cosy restaurant beyond. The welcome is warm, the vibes good and the menu inventive, drawing on Asian and Middle Eastern dishes to impressive effect: gyoza dumplings with a mirin and soy sauce were well textured and tasty, and the substantial burrito special was equally satisfying, though our 'burger' (daily changing) was disappointingly squishy. Creative desserts are worth making room for and, like the mains, include vegan and gluten-free options, such as the delicious-sounding persian lemon, almond and pistachio polenta cake with rose petal syrup. Being virtuous has never been so much fun; even the wine, coffee, tea and milk are organic. Service is perky yet relaxed, ensuring that this place will surely remain on the hot list of every vegetarian (and their equally happy non-vegetarian friends) for another 25 years.
Venue name:
Mildreds
Contact:
Address:
45 Lexington Street
London
W1F 9AN

Opening hours:
Meals served noon-11pm Mon-Sat
Transport:
Tube: Oxford Circus or Piccadilly Circus tube
Price:
Main courses £8.10-£10.50
Menu:
View Menu
Do you own this business?
Average User Rating
3.1 / 5
Rating Breakdown
5 star:

6

4 star:

8

3 star:

2

2 star:

1

1 star:

8
I have been going to Mildreds for a number of years, even before they moved to Lexington street in Soho. It is always an awsome experience. It s a really busy place yet the food is always appetising, nutritious and healthy. Its creative approach made me discover new ways of preparing food and I can't wait for the recipe book out on the 12th May. As for the people complaining about bad service, I would say I have not perceived it as such. Going to Mildreds is an experience, wait at the door is expected, busy looking staff, bustling atmosphere. If you are looking for a quiet tête à tête it may be not the best place to be unless seated upstairs. I work as a Nutritionist, so I pay particular attention to my food and I don't recall ever being disappointed. Good and tasty food with great range of drinks and juices. Going to Mildreds is an experience, a great one a convivial one! It is not just about going to a restaurant for a meal out. Definitely 5 Stars and my favourite Vegetarian place in London.
Visited Mildreds last August after it was recommended by a good friend. We were not disappointed! At this lovely busy restaurant we were made to feel really welcome. The food was delicious, with a fantastic range of dishes. The service was friendly, helpful and prompt. The whole experience was fabulous. I whole heatedly recommend a visit, we will definitely be feasting there again next time we are in London!
LOVE Mildreds for lunch - good value, ginormous salads, but often busy at lunch times, so arrive early. My thoughts and photos are on my blog here: http://hyhoi.com/2014/04/mildreds-soho/
- Nina
Have You Heard Of It? bar & restaurant blogger | HYHOI.com


Having recently moved back from Brighton to London, we were keen to find a good vegetarian restaurant. Yesterday was our second visit to Mildred's, which I would call a cafe, rather than a restaurant. On both occasions we were blown away by how unfriendly the staff were. Yesterday the young lady in front couldn't even bother to walk us to a table, instead gesturing towards the back for us to make our own way there, only to be left standing there as two other members of staff did pretty much the same thing. The guy who took our order, was the first and only person during both visits who a actually made us feel welcome. The other two yesterday, were just robots. My partner ordered a burger, with sweet potato fries, and I had sweet potato and broad bean curry. Our food arrived shortly after our drinks, which was surprising. Was it cooked to order, or simply microwaved? If only, both our meals were cold and the sweet potato fries, had clearly been cooked much earlier. The guy who served our meals was as cold as the food. Our food was taken back, and re-appeared, this time piping hot. The food on both occasions have been average, no more. Presentation scores 2 out of 10. I was rather surprised that on receiving our bill, no one had really offered an apology, or even a coffee on the house. On leaving I mentioned it to the one lady who had served our drinks. She offered to call the manager but as we were in a hurry, she asked for my email address. She whipped a pen out that was wedged in her hair for me to use. Nice touch I thought. It's now been a day later and I've not heard from the manager. Perhaps we've been spoilt by the vegetarian restaurants in Brighton, as Terre a Terre is our benchmark of what veggie food can taste and look like. My advice, get on a train to Brighton and eat at Terre a Terre. Even AA Gill rates it very highly.
Considering the reputation this restaurant in the hear of Soho has gained during the years I wanted to try it myself. I heard enthusiastic comments about it so, in my mind, it was a sure shot. I was wrong, very wrong. I had a dish of curry with rice and some sweet potatoes, my friend had the meze mix. Starting from my dish: the potato chunks were ok but the curry was absolutely tasteless, watery and runny, the rice clearly microwaved (cold outside, piping hot inside, not many doubts about it) and the overall presentation quite poor. But my friend had the best surprise: the dish looked visually ok, nothing outstanding a bit pricey for a meze mix but still reasonable. The only thing is that he found a massive hair that looked like a chunky human hair but turned out to be a brush hair. The waiter apologized and called the manager who came explaining that the hair was coming from a brush and my friend has been offered to order something else for free and that the dish would have not been charged. He ordered a side side dish because he had lost his appetite in the meantime. But when the bill came, another surprise. They still charged the dish on the bill, they charged the service and no-one said even goodbye on out way out. Mistake happens, they shouldn't if you have such a reputation, but there are many ways to handle them. But more than the hair, more than the bill, more than the service, there are no excuse for microwaved rice. I can have at home all the times I want.
Food is ok however service can be hit and miss. Not a comfortable nor nice environment to eat in and if you need to query/raise an issue do not expect to get resolution readily or easier. Customer Service seriously lacking.
SHOCKING ..... rude rude rude..... honestly i will not want to give them the time of day or the change from my pocket. They have no comprehension of service or indeed basic manners. if you fancy overpriced food with a side portion of arrogant attitude swing by to Mildred's
disgustingly RUDE. it is just bizarre to think they can get away with it.... charm school evaded the front of house staff, instead they managed to fall out of the arrogant tree and ht eery branch on the way down. Well done Mildred's for be a shining example of how NOT to do it.
Rude rude rude! Never retuning!
I went to Mildred's in Soho with a friend on 13th March 2016, and the service was truly appalling. Ordinarily I would send feedback to the original company so they can respond or improve their service in the future but the Mildred's website doesn't seem to allow for this.
We arrived at 9:45 pm (the place closes at midnight, and there was still a queue of people after us who were seated), and were seated by 10:20 pm (this is normal due to a lack of booking system). We ordered our food and it came by about 10:45. A little while later one of the waitresses (platinum blonde, unusual short haircut, no eyebrows) came over towards the end of the meal to ask if we would like dessert as the kitchen was closing soon. My friend asked for a brownie (should take about 5 minutes to heat up as its precooked). This was probably about 11:15 pm. At this point (there were other people still there), the waiting staff came to check on how much food we had left about every 2 minutes by leaning over me. When the plates were taken at about 11:30, the same waitress gave us the bill without asking us if we wanted it, and plonked it down on the table wordlessly. We paid and continued to wait for the brownie. The staff then proceeded to clean tables directly next to us to get us to leave. One girl (probably the youngest in the team, she had long hair and a bit of puppy fat on her cheeks, was really sulky) would come over and stand directly next to the table facing us and stare for about 10 seconds then walk away for about 3 minutes before doing it again. At 11:45 we asked what was happening to the brownie and the waitress said we has to wait for it. My friend and I were talking between ourselves if we wanted to just refund it or get it for take away. She said to me that she didn't really want to take a cold brownie to eat at home so she would prefer a refund. The waitress overheard us discussing and shouted over to the rest of the staff that we wanted to get it taken away (this was not a genuine mistake, she wanted us to leave as quickly as possible). We called her over and said we wanted to refund it and she said as the till had been cashed up it wasn't possible. Eventually a lady i think was the manager came over (mid-length brown hair) to see what the problem was. She told the waitress to check on the brownie in the kitchen. When she didn't talk to us, she talked to the manager who was directly next to us and facing us and drew an imaginary line across her neck whilst making a noise, in a gesture to mimic an execution. She did this again whilst telling the manager that all the kitchen staff had gone home so there was no brownie. She just told us that there was no brownie. The manger refunded the value of the brownie to us in cash. No one apologised.
I found it deeply offensive that not only was it their mistake, but rather than checking either on their own initiative or when we asked them to, they were really unpleasant to us and they never apologised when they realised that it was their mistake.
I have visited Mildreds 3 times in the past two months and still can't get enough of it! The food is absolutely delicious, interesting and fresh. The atmosphere in the restaurant is buzzy and electric. You may have to wait to be seated but you can enjoy a drink a the bar first which only adds to the experience. Staff are energetic and friendly. It's definitely one of my favourite places in London. Go and try yourself!
Visited with a friend last night, like most places in the area on a Saturday evening it was very busy so when we arrived we were told there was an hours wait to get a table. It didn't turn out to be that long and while waiting we ordered a Peach Bellini and nibbled on some lovely mixed chilli olives at the bar. The seating area just past the bar is cosily lit and tastefully decorated (think pale greens, white walls with framed prints and wooden topped tables). The menu has a variety of options and ranges from a sri lankan sweet potato curry to a organic black bean burrito. We shared a starter of gyoza dumplings which came with a thick tangy soya sauce, for a main I chose the "halloumi flat bread burger with chargrilled aubergine, red onion, rocket leaf, harissa and tahini with fries and basil mayo" it was delicious, the fries were chunky and tasted great dipped in the fresh tasting mayo. My friend ordered the "fresh tortelloni filled with pumpkin and ricotta, with chestnut mushroom, white wine cream sauce, drizzled with truffle oil", she let me have a try before we both cleaned our plates! The sauce wasn't grey, gloopy and overpowering but light and clearly freshly made, the pasta was soft and tasty. We resisted the very tempting puddings (next time) and had a second Porn Star cocktail, which I highly recommend! The staff were wonderful and just to top it off when the bill came we were quite surprised as it felt like it should have cost more. I can not describe the thrill of looking at a menu where I can eat anything and everything. I've been veggie for 24 years but my friend is meat mad and so were all of the people who recommended it to me, it's just great food. I'm asking for the cookbook for my birthday, want to go back as soon as possible and can not recommend it more! Just go, it's worth whatever the wait might be!

Unfortunately, myself and my husband were not at all impressed with Mildred's and we would advise that you seek an alternative vegetarian restaurant. Here's our story:
To celebrate my birthday last wednesday (3/9/14), my husband took me here for dinner in the evening. It all started out well, we were immediately shown to a table and the waitress (who will remain nameless) took our order of two "mixed mushroom, porcini and ale pies with mushy peas and fries or mash" and two "carrot, apple, beetroot and ginger fresh organic juices." The waitress asked us if we wanted regular chips or sweet potato chips with our meal so we chose one of each. Immediately within 5 minutes, we were given our mushroom pies. In terms of flavour, our food was tasty. However, the pastry was really quite thin and disappointing - it needed to be a bit more substantial to soak up all the mushroom sauce filling. The sweet potato chips had a rubbery skin on one side, but tasty enough. After 40 minutes of waiting for our juices (and being quite parched from finishing the tap water earlier on) we finally tracked down our waitress and asked her where our juices had got to. Off she went, returning later to tell us that they had run out of apples and the chef hadn't told her! She asked us if we would like the same juice but made with oranges instead of apples, so off she goes again to place our order. By this stage, we had finished our main course and we were very thirsty. Finally, our juices turned up made with just orange and carrot juice, without the beetroot and ginger i.e. a bit bland and disappointing to what we had hoped for. We complained to our waitress and she said she would have a word with the Manager and try to sort something out. This never came to fruition. In fact, she vanished and we had to track down another waiter to place our dessert order and ask for our water to be refilled. Unfortunately we were not very impressed with the dessert menu. We had visited Mildred's a couple of years before and they used to do a delicious vegan Chocolate Torte with a raspberry centre. Very sadly, this is no longer on the menu. Instead there is a "chocolate peanut butter brownie with ice cream and chocolate sauce", which for £6.50 for what is basically a brownie that is so easy to make, we didn't think was worth it - even for my birthday! So after feeling quite disappointed about the appalling service, the pastry on the pie, the rubbery chips and the lack of a nice vegan chocolate pudding we decided to call it a night and asked for the bill. When the bill turned up we had been charged extra for the sweet potato chips (which our waitress had never indicated would be the case e.g. "would you like to upgrade to the sweet potato chips") and we were not given a discount on the juices, even though we had complained and our waitress said that she would sort something out. Therefore, we left in disgust without paying a tip and as a result will never return after this very disappointing birthday experience.
I emailed the restaurant Thursday morning and have received an apology admitting that they had made a "hash of things." However, no incentive to return has been given so we won't be going back. There are plenty of other vegetarian restaurants in London that I would rather give my business to (222 for example) and I suggest with Mildred's, that you don't take the risk, especially for a special occasion or celebration.
PS – QUITE IMPORTANT ADDITION TO ALL THIS: I forgot to mention that I woke up just after 2am with terrible stomach pains and had to make a mad dash to the loo. I won't go into the gruesome details but my toilet experience was HORRENDOUS! This continued all day on and off on the Thursday. My husband started feeling ill just before breakfast on Thursday and he's been suffering with bad stomach pains too. His has cleared up, but I've only just started feeling better (Friday). We suspect we may have had food poisoning from the mushroom and ale pies (since we both had the same thing). Strangely, the pies were put on our table extremely quickly (literally 5 minutes after we had placed our order) so maybe they had been made in advance and had been left lying around and then heated up in the microwave? Who knows. Anyway, we definitely won't be going back. Too risky!!!! Good luck if you go!
this is one of my favorite places in london, the food is really good and while im always a little skeptical of places that serve a range of world cuisines, everything I have tasted here, from burritos to laksa to burgers has been delicious! it has friendly funny staff, nice lighting and really buzzy atmosphere. It is a great place to go with a vegetarian date.
Great food, the final bill was more than expected. However, meal was ruined by the service. Our meal took almost 45 minutes to arrive. When we asked the server finally about our food - we were rudely told that it had only been 15 and to wait patiently. After that it was impossible to get any service at all.
More venues
Sponsored listings