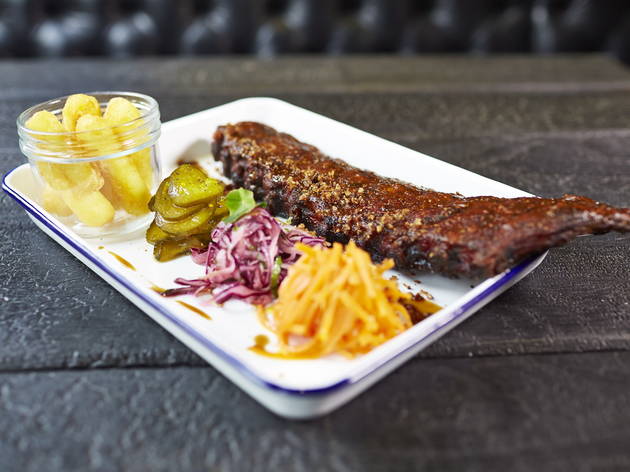 1/8
2/8
3/8
4/8
5/8
6/8
7/8
8/8
One Sixty. It's an unusual name, not least because owner David Moore has thus far named his eateries after the French for feet (Pied à Terre, L'autre Pied, Pied Nus). But then again, One Sixty (which, in case you're wondering, is the optimum temperature for slow-cooking meat) is a different story. It's in West Hampstead, not W1; it's laid-back, not la-di-dah; and the cooking is US smokehouse, not French fancy. But one thing that they really should have brought from les pieds was thoughtful staff.

On our 6.30pm visit, mains arrived before we'd even tried one of the starters (the chef, we were told, doesn't wait for the industry-standard call of 'mains away', but judges for himself when to send the food out). Minutes later, with starters still going, staff came over to clear our plates. Only a terse request not to be rushed sent them scuttling away. Looking down at our menus, the urgency became clear – 'table back by 8pm' scrawled in biro, meaning we'd been allocated 90 minutes to eat, after which we'd better get the hell out.

All this is a pity, because the food is keenly priced, and plenty is done well. Buttery mash with smoked bone marrow was richer than Oprah; the meat on our slow-cooked pork ribs leapt voluntarily off the bone; own-made pickles and slaws cut nicely through the calories. Other dishes needed tweaking (delicately smokey 'fish bites', let down by a so-what tartare sauce), or skipping altogether (mini 'doughnuts' that were more like pebbles than pastries).

As we prepared to leave, a more senior waitress came over to insist that we hadn't been rushed, asking that we 'don't worry about it'. A better name for this place: Pied dans la Bouche.
Venue name:
One Sixty
Contact:
Address:
291 West End Lane
West Hampstead
London
NW6 1RD

Opening hours:
5pm-midnight Tues-Thurs; noon-midnight Fri; noon-12.30am Sat; noon-10.30pm Sun.
Transport:
Tube/Overground/rail: West Hampstead.
Price:
Meal for two with drinks and service: around £70.
Menu:
View Menu
Do you own this business?
Average User Rating
3.5 / 5
Rating Breakdown
5 star:

5

4 star:

2

3 star:

3

2 star:

3

1 star:

1
Decided to have a catch up with old friends at one sixty after walking past numerous times and deciding l needed to go in at last .It was worth the wait and l am glad we finally went in and will certainly now become a regular haunt for my meat fix. The meat was immense, we all opted for something different and the ribs and lamb shank were stand out. We got merrily drunk on a great selection of beers and the staff were on hand to lead us to the next tipple and advise what we should try. A thoroughly great evening in a lovely establishment with a nice relaxed environment to catch up with friends. Well recommended.
We booked our table at top table and I turned up on time and had been told my table is not ready because the previous party had not left yet. Waited around for 10 to 15 min and then got told they got the reservation for 3 instead of 4, they fizzle a little and they made a small fuss and managed to put two singles tables together (they were originally gonna give us a single table for 3 of us).

Pricing wise is a bit of a rip off for a local, you can literally count the number of leaf on that leaf salad, and thank god it came with a main as it was 3 quid to get separately. Mains were priced on the high end where a pulled pork sandwich is 12 quid, so is 9 quid for that sandwich! The portion was small too!
The quality I will say is just on par with a "good food" court in America. If you are lazy, not that hungry and don't mind spending the money come here, if you want decent food at reasonable price go to Bodeans or even a food cart at lunch time. Or even more conveniently, your local M&S for the Pulled Pork sandwich
P.S the restaurant is still new, their sky box has its wires tangling underneath the TV resting on a chair next to me. Took us 15 min to get a bottle of diet coke and the waitress had went to the wrong table and I had to wave at her.

Service could definitely be improved, so its a bit cheeky they whack a 12.5% service charge on automatically. Just hard to get service and hard to get attention of servers. Which is a shame, because its a nice place, with decent food. I tried several starters - pigs cheek scrumpets were a bit like a fish cake made with pulled pork but a bit dry and inoffensive, the mac and cheese was comforting but also a bit dull, rib tips were great. My friends seemed to enjoy their burgers although there was a gap of several minutes for the last one to arrive. Generally needs improvement in execution.

I ordered food for delivery from One Sixty using Deliveroo but accidentally put the wrong post code in. It turned out, when I gave Deliveroo my correct post code, they couldn't deliver to me.
I ended up ordering an Uber to the restaurant to pick it up for me, an hour and a half later. The staff were helpful on the phone throughout, and took my food out to the cabbie without me even letting them know he was there. The food still tasted good too!
I went back for the second time (not my choice)

They had forgotten my order and I had to asked them a few times why my meal wasn't ready as my friends were served and they finally admitted they have forgotten my order - waited 25-30min, by that time all my friends had finished their meals. I ordered a burger for lunch (relatively quick to prepare in my opinion); of which I was assuming they were slaughtering a cow at the back since it took so long!

They have offered to have my meal on the house (that was very nice of them), however they had forgotten to take it off the bill - of which I have to remind them.


I can't wait for my next visit!
Had a gorgeous meal here. The place had a really nice vibe. The staff were friendly but not imposing. The mac and cheese was gorgeous and I can't stop thinking about the ribs. The selection of beers was good too which is a bonus!
We booked a table for 4 to eat on a Friday evening via TopTable. A little surprised to find ourselves perched on high bar stools in the bar area, rather than at a proper table, but that seemed a minor thing to quibble about. The service was polite, friendly and well-informed, helping us to make our choices from the small menu. Between us we had pulled pork, a burger and the ox cheek, with a few portions of chips, some corn and a green salad.
The food was beautifully presented, and the selection of slaws and dressings were well-flavoured without being overpowering, but there were some disappointments here. The burger had been requested to be at least medium cooked, but arrived rare. This had to be sent back for a replacement to arrive, so one diner was left without their main whilst the rest of us ate ours. We couldn't hold off eating, as the food was rapidly going cold: We explained to the waitress that serving meals on cold metal plates meant the meals quickly went cold whilst we were talking and eating. We were informed she agreed with us, but the chef refused to do this. We ordered desserts, although found these oddly named: the apple pie was actually a tarte tatin, and the chocolate 'cake' was a dense brownie.
All in all, this place has the potential to be an excellent addition to the West Hampstead scene. The decor aims for dressed-down hipster appeal and pretty much pulls this off (complementing the Alice House, a few doors down), whilst the range of beers was enticing. With a few tweaks (including trimming a little off the prices) this place could deserve to become a permanent feature in NW London nightlife.
Let's start on a good point: good meat. Nice, if a bit too sweet ox cheek. Tasty steak.
And now to the rest: like a game of gastro chinese whispers, this is what a hipster, pulled pork joint would turn out after being digested by Diagio and a bunch of hedge funders who live in Clapham. Cheap, bland decor. Like a bad run through Home Sense. Run of the mill beers. There is NOTHING 'craft' about this place. THE most terrible mac and cheese I've ever tasted, like pasta with mayonnaise. I don't think it had seen any actual cheese, and it arrived in a little frying pan it had clearly not been heated in (not grilled, just scooped out of the big vat of mayo-spag in the kitchen).
A very rude, stressed maitre'd, but an apologetic, very nice waitress and nice bar staff. Chaotic service still after a month, our order was taken twice after it got lost 45 mins after it was taken (a Thursday evening).
Annoyingly loud dad at-a-disco music.
I know, it's West Hampstead and I shouldn't expect cool (there were grown men in Hollister t-shirts) but this place is soulless and corporate. Verdict: McHipster. Get on the Tube and go to Sputino in SoHo for mac and cheese, and experience decent corpo-gastro.
Was excited to see a new restaurant in West Hampstead. Walked in on a Thursday without booking. Was told the restaurant was full but then offered a table for an hour. They seem to be very strict on time slots from the reviews below.
The food was good - I had the ox cheeks - well cooked. My girlfriend had the pulled pork - again very nice. Great chips... but the slaw was a bit much. My main came with slaw but it didn't say so I ordered a side of slaw.... slaw overload!
Overall a good addition to West Hampstead good food, good beers but a few service issues
On paper it has the making of great local addition. However I found the place disappointing. We were reminded that the table was only for 2 hr always nice and welcoming!! Ordered starters and the mains came just as they were taking the starters away. The mains were barely warm at best. The food was super tender however no crunch or charred edges, just meaty mush. Was off the table briefly to find my plate taken away with everyone still eating
I hope these are just early teething problems, as the idea is great.
Meat your heart out! This place is not for vegetarians. Succulent smoked meat is served with a selection of attractive garnishes and your choice of side. The menu includes ox cheek, lamb breast and a rack of ribs all slowly cooked at 160 degrees until the meat is soft and tender. A welcome addition to west hampstead with a bar to the front and more atmospheric restaurant to the back.
More venues
Sponsored listings