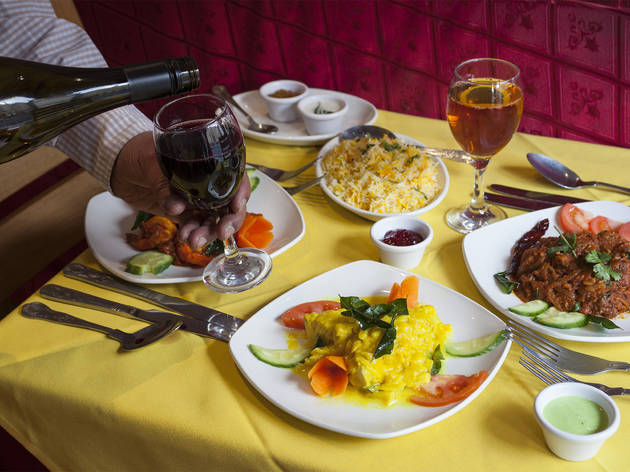 Mouthwatering meat curries, deftly spiced fish dishes and plenty for veggies bring a blast of the tropical subcontinent to Hammersmith.
The Keralan cooking at this neighbourhood gem doesn't disappoint – the food outshines its simple surroundings, so don't be distracted by the unassuming décor. Dishes are seasoned with a harvest from India's spice gardens, delivering the likes of explosive chilli heat, nutty mustard seeds, fragrant curry leaves and toasty peppercorns. You may never look at your pepper mill in the same way again.
We skipped the starters and headed straight to the main dishes. A sea-bass fillet, steeped in lime juice and cloaked in a paste of softened onions and gingery tomatoes, was wrapped in a banana leaf and flash-fried until cooked just so. Unwrapped at the table, our parcel unleashed a puff of spiced aromatic steam - beachside cooking in the heart of Hammersmith never tasted so good. The chilli-heat dial was turned to maximum for chemmeen mulakittathu - juicy prawns, simmered in a tomato-mustard seed masala, sharpened with a kick of tamarind. The result was a perfectly honed set of flavours melding into a first-class curry.
Meaty masalas share top billing with fish and seafood. Our erachi mappas featured tender lamb morsels in a smooth onion and coconut milk sauce, spiced with black peppercorns, warming cinnamon and green chillies. Its soupy masala made a marvellous match with saucer-like appams – spongy pancakes made from fermented ground rice and coconut-milk batter.
Dining here is a bargain – a set lunch of substantial curries and accompaniments will give you change from a tenner. Vegetarians are well looked after: we recommend the thorans – coconutty stir-fries. Shilpa feels like an outpost of southern tropical warmth and provides welcome relief from the street outside.
Venue name:
Shilpa
Contact:
Address:
206 Kings Street
London
W6 0RA

Opening hours:
Lunch served noon-3pm daily. Dinner served 6pm-11pm Mon-Wed, Sun; 6pm-midnight, Thurs-Sat.
Transport:
Tube: Hammersmith tube
Price:
Meal for two with drinks and service around £40.
Menu:
View Menu
Do you own this business?
Average User Rating
4.4 / 5
Rating Breakdown
5 star:

12

4 star:

2

3 star:

1

2 star:

1

1 star:

1
Awesome!! Authentic!! Great!! The only thing which I can say about Shilpa Indian Restaurant is that they are the best in providing authentic Indian food. Thank you guys for such authentic service!! Highly recommended!!
We were a bit skeptical when we came in to this restaurant, but I have heard good things about this place from my friends. So I thought of giving it a try. For starters we ordered deep fried lamb cubes that were mouthwatering tasty and tender. We also ordered kingfish steak grilled and that item was good. However, I would say the food was a little on the spicy side. For the main course we ordered King Prawn Moilee. The dish was awesome, the prawns soft and properly cooked. They used ample curry leaves to bring out the true essence of South India.
I have been to Shilpa Indian Restaurant before. They serve wonderful South Indian cuisine. You get to taste the flavors of real India. Shilpa Indian Restaurant offers great ambience where you can sit for hours and enjoy Indian cuisine at its best. I love coming back to them.
As far as Shilpa Indian Restaurant is concerned, I must say that they have the best lunch buffet. The quality of the food is very good and I have experienced the best dinner ever. If you want to taste that authentic Indian cuisine then this is the best place.
There is nothing better than the masala dosas served here. I have been to several other restaurants serving South Indian food, but when it comes to eating wonderful dishes there is nothing compared to the dosas here. There are so crisp from the outside and the stuffing is so unique, that it complements each other giving you a sublime taste. I would say these Indian pancakes are just the twisted start to your mundane days. If you plan to taste and try something different, there is nothing better than masala dosa served at Shipa Indian Restaurant.
A friend planned a little reunion dinner and we decided on this place based on the reviews here on Timeout. I'm sorry to say it was a big disappointment. The service was slow and the waiters disinterested. Putting that aside, we decided to order 3 starters, and 3 mains.
The starters were good and so despite the wait time, we were looking forward to our mains.
Sadly, it went downhill from there.. Our lamb dish smelt off and after tasting it, despite this, we returned it. We were offered to pick an alternative dish but only after we were told it should smell as it did - not in my experience!! This was then followed by a king prawn curry, where the prawns had been butterflied but the intestinal glad left in with the excrement for all to see. Needless to say this was really off putting, but yet again we were told that this is how it's served. By this point the replacement dish had arrived and the prawn curry swiftly taken away, however 10mins later we were still waiting for clean plates and so of course our chicken curry was now cold.
To our further frustration the manager took it upon himself to guess we must be the catering business and talk to us in a condescending tone about how the food is prepared, he went further as to ask us to consider the people around when pointing out the problem with the king prawns.
Needless to say this isn't a restaurant I'll be recommending nor revisiting.
Went there tonight after reading the review. Cheap eats shouldn't mean cheap quality. Ordered the starters which tasted fine. However I was let down on the mains. Ordered chicken, lamb and prawn dish. The chicken was your bog standard tikka masala dish and was fine. The lamb however smelt off so I sent it back only to have the waiter come back and tell me that's how it's meant to smell. I know how lamb should smell and that wasn't it. I then decided to tuck into my prawn dish. The prawns had been butterflied prawn only to see the entire intestinal tract! Why would anyone butterfly a prawn and leave the poo for all to see and eat? I could not understand this. I again called for the waiter and complained only to be told that's how it's served. I told him that it wasn't good enough. He removed the bowl of prawns and left my plate with the offensive prawn in front of me. Why would he not take it away? After waiting 10 minutes for him to come back I managed to flag down another waiter who did not understand why I wanted the plate removed and a fresh plate to eat. The manager then came over and told me that I looked like a woman that needed 100% correct from a restaurant. Well of course I wanted 100% from a restaurant when I'm going out and paying for food and a service. Nobody pays for substandard food or service. Seems here you get what you pay for. Bad service, bad food and a bad attitude. Such a shame as I had such high hopes.
the fish moilee is something else!
The best Indian restaurant in London. Under-rated and unique I have had no hesitation in recommending it to friends to come here and then wait for the inevitable call the next day to say "wow". The food is superbly cooked – each dish individual and different. They are humble and modest – the service is good but don't expect any recommendations from them – they would not be so presumptuous! Maybe they could do with a little of the pushy sales technique employed by Indian Zing next door – because Shilpa is 10x better than that establishment. Go and you wont be disappointed – try everything – but my favs are Masala Dosa (huge crispy pancake with potato curry inside) good for starter sharer; cauliflower chilli fry, grilled scallops, deep fried lamb ( Aattirachi Varattiyathu), Erachi Mapas, Fish Moilie (in fact any fish) and the Kerela Paratha !! Only thing I'm not keen on is dishes with Mangoes. Prices exceptionally cheap. If I knew anything about restaurants and had some cash I would sex this up and make a fortune!
Shilpa Indian Restaurant is a great place to try seafood the Indian way. They cook great fish. With the right amount of curry powder and assorted herbs, they create magic. The cooks have immense talent as they try to bring India in London. I first came here with my parents, and I love their food.
Shilpa Indian Restaurant is a great food joint. They offer mouthwatering Indian food and everyone should try. I went there with my friends and was surprised with the excellent service they provided us. The staff helped us pick the items from menu according to our taste preference.
What a find! Went here for the lunchtime deal. Got a delicious fish curry, veg curry, rice, poppadum, bread and pickles all for £8. Service was very fast and the food was delicious. Highly recommended.
This is my favourite Indian restaurant in London. It's also my local, so I couldn't ask for better. The food is consistently excellent. The service is friendly. One piece of advice: Don't order North Indian dishes, this is a South Indian restaurant.
We just finished dinner there this evening and we have to say, by far the best Indian In the city! This establishment beats any brick lane inhabitant with individual flavours in each dish that makes them utterly delicious. We will certainly be back!
We chose Shilpa after reading reviews and can wholeheartedly recommend the place. Roast sea bass dish was superb, bursting with flavour. Jalfrezi also went down very well. One of our party who used to frequent the Manchester's "curry mile" reckoned this was the best Indian meal he'd ever tasted!
More venues
Sponsored listings