Circus in London
Roll up, roll up, for the best circus shows and events London has to offer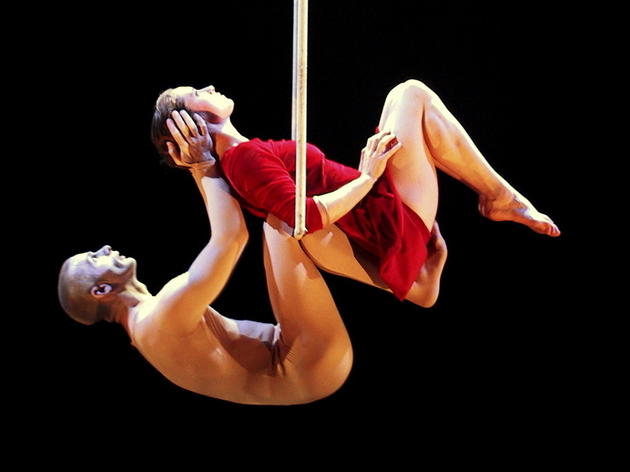 Although you'll not see any lions being 'tamed' in massive stripy tents, London's modern circus scene is far more jaw-dropping than the suspicious magicians and caged animals of old. Have your breath taken away with your pick from our list of London circus shows.
Circus shows in London
'Amaluna' will return to London in January 2017. This review is from the 2016 run.  Pity the performers in Cirque du Soleil. When they're not doing jaw-droppingly impressive things on stage, the minutiae of ordinary life – like popping to the shops for milk, say – must be incredibly boring.Because, make no mistake, this show from the Canada-originating, world-conquering circus troupe is a spectacular piece of escapism. After premiering in Montreal in 2012, it's at the Royal Albert Hall to mark the company's twentieth anniversary at the venue.Loosely based on Shakespeare's 'The Tempest', with shades of Mozart's 'The Magic Flute', the show follows the trials of Miranda – daughter of the sorceress Prospero – and the shipwrecked Romeo, as they fall in love on the island of Amaluna. The multi-level set, with its massive, peacock feather-like fronds, has epic scale.At this point, there's an expected level of slick professionalism in Cirque du Soleil's work – and, leaving aside the slightly cheesy rock opera stylings, 'Amaluna' feels like a Hollywood blockbuster, with a budget to match. And yet this doesn't take away from the thrill, thanks to its well-chosen acts and deft tonal changes.The supernatural is apt when the skill and physical prowess of the performers seems magical. But it's not just about stunning, large-scale acrobatics performed by people dressed as animals. The proper hook to 'Amaluna' is its confidence in occasionally silencing the roaring guitars of the band – in
In the program notes to this returning, revamped collaboration between NoFit State circus and Italian director Firenza Guidi, there's lot of deep and meaningful talk about 'a journey through time' and 'the story of the fragility of our lost selves'.  That's all guff really, because 'Bianco' is an out-and-out, oohs-and-aahs circus show that pushes all the right spectacular buttons, with no cheesy themes or narrative needed. The show itself is refreshingly stripped-back, with little of the pomp and bombast – clowns, ringleaders, cheap slapstick comedy – that you might normally expect from a family-friendly circus show. 'Bianco' shuns narrative and, apart from a small intro advising 'Here be Dragons' and 'no photography please', there is no spoken content.  Instead, the performances speak for themselves in a succession of increasingly impressive, classic circus tricks, from juggling and tightrope-walking to breathtaking acrobatics and trapeze stunts. Soundtracked by an excellent live band, 'Bianco' opens in a fit of orchestrated chaos: stray juggling pins here, a wobbly tightrope walker there. But that rawness is endearing; it makes watching people do really difficult, knackering tricks all the more impressive. The second half delivers a more crafted drama, culminating in a superb duo rope performance using only body weight and gravity, the finale crowned by a snowstorm, a nod to Bianco's festive context. The energy of the endearingly shambolic opening, however, is what Bia
Book now
Classic clowning doesn't have to mean custard pies. Leandre Ribera's magical show 'Nothing to Say' creates a house full of surprises, with playful mirrors, telepathic pianos and flying socks - you might not want to leave.