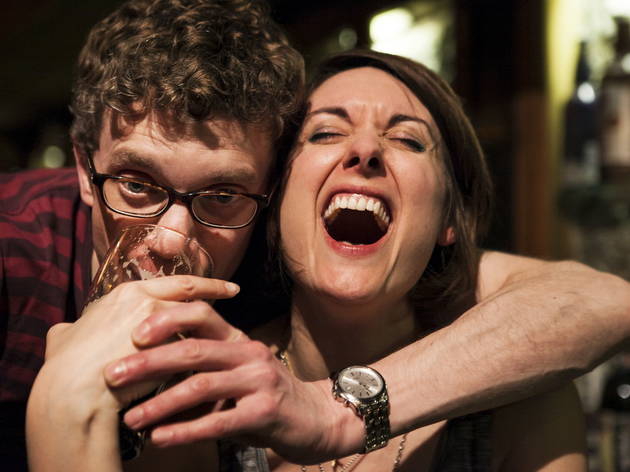 'Dirty Great Love Story' returns for 2017 with a new cast. This review is from 2013
Good-looking, damaged girl on a hen do meets awkward nerd boy on a stag do. There is chemistry. There is drunken sex. There is shame (her). There is pining (him). Two years of will-they-won't-they follow. You can probably guess how it all ends.
Richard Marsh and Katie Bonna's exuberant two-person poetry play 'Dirty Great Love Story' is cheerily, occasionally wearyingly in thrall to romcom cliché.
But Pia Furtado's production is, in all other respects, almost addictively loveable. Marsh and Bonna put in puppyishly wonderful performances as they spin a – presumably untrue – story of how the two of them met and became a couple, each taking on multiple roles to populate their world with a cast of delightful thirtysomething oddballs.
The predictability of it all makes things sag occasionally, there's also the odd duff line, and it's occasionally quite distracting that Marsh talks in rhyme and Bonna doesn't.
But it is, nonetheless, incredibly good fun, with some brilliant gags (including quite probably the funniest Thomas Becket reference of all time). Above all, though, it's about the performances: Marsh is defter with a rhyme and Bonna is more full-tilt physically, but they're both utterly winsome, to the point that I'd probably have burnt the theatre down if they'd not ended up together. Andrzej Lukowski