Off-West End theatre
Think beyond theatreland with our guide to London's best off-West End theatre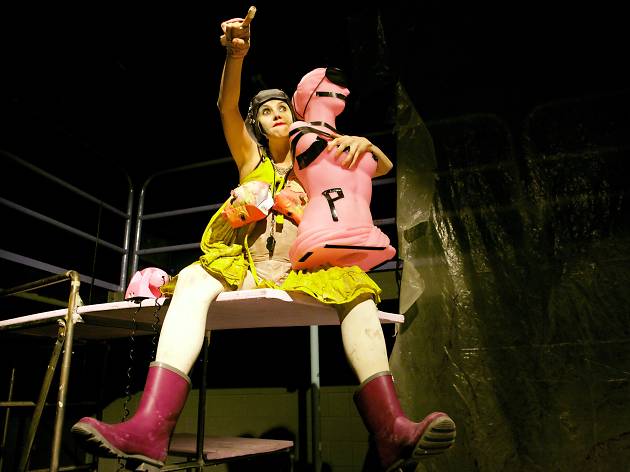 London's off-West End theatre scene is a bustling, vibrant hub of new shows and revivals all performed at subsidised theatres. Here's Time Out's guide, including reviews, tickets and theatre information for the off-West End shows that even the most traditional theatre-goer would be sorry to miss.
Central London off-West End theatre
East London off-West End theatre
This review is from 'Peter Pan Goes Wrong's 2015/16 run. It returns for 2016/17 Peter Pan soars! Or doesn't, in this extremely funny follow-up to 'The Play That Goes Wrong', which transferred from a fringe venue to the West End, won an Olivier for Best New Comedy earlier this year and gladdened the hearts of theatre-makers everywhere. The original cast are back for this production. If you saw 'The Play That Goes Wrong', there are few surprises here. It's an ingeniously simple premise: drop an audience into a fourth-wall-breaking performance of a show that falls apart spectacularly from the first scene. Here, that's an adaptation of JM Barrie's 'Peter Pan', directed and starring the pompous Chris (Henry Shields), who – in spite of his amusingly seasonal, pissed-off insistence that this is 'not' a panto – is properly boo-hissable. And not just as Captain Hook. The real director of 'Peter Pan Goes Wrong', Adam Meggido (who's just had huge West End success as co-creator of 'Showstopper! The Improvised Musical'), stages everything beautifully, creating a breathlessly chaotic atmosphere that distracts us from the obvious technical skill and sophistication necessary in order to make everything break down so hilariously. There's some inevitable flying-related japery, with the 'actors' swinging haplessly into scenery or abruptly disappearing. But while this – and the various set malfunctions – are good for quick laughs, it's the cast's comic timing that really powers it, from Nanc
Read more
'Henry IV' will be revived as part of the Donmar's Shakespeare Rep season in King's Cross in October 2016. This review is from the 2014 run. I don't think I'll ever love any of superstar director Phyllida Lloyd's trilogy of all-female Shakespeare plays for the Donmar. Not out of phallocentric malevolence, but because Lloyd over-justifies her gendered casting by reframing the works as plays-within-plays, staged by the inmates of a preternaturally jolly women's prison. The device soured 2012's 'Julius Caesar' for me. Definitely one of the Bard's less amusing plays, Lloyd's insistence on staging it with the tongue-in-cheek élan of a 'Bad Girls' episode undermined its gravitas and that of Harriet Walter, one of the all time great Brutuses.Two years on and 'Henry IV' (Lloyd's own streamlined mash-up of 'Henry IV Part 1' and '2') gets a similar treatment. I didn't love it. But I'm learning to live with it. Lloyd has toned things down fractionally (people who've been killed don't immediately leap to their feet and wink at the audience). The play – with its rich comic storyline about wayward Prince Hal (Clare Dunne) and his disreputable BFF Falstaff (Ashley McGuire) – is more suited to Lloyd's larky treatment than 'Caesar' was. And the bottom line is that the acting is sensational.Walter is on board again and impresses as a mob don-like Henry: her slight frame puffs out with alpha male self-belief. There's a menacing De Niro-ish frown, even a touch of Brando's accent from 'The Godf
Read more
'Julius Caesar' will be revived as part of the Donmar's Shakespeare Rep season in King's Cross in October 2016. This review is from the 2012 run. Phyllida 'The Iron Lady' Lloyd's all-female 'Caesar' has a twinkle in its eye, its tongue in its cheek, and a cast scarcely less storied than the Roman statesmen it depicts. It's also a timely rejoinder to the increasing vogue for boys-only productions of Shakespeare classics. Yet despite Harriet Walter's monumental performance as reluctant assassin Brutus – one for the ages, unquestionably – Lloyd manages to snatch mild anticlimax from the jaws of triumph. This is a high-concept production that feels forced and messy next to the RSC's brilliant pan-African take from earlier this year. Lloyd has made Shakespeare's 'JC' into a play within a play. The moment of revelation comes shortly after the assassination of Caesar, when the dead dictator (Frances Barber) bounds back on her feet to join in a good-natured ruck with fellow inmates – and we realise we're supposed to be watching a group of jolly jailbirds performing the piece for a lark. A cheeky riposte to the blokey shackles of Bardic reverence, sure. But it also means the tragedy stakes are greatly diminished when we're winkingly reminded that nobody really dies. And, on a practical note, while Bunny Christie's austere jail set is an impressive transformation for the Donmar, the low banks of hard plastic seats lead to some mindbogglingly bad sightlines – from the fourth row bac
Read more
This review of the show is from 2014. Raymond Briggs's 'Father Christmas' returns to the Lyric for Christmas 2016. This Lyric Christmas staple brings Raymond Briggs's 'Father Christmas' to enchanting life. The author of 'The Snowman' is known for his beautiful depictions of the season – and this adaptation by theatre company Pins and Needles is equally charming. Zoe Squire's hand-painted set has an old-school appeal to it, complete with gorgeous wooden animal puppets by Max Humphries. Santa's sleigh is a spectacle: his huge reindeers gallop through the dry ice that slowly fills the stage. And the twinkling fake snow gives a truly chilly atmosphere. In an original twist, Kate Adams performs the music and sound effects live on stage, perched in an attic-style room above the action. She rattles maracas when Father Christmas (Vic Llewellyn) shakes salt on his breakfast, whistles when the kettle boils and becomes a well-spoken radio voice reporting snowy weather. In the spirit of the book it's based on, Llewellyn – who's the spitting image of Briggs's drawing – is a rather grumpy Santa, moaning about the 'bloomin' cold' and 'bloomin' chimneys' as he performs his Christmas duties.  All good, but although you'd hardly expect a complex plot in a play for the under-sixes, the complete lack of storyline means it's not really going to be that stimulating for accompanying adults and older children. A large section of the play is simply Father Christmas's morning routine, and the focus t
Read more
Whether it's Maleficent or Katie Hopkins, the villains we love to hate are so much more memorable than the whiter-than-white good guys that eventually defeat them. So the baddie-baiting premise of Nancy Harris and Marc Teitler's scrappy new musical has plenty in it to charm both children and adults who are tired of saintly Peppa Pig's farmyard homilies.Captain Hook, The Big Bad Wolf, the Ugly Sisters and Rumpelstiltskin are finally being punished for their wicked ways by the Board of Fairytales. After a visually stunning capture scene at Little Red Riding Hood's grandmother's cottage, Wolf joins the fold. Dean Nolan is an edgy, riotously funny delight as Wolf: James Button's ingeniousdesign decks him out in wolf tattoos, a suitably lupine band t-shirt and even a furry tail dangling from his belt. But he can't quite bring himself to delivering the huff and puff his costume suggests, wrestling with the conflict between his villainous grandma-gobbling role in the story and his cutesy offstage romance with Cinderella. Hisbickering baddie cellmates have no such qualms: they tell their stories in cabaret-style numbers, and torment poor Rumpelstiltskin, re-imagined as an irate Scottish punk who's got nothing scary about him but his farts.Harris and Teitler spin their original Grimm fairy tales into comic gold for ages five-plus. But no amount of spit-and-polish can hide the fact that they're so interested in how and why stories use villainy, they forget to include any conflict. Cind
Read more
Tall Stories presents this jocular adaptation of Julia Donaldson and Axel Scheffer's best-selling book about a witch and her menagerie of helpful animals. Ages 3-8.
Read more
Scamp Theatre returns with its splendid puppet-driven family adaptation of Julia Donaldson and Axel Scheffler's popular book. The hapless Stick Man's domestic idyll – living up a tree with his Stick Lady Love and their trio of stick sprogs – is shattered when an enterprising dog mistakes him for a common or garden piece of wood. Ages 3+.
Read more
This review is from 'Grounded's April 2014 run at the Gate The First World War was a century ago and times have changed. Where war once meant hordes of young men sacrificing their lives in foreign lands, now both women and men can take part in the battle, some from the safety of a trailer park near Las Vegas. George Brant's superb, intense play demonstrates how no matter where you're conducting it, war grates on the heart, soul and mind. His protagonist is The Pilot, a rough, tough woman F-16 flyer for the US Air Force who loves 'the blue' and the thrill of flight. When she gets pregnant on leave she starts a family and is happy, but it's not long before she's raring to get back to work. When she does, things are different. She is reassigned to 'pilot' drones – remotely controlled stealth bombers operated from the desert a few miles from the Vegas Strip. Lucy Ellinson returns as The Pilot after the show's hit runs in Edinburgh and London last year, and she is devastatingly good. Her relaxed, jokey manner occasionally breaks, hinting at a taught energy which she increasingly loses control of as The Pilot struggles to reconcile her two worlds – one where she bombs 'the guilty' in 12-hour shifts, the other where she returns home each night to be a wife and mother. Though we are never quite sure what's going to happen until it does, Ellinson makes this journey feel determined somehow, like one of the Greek myths she frequently references. The Pilot is a tragic figure, alone on h
Read more
Good-looking, damaged girl on a hen do meets awkward nerd boy on a stag do. There is chemistry. There is drunken sex. There is shame (her). There is pining (him). Two years of will-they-won't-they follow. You can probably guess how it all ends. Richard Marsh and Katie Bonna's exuberant two-person poetry play 'Dirty Great Love Story' is cheerily, occasionally wearyingly in thrall to romcom cliché. But Pia Furtado's production is, in all other respects, almost addictively loveable. Marsh and Bonna put in puppyishly wonderful performances as they spin a – presumably untrue – story of how the two of them met and became a couple, each taking on multiple roles to populate their world with a cast of delightful thirtysomething oddballs. The predictability of it all makes things sag occasionally, there's also the odd duff line, and it's occasionally quite distracting that Marsh talks in rhyme and Bonna doesn't. But it is, nonetheless, incredibly good fun, with some brilliant gags (including quite probably the funniest Thomas Becket reference of all time). Above all, though, it's about the performances: Marsh is defter with a rhyme and Bonna is more full tilt physically, but they're both utterly winsome, to the point that I'd probably have burnt the theatre down if they'd not ended up together. Andrzej Lukowski
Read more
This new show puts a polar bear and a husky together as the best of friends. 'Breaking the Ice' is a piece for ages 2-5 where everyone learns how to play along together. It's based on the true story of what happened when a bear and a load of huskies played happily together.
Read more
West London off-West End theatre
This review of the show is from 2014. Raymond Briggs's 'Father Christmas' returns to the Lyric for Christmas 2016. This Lyric Christmas staple brings Raymond Briggs's 'Father Christmas' to enchanting life. The author of 'The Snowman' is known for his beautiful depictions of the season – and this adaptation by theatre company Pins and Needles is equally charming. Zoe Squire's hand-painted set has an old-school appeal to it, complete with gorgeous wooden animal puppets by Max Humphries. Santa's sleigh is a spectacle: his huge reindeers gallop through the dry ice that slowly fills the stage. And the twinkling fake snow gives a truly chilly atmosphere. In an original twist, Kate Adams performs the music and sound effects live on stage, perched in an attic-style room above the action. She rattles maracas when Father Christmas (Vic Llewellyn) shakes salt on his breakfast, whistles when the kettle boils and becomes a well-spoken radio voice reporting snowy weather. In the spirit of the book it's based on, Llewellyn – who's the spitting image of Briggs's drawing – is a rather grumpy Santa, moaning about the 'bloomin' cold' and 'bloomin' chimneys' as he performs his Christmas duties.  All good, but although you'd hardly expect a complex plot in a play for the under-sixes, the complete lack of storyline means it's not really going to be that stimulating for accompanying adults and older children. A large section of the play is simply Father Christmas's morning routine, and the focus t
Read more
This review is from 'Grounded's April 2014 run at the Gate The First World War was a century ago and times have changed. Where war once meant hordes of young men sacrificing their lives in foreign lands, now both women and men can take part in the battle, some from the safety of a trailer park near Las Vegas. George Brant's superb, intense play demonstrates how no matter where you're conducting it, war grates on the heart, soul and mind. His protagonist is The Pilot, a rough, tough woman F-16 flyer for the US Air Force who loves 'the blue' and the thrill of flight. When she gets pregnant on leave she starts a family and is happy, but it's not long before she's raring to get back to work. When she does, things are different. She is reassigned to 'pilot' drones – remotely controlled stealth bombers operated from the desert a few miles from the Vegas Strip. Lucy Ellinson returns as The Pilot after the show's hit runs in Edinburgh and London last year, and she is devastatingly good. Her relaxed, jokey manner occasionally breaks, hinting at a taught energy which she increasingly loses control of as The Pilot struggles to reconcile her two worlds – one where she bombs 'the guilty' in 12-hour shifts, the other where she returns home each night to be a wife and mother. Though we are never quite sure what's going to happen until it does, Ellinson makes this journey feel determined somehow, like one of the Greek myths she frequently references. The Pilot is a tragic figure, alone on h
Read more