Shakespeare plays in London
Comedies, tragedies and histories – catch them all in the Bard's spiritual home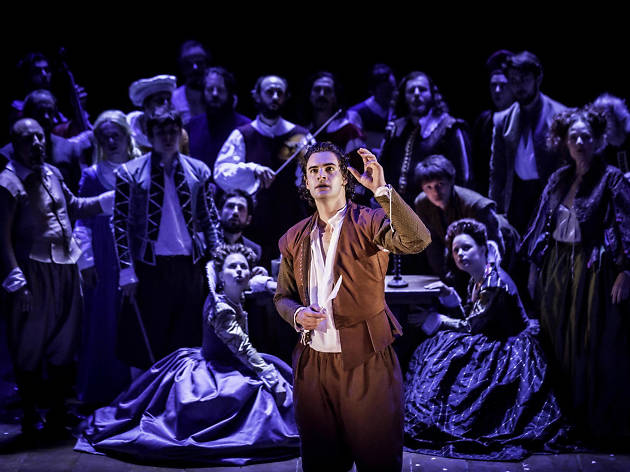 Whether you're planning a trip to Shakespeare's iconic Globe theatre or a spot of Shakespearean drama elsewhere in London, here's where to watch the best plays by the Bard in London.
Shakespeare plays in London this month
'Julius Caesar' will be revived as part of the Donmar's Shakespeare Rep season in King's Cross in October 2016. This review is from the 2012 run…
Read more
An aging king is usurped by his two conniving daughters in one of Shakespeare's best loved dramas. Antony Sher takes the title role here, following a performance as Willy Loman in 'Death of a Salesman' - a rather more modern tale of a patriarch losing his wits. RSC artistic director Gregory Doran's production will also star Paapa Esseidu, who recently played the lead in the RSC's 'Hamlet', as Edmund.
Read more
One of Shakespeare's lesser known comedies, 'Love's Labour's Lost' follows the struggles of the King and his friends to stick by their vow to renounce romance, and turn to their studies for three full years…
Read more
As two of Shakespeare's best loved characters, Benedick and Beatrice's fiery, endlessly witty courtship is always a treat to watch. Christopher Luscombe's production sets their romance at a country house party in the sombre aftermath of the First World War…
Read more
Phyllida Lloyd's prison-set, all-female-cast, Donmar Warehouse-produced take on 'The Tempest' bloody well should be good…
Read more
Shakespeare plays coming soon
William Shakespeare's gender-crossing comedy 'Twelfth Night' gets, er, some more gender-crossing as bitter, romantically confused steward Malvolio becomes Malvolia, as played by national treasure Tamsin Greig. That's all we really know about Simon Godwin's production so far, but it looks to be a big, populist plank of the NT's new year programming. 
Read more
This stripped-down 90 minute production of Shakespeare's dark comedy 'Twelfth Night' is aimed at secondary school students. Class politics, broken egoes, and tense encounters make it a fizzing first encounter with the bard's story.
Read more
Your vote: The top ten Shakespeare plays
To honour the 400th anniversary of the Bard's death, we asked you to rank all of his plays in order of greatness. Here's how the top ten turned out in the ultimate Shakespeare play-off
Read more
A guide to Shakespeare's Globe
Make the most of your visit to London's most historic stage, the Globe Theatre
Read more