The Curious Incident of the Dog in the Night-Time
Types of venues , Theatre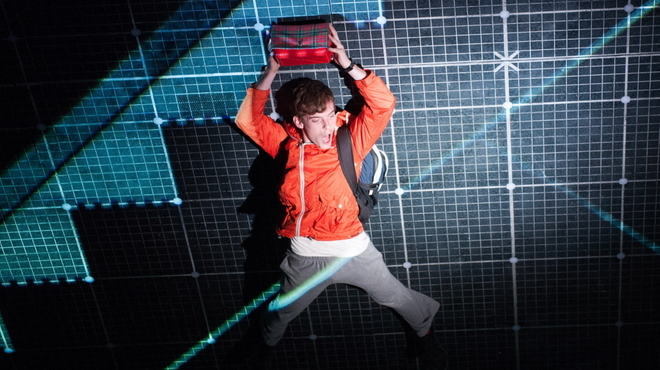 Luke Treadaway (Christopher Boone) © Manuel Harlan
Time Out rating:
<strong>Rating: </strong>4/5
User ratings:
<strong>Rating: </strong>4/5
Rate this
Time Out says
Fri Aug 3 2012
In Mark Haddon's mega-successful novel, 'The Curious Incident of the Dog in the Night-Time', we see the world from the askew perspective of Christopher, a teenage maths genius whose apparent – but never explicitly stated – autism leads him on a strange and revelatory quest in pursuit of the killer of his next door neighbour's dog.
The genius of the book is that Christopher's total lack of self-awareness or comprehension of the world around him is so perfectly conveyed by Haddon that the reader must fill in numerous blanks as to what is really going on. Inevitably a stage adaptation must either fill in the blanks itself or come across as impossibly difficult, and while there are plenty of leftfield flourishes in Marianne Elliott's production, adapting playwright Simon Stephens has, probably wisely, dispensed with most of the ambiguities and distortions of the book.
In normalising the narrative, Stephens has opened the gates for some truly stellar performances. Luke Treadaway is astonishing as Christopher: with his ramrod straight posture, nervously twitching hands and high, precise voice he is strange, funny, brave and sympathetic. But he is also pitiless. Trapped in a world where metaphors and common sense and the colour yellow and his parents' touch will always seem impossibly alien to him, he is without any sentiment.
It is devastating to realise, as the play goes on, that in any conventional sense of the word he will never 'love' his mum and dad, and that the strain of this has effectively ruined their marriage. As his parents Ed and Judy, Paul Ritter and Nicola Walker are exceptionally powerful and poignant – two decent, caring, conventional people who simply don't have the emotional stamina to cope with their demandingly different son.
It is this trio of performances that make and define the production. To a large extent the more experimental touches feel like window dressing, albeit good window dressing. Bunnie Christie's in the round set is a clean grid of squares onto which mathematical formulae and other reflections of Christopher's thought processes are projected and things from the 'real' world – people, trains, dogs – occasionally rudely intrude.
In the second half, Stephens introduces some playful Brechtian notes that homage the notion that we might be seeing everything from Christopher's perspective. We aren't, but there are enough layers of quirk bolted on to keep things out of the kitchen sink and true to the tone of the book.
This adaptation is a bit more middlebrow than I expected from the usually leftfield Stephens, but that's fine: it's absolutely right of him and Elliott to cook up a broadly appealing adaptation that will chime with the book's legions of fans. Okay, not many of them will see a sold out run in the tiny Cottesloe, but it's got transfer written all over it: expect this Dog to keep running. Ages 13+.
'The Curious Incident of the Dog in the Night-Time' will be broadcast in cinemas on Sep 6 as part of National Theatre Live
Share your thoughts