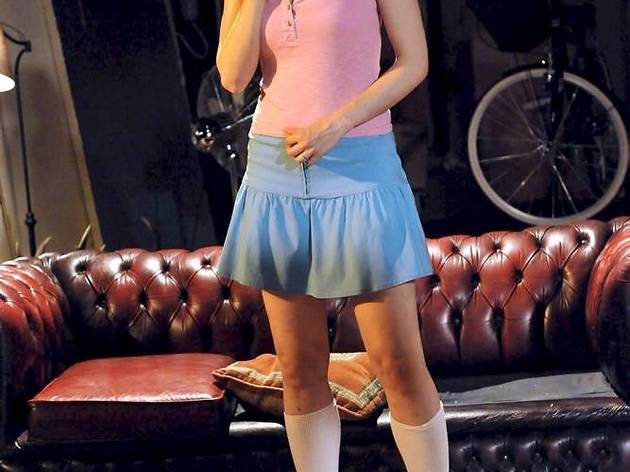 'The baby's in my womb, not my vagina,' newly pregnant Becky explains to her husband, John, who's transformed into her sexually uninterested, paranoid keeper. How, Penelope Skinner's new play wants to ask, do women morph from sex object into mother? What if they don't want to? And what if you discover you can't stand your husband the minute he gets you pregnant?
We never find out. Skinner ebulliently rips the clothes off this scenario without getting near its heart. Unattractive to her husband, panicking about her sexless future, Becky bonks her way out of her confusion. Characters from the village, the lonely plumber, the louche, slightly mental actor, appear to her as characters from her old porn stash. They seem that way to us, too, the dialogue riddled with double-entendres, the action a train of clichéd fantasies enacted, and nobody's motivation or interconnection feels properly credible.
That said, Romola Garai is gorgeously inviting as Becky, and Alexandra Gilbreath and Nicholas Burns generate real comic energy from the sidelines as the hysterically unhappy neighbour and Becky's cipher of a husband.
But the most enduring revelation of this entertaining, slightly scrappily staged production from director Joe Hill-Gibbins is that inverting gender stereotypes doesn't amount to radicalism.
Average User Rating
4.5 / 5
Rating Breakdown
5 star:

1

4 star:

1

3 star:

0

2 star:

0

1 star:

0
Brilliant stuff (as usual) at the Royal Court. I predict Romola Garai will win awards for this performance - don't miss.
I went to see the Village Bike. Having recently given birth, I don't think that Skinner was inverting gender stereotypes or attempting to be radical. Instead she was trying to tell the truth about a certain point in a woman's life, tackling a subject matter that is rarely addressed and, to a certain extent, still taboo in our society. This play is not perfect and I was disappointed that Becky fell for Oliver. However, I think that this was the most likely and truthful outcome, given the circumstances. I think Time Out's reviewer missed the point.