Gay LA: Best gay bars and clubs in Los Angeles
From West Hollywood institutions to hip Silver Lake alternatives, we give you the 10 best gay bars and clubs in LA.
By Duane Wells Mon Sep 17 2012
Photograph: Courtesy The Abbey
Best gay bars and clubs in LA: The Abbey
---
When it comes to
gay
bars
and
clubs
in Los Angeles, options abound. To help you choose from the best
bars
in West Hollywood,
Silver Lake
and beyond, check out this list of Time Out's favorite
gay
bars in LA.
---
Honorable Mention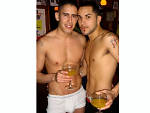 Price band: 1/4
Critics choice
The Roosterfish deserves a shout-out if only because it's the far Westside's only gay bar. Not only that, but this fun little hole in the wall, just a stone's throw from the ocean, has been serving the gay community for over three decades—long before Abbott Kinney Blvd, the street it calls home, was the fashionable address it is today. The staff can be notoriously rude. Still, this gem of a bar attracts a quirky bunch of artsy Venetians and Westsiders of all stripes, making it a refreshing choice for Angelenos in need of a change of scene or who just happen to be hanging at the beach. Hint: The back patio is an excellent option for whiling away a few lazy hours in the sun on the weekends.
Price band: 1/4
Critics choice
Oil Can Harry's is one of the few destinations that even West Hollywood diehards will, on occasion, intentionally venture over the hill and into the valley to experience. Oil Can's is like another world…one that hasn't changed much since the late '80s or maybe the early '90s judging from the décor. Most of the week the bar is filled with guys in cowboy hats enjoying some pretty serious line dancing, but on Saturdays Oil Can Harry's comes alive with Retro Disco Night, where the vibe is pure '70s and the energy is high. A welcome diversion from a night of standing and posing in WeHo, Saturdays at Oil Can Harry's recall a time when going out was more about community and interpersonal communication. More importantly, it's just freewheeling fun.
11502 Ventura Boulevard, between Colfax Avenue & Tujunga Avenue
More info
---
---
Time Out Los Angeles on Spotify