Long Island City bars near MoMA PS1 and 5Pointz
After dancing at MoMA PS1's Warm Up parties, or toasting 5Pointz's tenth anniversary, tie one on at these Long Island City bars.
By Claire Zahm Tue Jun 5 2012
---
The proximity between contemporary-art museum MoMA PS1 and graffiti epicenter 5Pointz makes this corner of Queens a top choice for a day out, but on summer weekends, this block in Long Island City really comes alive. 5Pointz presents a program of live painting, poetry, bands, B-boys and beat-boxers to mark its tenth anniversary, while MoMA PS1 reignites the weekly Warm Up parties on July 7 with a headlining set from Todd Terry—culminating with a Thom Yorke DJ set on September 8. Events at both venues tend to finish while the night is still young, so continue the good times with these choice Long Island City bars.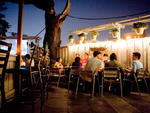 This artsy taqueria is home to a restaurant, a performance space, a kitschy downstairs lounge that hosts stand-up and improv comics on weekends and a secluded back patio. We suggest heading directly to the idyllic garden, where you can regroup from a sweaty afternoon at PS1's Warm Up dance party with a few strong margaritas (pint $7, pitcher $26) and an order of chips and guacamole ($3.95–$5.95). 7-minute walk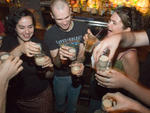 The dark-wood interior of this century-old local has its allure, but in nicer weather, the back patio offers a haven for enjoying live music, comedy and trivia several nights a week. Order a Stone IPA ($5) and soak up some vitamin D with your crew in the brick-walled space. Those looking to cool off can always seek shade beneath the small overhang. 7-minute walk
45-58 Vernon Blvd, (between 45th Rd and 46th Ave)
More info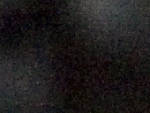 Suspenders-clad bartenders hand-cut ice blocks for all the tipples served at this spacious and heavily air-conditioned bar, but the chill factor doesn't end there: Despite the high-end speakeasy vibe, the refreshingly low-key Dutch Kills slings both classic cocktails and seasonal inventions like the Stay Up Late (gin, French cognac, lemon, sugar, soda), each for $11. Time your arrival to the Battle Axe Gleason happy hour (Tue–Thu, Sun 5–7pm), when drink specials can be had for $8. 8-minute walk
27-24 Jackson Ave, (at Dutch Kills St)
More info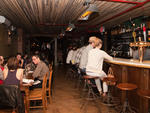 Skip the usual brunch mimosas here and order an LIC Lemonade ($10), a not-too-sweet vodka-based selection enriched with honey and clove. Lovers of brown spirits should visit this New American eatery on Tuesdays, when the bar offers $8 whiskey cocktails and four different whiskey flights starting at 6pm. Carry your drinks to the back patio, or commandeer one of the orange banquettes by the front or back windows, which the restaurant keeps open in fair weather. 8-minute walk
46–42 Vernon Blvd, (between 46th and 47th Aves), 11101
Book online
Despite the recent closing of this restaurant's expansive back garden, bistro Lounge 47 is still an LIC destination—the bar, decorated with vintage furniture from the '60s and '70s, draws patrons from the neighborhood's Silvercup Studios with summery cocktails such as the Rosemary Lemonade Fizz (citrus vodka, rosemary-infused syrup, fresh lemon juice and club soda; $9) and a small-plate menu designed by Julie & Julia author (and longtime LIC resident) Julie Powell. An unpretentious, conversational staff and gratis minimuffins during brunch will help keep even your loftiest art analyses grounded. 5-minute walk


47-10 Vernon Blvd, (between 47th Ave and 47th Rd)
More info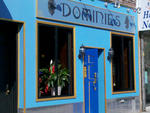 Dominie's Hoek
This no-frills bar is perhaps best known for having the only outdoor patio in the 'hood that stays open till 4am. But if you crash on the early side, hunker down for Dominie's Hoek's happy hour (Mon–Fri noon–7pm), during which any beer or sangria goes for $3. 9-minute walk
48-17 Vernon Blvd at 49th Ave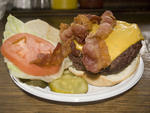 This second location of the West Village fave maintains all the old-timey charm of the original, complete with $3 mugs of McSorley's Light and Dark (as well as Bud) and the same tasty burger that made the place famous. The former Casino Restaurant space has been completely renovated to mimic the flagship's interior, down to the painted tin ceilings, mirrored back wall and corner-facing entry. 9-minute walk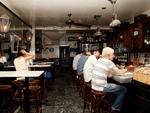 Sip vino on the veranda of this quaint wine bar, where $1 oysters (daily 5–7pm) and any of four rotating rosés will keep the conversation bubbling. Plan your visit on a Monday or Thursday, when Domaine offers live jazz performances alongside its regular selection of 40 wines by the glass. 11-minute walk
50-04 Vernon Blvd, (between 50th and 51st Aves)
More info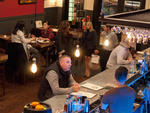 This high-ceilinged, bi-level destination boasts 150 seats, a lounge area, a roomy second-floor outdoor patio and 28 rotating taps pouring one of the finest craft-beer programs in the city. Hops-heads can choose from a huge selection of IPAs—including the citrusy Bear Republic Racer 5 ($5–$9)—while those averse to suds can indulge in a tangy, pale pink Rose Margarita ($9). 12-minute walk
5-14 51st Ave, (between Vernon Blvd and 5th St)
More info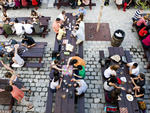 For those seeking an all-out, all-day drinking adventure, a trip to this sleek party bar is well worth the walk—or quick ride on the M or R train. The enormous, multilevel, indoor-outdoor beer garden consistently draws a rowdy crowd with $13 liters of predominantly American and German drafts such as the famed Spaten Oktoberfest, plus plenty of seats for you and yours to kick back. 34-minute walk. Subway: M, R to Steinway St.
35-33 36th St, (between 35th and 36th Aves)
More info
---