Watch the best music videos shot in New York City
We've culled Gotham's best music videos to mark the Museum of the Moving Image's big exhibition on MTV's onetime bread and butter.
By Tim Lowery, Marley Lynch and Jonathan Shannon Wed Apr 3 2013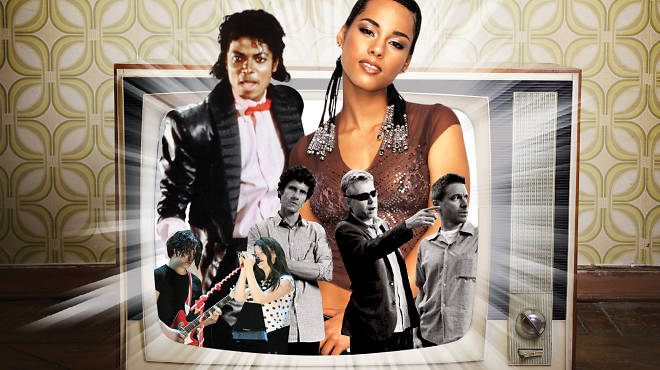 We live in an incredibly photogenic city. So it's no surprise that, as with films and, you know, photographs, New York has served as the backdrop for some of the most iconic, best music videos—many of which are on view at the Museum of the Moving Image's "Spectacle: The Music Video" (36-01 35th Ave at 37th St, Astoria, Queens; 718-777-6888, movingimage.us; $12, seniors and students $9, children 3–12 $6, members and children under 3 free; Fri 4–8pm free; through Jun 16), an interactive look at 35 years (and 300 prime examples) of tune-fueled shorts.
Michael Jackson, "Bad" (1987)
The King of Pop's inescapable hit yielded this 18-minute opus by Martin Scorsese. In it, a prep-school kid (played by MJ, natch) returns to his punky NYC roots and (in a choreographic nod to West Side Story) dances alongside thugs in Brooklyn's Hoyt–Schermerhorn subway station.—Marley Lynch

Public Enemy, "Fight the Power" (1989)
This civil-rights entreaty—written for Spike Lee's Do the Right Thing and directed by the Brooklyn filmmaker—shows a larger-than-life political rally in vibrant Bed-Stuy. Besides helping push hip-hop into the mainstream, the video called for radical action with its depiction of denizens busting a move while protesting inner-city injustices and racial violence.—Marley Lynch
Dinosaur Jr., "Feel the Pain" (1994)
Was Spike Jonze on a roll in 1994 or what? In that year alone, the future Adaptation director churned out 12 music videos, including classics for Beastie Boys ("Sabotage") and Weezer ("Buddy Holly"). We're just as partial to this one, wherein a yuppied-up J Mascis treats Manhattan as a giant golf course, recklessly racing around on a golf cart and beating the shit out of suits in Central Park, all en route to a rooftop green.—Tim Lowery
Daft Punk, "Da Funk" (1997)
Jonze again. In this one, a polite dog-man with a broken leg (who apparently has to carry a boom box blasting this cut by the French electro kings?) limps around his new nabe and runs into an old crush. It's a fantastic blend of weirdness, humor and melancholy, a mix we'd later come to expect from the director on the big screen.—Tim Lowery 
Black Star, "Definition" (1998)
Mos Def, Talib Kweli and Hi-Tek cruise along Flatbush Avenue in a dollar cab dubbed Black Star—named, like the group, after Marcus Garvey's African-American–owned and–operated shipping company. There's a call for togetherness in the face of the violence that claimed Biggie (look for his likeness), but the video is never naive—a pan to a bodega sign reminds the viewer of WIC and food stamps—and is even funny: The music halts when a cop pulls the van over. "Are you deaf?" he says. "No, he's Hi-Tek," says Mos. "And he's Def," adds Kweli.—Jonathan Shannon 
Beastie Boys, "An Open Letter to NYC" (2004)
Hurtling subway cars, Lady Liberty, Grand Central… This ode to the trio's hometown is a visual roll call of classic Gotham imagery and, as with much of its full-length tribute to post-9/11 NYC, To the 5 Boroughs, gives a big, sloppy kiss to the city.—Marley Lynch
Jay-Z with Alicia Keys, "Empire State of Mind" (2009)
This clip for the squillion-selling single shows Brooklyn emperor Jay-Z sporting a Yankees vest and spitting rhymes about local legends, while fellow NYC native Keys pounds the piano in Times Square. It's iconic–New York overload (lights! skyscrapers!). It's also awesome.—Marley Lynch
The Stepkids, "Legend in My Own Mind" (2011)
A bespectacled white dude (comedian Kurt Braunohler) walks around NYC in a Mets jacket and lots of bling, hoisting a ghetto blaster. Silly stuff, for sure. But Tom Scharpling's vid, with its mix of slo-mo, sun-drenched  shots and mellow retro-soul sounds, also boasts a weird sort of beauty.—Tim Lowery
---
You might also like
---