Restaurant and bar openings: October 10-16, 2013
Pippali, O Merveilleux and more launch in New York City.
By Christina Izzo and Patty Lee Mon Oct 7 2013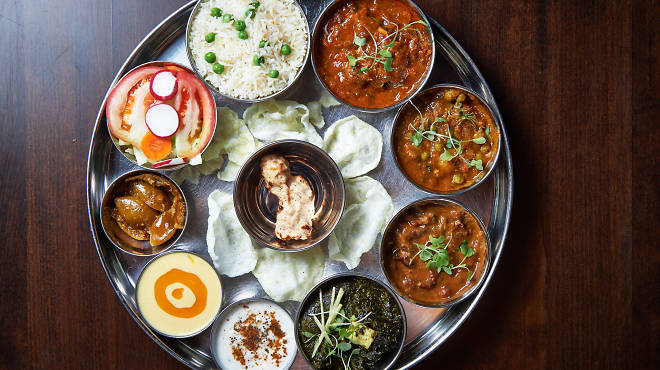 Chicken thali at Pippali Photograph: Filip Wolak
The following venues are expected to open by October 16th. Always call ahead, as openings can be delayed.
B&Co. This three-level behemoth boasts a Mediterranean restaurant, a small-plates lounge and a private club. The 80-seat eatery is decked out with ceiling mirrors, a marble bar and a 40-foot-long mosaic of Fornasetti faces. The menu centers on southern Mediterranean fare, with an emphasis on seafood: tuna tartare with crispy fennel, a lobster-and-mango salad and branzino baked in parchment. Cocktails include the gin-based Mademoiselle (Cointreau, mint, egg white and lime) and the Scotch-charged Blood & Sand (brandy, Antica Carpano and orange bitters). 14 E 58th St between Fifth and Madison Aves (212-838-3200)
Bubby's High Line Meatpacking clubgoers can grab late-night burgers at the second location of this wildly popular brunch spot. With robin's-egg blue ceiling and white brick walls, the homey space serves casual American fare like pit-smoked BBQ, chicken and waffles, and biscuits and grits. A takeout window offers the joint's beloved pies (apple-whiskey, pecan-maple), along with tacos and pulled pork sammies into the wee hours. 73 Gansevoort St at Washington St (212-206-6200)
Café Paulette Paris native Lionel Guy-Bremond cooks family recipes at this Fort Greene café, named after his grandmother. Find coq au vin, beet tartine with goat cheese and braised leeks, and Gruyère ravioli with smoked salmon at the 26-seat spot, decorated with French movie posters and burgundy leather booths. For dessert, there's an apple tart with crème fraîche, and raw sheep's milk with house-made peach preserves. The wood-paneled coffee bar offers macchiatos and lattes during the day, and French reds and whites at night. 136 DeKalb Ave between South Elliott Pl and Sout Portland Ave, Fort Greene, Brooklyn (718-694-2044)
Dutch Kills Centraal Named after the Dutch spelling for central, this Long Island City corner pub—decorated with a communal wood table, yellow walls and reclaimed-bottle light fixtures—focuses on local beers and American comfort eats. Five craft brews including SingleCut's Half-Stack IPA and Kelso Pilsner are on tap at the wood bar. The food menu comprises fried pickles, kale-and-pumpkinseed salad, and a burger topped with Gruyère and mushrooms. 38-40 29th St between 38th and 39th Aves, Long Island City, Queens (718-606-8651)
Fools Gold Post up at a 42-foot-long counter for espressos and craft beers at this rustic café-bar from the Alewife team. In a room lined with keg pallets and light fixtures fashioned from plumbing parts, sip one of 30 draft brews, orange wines or Brooklyn Roasting Company coffee. Chef Michael Haigh (the Vanderbilt) crafts a bar snack menu featuring house-made pickles, charcuterie and crostinis. 145 E Houston St between Eldridge and Forsyth Sts (no phone yet)
Hester Street Café The thoughtful museum-café trend arrives downtown: The New Museum has recruited Hester Street Fair vendors to revamp its food offerings. The 30-seat canteen offers artisanal snacks from the outdoor bazaar, including Melt ice-cream sandwiches and Baking Soda Shop gingersnap cookies. For heartier fare, Ducks Eatery crafts a menu of sandwiches like the Market (roasted zucchini, heirloom tomato, porcini) and the Boucherie (Edwards' Surryano aged ham, smoked ricotta, quince preserve). To drink: Intelligentsia coffee, McNulty's teas and Juisi cold-pressed juices. New Museum, 235 Bowery at Stanton St (917-267-9496)

Le Bilboquet An East 63rd Street mainstay since the '80s, the French bistro has moved three blocks over. Four times larger than the 40-seat original—which has spawned outposts in Sao Paulo and Dallas—this location highlights signature plates (chicken with butter jus) and new ones (parsley squid) from chef Julien Jouhannaud (Adour). And brunchers can breathe easy—the champagne-fueled fests have carried over, offering made-to-order omelettes, foie gras terrine and croque-monsieur sandwiches. 20 E 60th St between Madison and Park Aves (212-751-3036)
Maison Kayser Prolific pâtissier Eric Kayser headed midtown for the third NYC location of his global bakery chain, bringing his famed baguettes and brioche to Columbus Circle. Along with breads and pastries, the satellite features French bistro staples (steak tartare, croque-madame), as well as a coffee station, a juice and smoothie bar, and an expanded takeout section of sandwiches and salads. 1800 Broadway between 58th and 59th Sts (212-245-4100)
O Merveilleux In a city of cronut copycats and mini-cupcakes ad nauseam, this yellow-walled pâtisserie introduces dessert-obsessed Gotham to a one-of-a-kind treat: merveilleux. A favorite among Belgian sweet tooths, the cloudlike meringues are shellacked in whipped cream and coated in chocolate shavings. A large window overlooking the kitchen allows diners to watch bakers turn out the snowball-size pastries in three flavors—chocolate, white chocolate and speculoos (Belgian spiced gingerbread)—as well as pavlova, brioche and waffles. 1509 Second Ave between 78th and 79th Sts (646-681-8688)
Pippali With Michelin-starred Tamarind, Peter Beck helped lift Indian fare from the confines of crumpled takeout menus and all-you-can-eat buffets. The Mumbai-born toque—who put in a stint at Benares after leaving Tamarind in 2012—is back at it, boosting his native cuisine with this upmarket Curry Hill restaurant outfitted with a marble bar, chocolate leather banquettes and amber-lit drum lamps. Named after the tongue-tingling long pepper, the 60-seat spot highlights contemporary Indian fare: lamb haleem stew with cracked wheat and roti; black-pepper duck breast with lentil-rice pancakes; and samudri arisi, a seafood paella–biryani hybrid. Saffron-infused mango mousse and cardamom pudding are sweet caps to the meal, and a globe-spanning wine list—including an Indian varietal—is also available. 129 E 27th St between Park Ave South and Lexington Ave (212-689-1999)
The Pullman Kitchen Find 12 variations of grilled cheese at this 62-seat spot, named after the loaf that many of its sandwiches are built upon. Choose from options like the Lobster, with horseradish cheddar and pickled onion on potato bread, and the Sunday Supper, which tops pork-and-beef bolognese with house-made ricotta on sourdough. Brooklyn Cured charcuterie, blue-crab beignets and fried green tomatoes are also available. 959 Second Ave between 50th and 51st Sts (212-888-7404)
Reserve Cut This Kosher restaurant fuses land and sea, offering steaks and sushi inside the former Sho space. Sourcing chops from his Gravesend butcher shop, the Prime Cut, owner Albert Allaham offers dishes like dry-aged Angus ribs, Colorado rack of lamb and veal sweetbreads with fava beans. Anchoring the 200-seat dining room—filled with black leather chairs and gray banquettes—is a dark-wood sushi bar, where chefs dispatch sashimi and rolls like the Volcano (spicy tuna, Asian pear, avocado). The Setai Club & Spa Wall Street, 40 Broad St, second floor at Exchange Pl (212-747-0300)
Roni-Sue's Chocolates Watch cocoa maven Rhonda "Roni-Sue" Kave at work in the glass-lined production room, and pick up signature treats like the blackout cake truffle, beer caramel pretzel nuggets and "pig candy. " A repurposed cocktail trolley serves as a coffee and hot-chocolate station, while vintage cake stands hold pastries from daughter Allison's boozy baking outfit, Butter & Scotch. 148 Forsyth St between Delancey and Rivington Sts (212-677-1216)
Sekt Named after the German term for sparkling wine, this 36-seat restaurant—outfitted in reclaimed wood and copper-tin ceilings—specializes in Eastern European small plates. Chef Otto Zizak—known for his deep-fried burger at Korzo—draws from his family's Slavic heritage, turning out dishes like short-rib blini, ham-hock terrine and beer-cheese onion soup. 651 Fifth Ave between 18th and 19th Sts, Park Slope, Brooklyn (347-987-3670)
Shake Shack Danny Meyer's überpopular burger chain pulls into Grand Central Terminal for its ninth NYC outpost, with 12-ounce to-go bottles of ShackMeister Ale and a new concrete: the GCT Crust-ellation (vanilla custard, Valrhona chocolate crunchies and toffee pieces). 87 E 42nd St between Park and Lexington Aves (646-517-5804)
Simit + Smith This New Jersey bakery turns out simits, something of a Turkish bagel-pretzel hybrid. At the takeout counter, order yours with dipping sauce (honey, jams) or stuffed with deli ingredients, such as feta, peppers, onions and chicken breast. A small grocery section sells Middle Eastern foodstuffs, like coffees and Turkish delight. 100 William St between John and Platt Sts (646-964-5629)
Tao Downtown For its second location, this clubby bistro takes over the 22,000-square-foot space that once housed Hiro Ballroom and Matsuri. The menu draws inspiration from all over Asia, featuring dishes like a Hong Kong-style crispy snapper; Shanghainese fried rice stuffed in an egg crepe; and Japanese Wagyu sukiyaki. Sculptures and paintings from Thailand and Bali decorate the 400-seat room. Maritime Hotel, 92 Ninth Ave between 16th and 17th Sts (212-888-2724)
T Bar Soho This downtown outpost of T Bar Steak & Lounge serves New American fare. In a 68-seat dining room—lined with vinyl records and photos of rock stars—dine on tuna tartare, seared octopus and turkey burgers. 331 West Broadway at Grand St (212-775-0404)
Villard Michel Richard Call it a New York homecoming. After a stint at midtown's Chateau France in 1974, French heavyweight Michel Richard left the city, opening lauded spots in Los Angeles and Washington, D.C. The James Beard Award–winning toque has swept back into town, bringing his modern French fare to the historic Villard Mansion. The 110-seat space—decorated with gilded walls and framed mirrors—possesses a split personality: On one side is a casual eatery serving bistro fare like roasted chicken and lobster burgers; on the other, a tasting-menu restaurant. Open for dinner only, the dining room showcases Gallic dishes with a global twist, including Colorado lamb with jalapeño-cumin sauce. New York Palace Hotel, 455 Madison Ave between 50th and 51st Sts (212-891-8100)
---