100 best New York restaurants: Authentic Indian food
Some of the best New York restaurants highlight the complex cuisine of India. Here are our favorites, offering spicy curries and sub-continental classics.
By Time Out editors
Photograph: Caroline Voagen Nelson
100 best New York restaurants: Tamarind Tribeca
Authentic Indian food is a cuisine that tends to divide diners. Some are committed to the hunt for the best New York restaurants serving dal, fiery chutneys, chat and thali, while others are content to munch dense samosas and neutered chicken tikka. We binged on nan and lassi during our a mission to compile this list of the city's most accomplished regional Indian cuisine. Did we miss your favorite Indian restaurant? Join the conversation in the comments.
RECOMMENDED: Full list of 100 best New York restaurants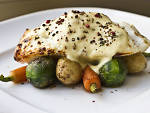 Price band: 2/4
Critics choice
A stunning spin-off of the original Tamarind in the Flatiron District, the Tribeca location convincingly draws from all corners of the subcontinent with its sprawling menu. Beyond the requisite chicken tikka masala (one of the best we've had), the dishes delight at every turn: A lamb appetizer (Nizami Keema) combines tender grilled strips with soft minced meat and pillowy nan, while Punjabi Mutton—actually made with goat—falls off the bone in a rich, vibrant curry. But the most consistent pleasures come out of the twin tandoor ovens, visible from the main dining room; superlative lamb chops—tangy, spicy and tender—and moist sea bass slathered with thick yogurt and a subtle blend of roasted spices that enriches the flaky fish without overwhelming its delicate flavor.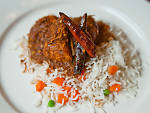 Price band: 2/4
Critics choice
Specializing in phal, a habanero curry that's popular along London's Brick Lane restaurant row, Curry House issues a how-hot-can-you-go challenge to every diner. The nine types of curry are ranked by burn level. Because the menu warns that phal, the hottest, is "more pain and sweat than flavor," non-asbestos palates should go with gentle but bouncy jalfrazi sauce, which is excellent over lamb.
306–308 E 6th St, (between First and Second Aves), 10003-87
More info
Price band: 3/4
Critics choice
The heart and soul of this luxe Chelsea eatery is its glassed-in spice room, where chef Vikas Khanna hand-grinds and mixes house blends each morning. He deploys seven whole spices—including star anise, cloves and cardamom pods—in a pungent, burgundy-hued curry that coats a lamb shank, slow-braised until the meat nearly slides from the bone. Other evidence of the room's sorcery fills the regionhopping menu, organized by traditional methods of Indian cooking—not just tandoor and handi (pot cooking), but also tawa (cast-iron), sigri (fire pit) and patthar (stone). Along the way, the thoughtful spicing also appears in plump Goan shrimp with blazing piri-piri sauce, a ginger-marinated chicken kebab cooled by pureed avocado and even cocktails served in the sultry front lounge.
27 W 24th St, (between Fifth and Sixth Aves), 10010
Book online
---