The Radio City Christmas Spectacular
Dir. John Dietrich. With the Radio City Rockettes. Radio City Music Hall.
By Time Out editors Thu Dec 1 2005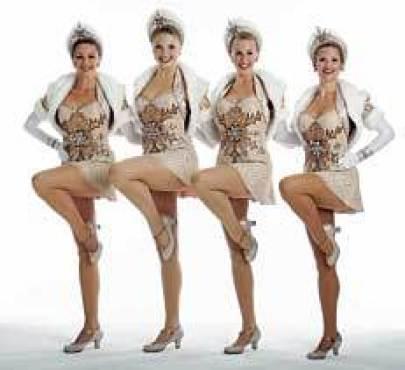 GET YOUR KICKS The Rockettes go out on a limb. Photo: Radio City Entertainment
Time Out Ratings :
<strong>Rating: </strong>0/5
Say what you will about the Radio City Christmas Spectacular—it's vulgar, sexist, inadvertently blasphemous—but it is truly family entertainment. Kids get candied images of Santa, elves and gifts; dads can ogle scads of leggy dancers; moms can lose themselves in all those gorgeous costumes; even creepy religious aunts can forget their worries by focusing on the Living Nativity, the laughable sop to Christianity that concludes this deeply strange tourist attraction.
For New Yorkers, the Spectacular is worth seeing mainly as a historical curiosity: the Rockettes, those synchronized chorines with frozen smiles and silken gams, represent a theatrical tradition that goes back to the 1920s heyday of Florenz Ziegfeld and vaudeville. In fact, winking references to cell phones and the Internet aside, the show remains a bona fide vaudeville specimen. It begins with a computer-animation 3-D short film of Santa Claus zipping around the New York skyline before touching down in front of the theater, moves on to a series of eye-popping song-and-dance set pieces inspired by The Nutcracker, Macy's window display and Santa's North Pole workshop, and concludes with the aforementioned Nativity—which is about as biblical as Charlton Heston in a fake beard. But who cares? The Rockettes are a breathtaking precision-dance act, and there's something charmingly insane about a show that focuses with equal seriousness on the birth of Christ and 36 women dressed up like wooden toy soldiers.—David Cote