Make your way along the narrow streets of downtown Athens and, soon, the multiple hazards – stray cats, street hawkers proffering watches and, as happened to me, a speeding moped laden with a whole lamb carcass swinging its limbs – become a fact of life. I learned that, as recently as six years ago, some of these spray-painted byways were even tougher to navigate.
'When we first came here you couldn't pass along the street because there was a pile of garbage blocking you,' says Vassilis Haralambidis, director of creative hub, bar and events space Romantso. 'There were no lights so it was dangerous at night. It was a ghetto, basically. So we had to tackle these sorts of things.' Looking out at the bustling, sunlit road today, it's hard to picture the trash-clogged nightmare he is describing. But this is Athens all over.
Nearly a decade after the 2009 government-debt disaster that Athenians call 'The Crisis', the Greek capital is undergoing a creative rebirth. Low rents, unoccupied buildings and a pervading DIY ethos have led to new art galleries, courtyard restaurants, performance spaces and hip, hidden cocktail dens like The Clumsies and six d.o.g.s.
After a few years of being contentiously hailed as 'the new Berlin' by travel tastemakers ('BERLIN IS THE NEW ATHENS' screams a cheeky, giant piece of street art in the Monastiraki neighbourhood), the city has carved out an identity, appeal and edge all of its own. So I've decided to join the growing hordes of visitors (against the odds, 2016 saw 25 million tourists visit Greece) and explore the lively, rough-hewn creative scene that has come to symbolise a very Hellenic sort of resilience.
It doesn't take long to encounter an example of the city's recent troubled past and tentatively resurgent present. My hotel – the recently opened Electra Metropolis, located a short walk from tourist bullseye Syntagma Square – is a ritzy 216-room affair, with indoor and outdoor pools and a rooftop that offers a knockout view of the Acropolis. But it is housed in the former headquarters of the Ministry of Education. And, as my guide Thodoros tells me conspiratorially when we meet in the lobby on the first morning, it was the tear-gas-choked site of a 2011 skirmish between police and activists opposing reforms to university policy. 'I know because I was one of the ones protesting,' he says with a smile, leading me out into hazily warm morning weather.
This is my first clue that Thodoros – who works for Athens Urban Adventures – is going to offer a city tour with a difference. Throughout the day he'll be a knowledgeable, unconventional and gossipy accomplice who peppers the city's underexplored nooks and crannies with site-specific stories.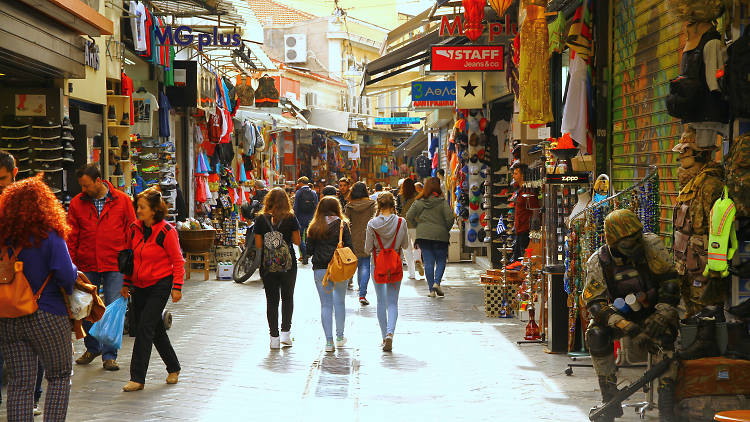 Monastiraki Flea Market. Photo: Shutterstock
After shouldering past the bric-à-brac stalls of Monastiraki Flea Market we go for fredo espresso (aka iced coffee) in Taf, or The Art Foundation. Housed in a hidden courtyard topped by a yellowing canopy it features a central bar area and crumbling gallery spaces (when we visit there's an incisive display of sustainably made products). The 'We don't care!' sign outside the gender-neutral bathrooms points to the progressive, punk ethos that's a discernible theme of the city's post-Crisis landscape.
Artist occupations of disused premises are still commonplace and the edgy Exarcheia district is currently effectively run by anarchists. In 2017, Athenian architect Zachos Varfis turned some scrubland into Latraac, a vibey outdoor café with a free wooden skate bowl.
'Everyone here is into the DIY thing,' notes Jimmy, the nose-ringed and heavily tattooed mechanic at fixed-gear bike shop Vicious Cycles. Tucked away just north of the elegantly gritty Psirri district, it was founded by British ex-pat and cycling evangelist Gareth Jones. Its status as an unofficial clubhouse for other initiatives – bike races, rock gigs, community events at adjacent watering hole Handlebar – is, again, very Athens.
After stopping for a generous Greek lunch at The Egg of the Rooster in the Metaxourgio area (I'd also recommend the gussied-up classics at Psirri fave Zampano) we press on. Travelling past walls covered in layers of street art ('We Athenians complain about the graffiti but then when it gets cleaned off we say the city is losing its soul,' laughs Thodoros), we eventually come to Romantso and those formerly garbage-piled streets. Opened in 2013, it's a striking, modishly decorated multi-level space in the abandoned headquarters of a Greek magazine called, you guessed it, Romantso.
But beyond the Instagram-ready design touches – salvaged stock exchange screens in the basement club space, retro computer consoles in the mid-century bar area – Romantso has a nurturing, community aspect that seems to be characteristic of the recent wave of Athens's creative spaces. It operates as an incubator, offering private offices, co-working spaces and support to young creatives. Also, when the refugee crisis intensified – with some 53,000 men, women and children entering the country – Romantso's events area was used by a charity to assist migrants with visa applications.
Romantso. Photo: Athena Liaskou
More recently, this commingling of the arts and social consciousness led to the founding of the biennial Mind the Fact festival. Launched last May, it's a city-wide enterprise that aims to highlight work that gives voice to 'the other' – be it refugee art shows, plays devised by recovering gambling addicts or musicians let loose on the city's trams. 'Life in the city has been better art-wise and spirit-wise since the Crisis,' says Ioanna Valsamidou, the festival's co-founder, when we grab a coffee later.
The city's creative rebirth isn't restricted to independent events and small-scale concerns in repurposed premises, though. Esteemed German art exhibition Documenta pitched up in Athens last year; early 2018 saw the National Contemporary Art Museum installed in new premises at a former brewery in the leafy Koukaki district; and on my final day – after beers in the crush of noisy, neon-lit bar Barrett, and a move to Psirri's slick new boutique hotel, 18 Micon Street – I make my way to the recently completed Stavros Niarchos Foundation Cultural Centre.
Designed by rock star architect Renzo Piano, it's a giant, jutting £500 million complex that features the Greek National Opera's 1,400-seater auditorium, the Greek National Library's books and precious manuscripts, and a High Line-style urban park that stretches along the back of the artificial hill that the main buildings are set into. Even an uncharacteristic spot of rain can't spoil the stunning view from the top, out to the Aegean sea and back to the huddled low-rises of the city.
Naturally, with the reverberations of the Crisis still being felt, eyebrows were raised at the price tag attached to the centre's construction. But, as a largely free public space devoted to creativity, it's in step with the other initiatives dotting Athens. It's a gleaming crown on a city that thrums with a unique history and an inspiring, irresistible energy. As Valsamidou has it: 'There's a Greek thing that, the more you put us under pressure, the more we create.'