Athens
Welcome to Time Out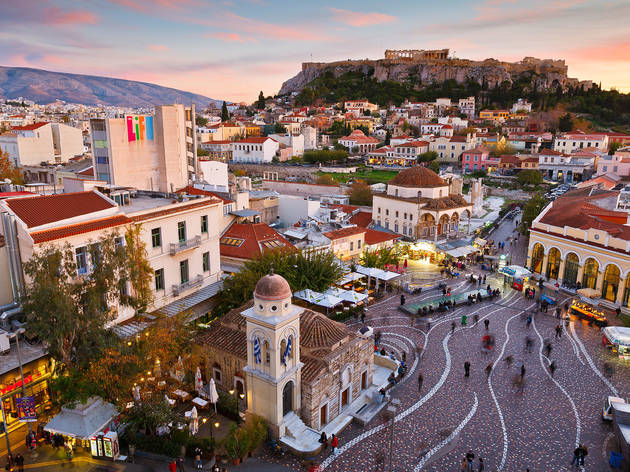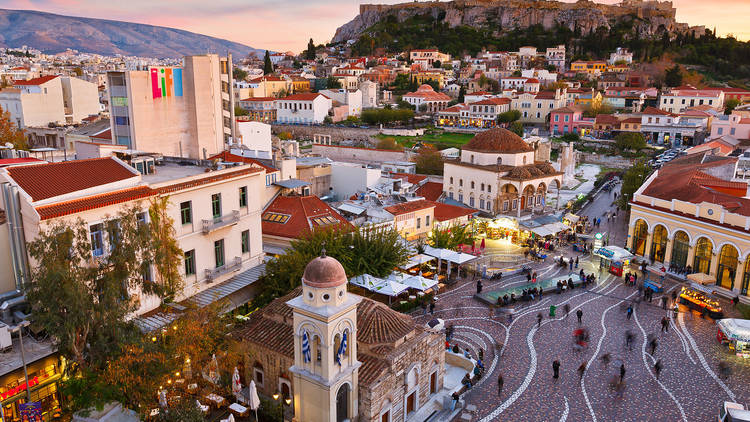 The ultimate guide to Athens
The best of Athens
If the guidebooks are to be believed, there are surprises hidden around every unassuming corner in pretty much every city. We know that's not true: it's tourist board sloganry at its worst. But in higgledy-piggledy Athens – where ancient and modern, nature and civilisation, tradition and trends mingle – perhaps the cliché could hold. The very best things to do in Athens certainly suggest so. Traffic-filled roads mask cobbled alleys with bougainvillea-drenched cafés and restaurants. Inside neoclassical buildings, cutting-edge galleries are thriving. The plainest of entranceways can lead to an outdoor cinema serving ouzo under the starry night sky. And then you turn one way, and chances are the twinkling Parthenon's staring right back at you. Athens is the cosmopolitan heart of Greece, and indeed all of Western culture. Here's how to get the best out of it. Done something on this list and loved it? Share it with the hashtag #TimeOutDoList and tag @TimeOutEverywhere. Find out more about how Time Out selects the very best things to do all over the world.
Going to Greece and gunning for gyros? Athens's homey tavernas can certainly deliver the goods (and be warned: they're moreish). We think you should go in for one of those juicy bundles of meat as soon as you arrive. But just as its art scene is blossoming, and the list of brilliant things to do diversifying, the best Athens restaurants have matured no end in recent years. And gyros isn't on the menu. Now those greasy kebab joints are joined by trendy restaurants still offering old-world classics, but reworked in increasingly daring ways. Ever thought of chucking cuttlefish in your moussaka? Squid in your pesto pasta? One Athenian chef has. Wherever you go, you'll still notice a focus on high-quality, locally-sourced produce – meaning that whether you're tucking into a grilled meat platter with a sea view or a creative dessert in an up-and-coming opening, your plate will sing with fresh flavours. This is our pick of the very best food experiences in Athens right now. If you're travelling around the country, then we've also chosen the very best things to do in Greece. Eaten somewhere on this list and loved it? Share it with the hashtag #TimeOutEatList.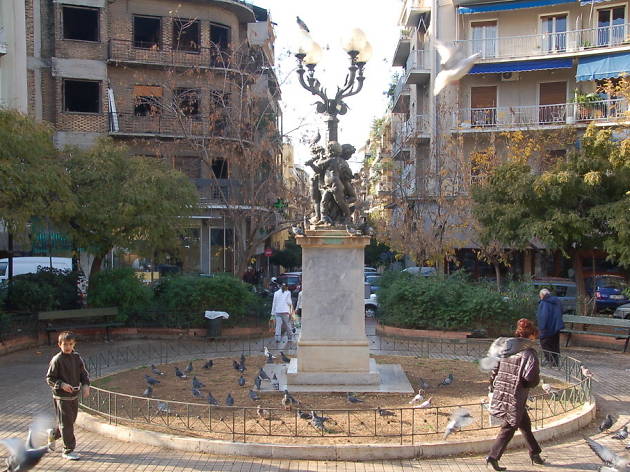 What's the deal with Kypseli? When you walk through the streets of Kypseli the first thing you'll notice is the remarkable mix of architectural styles, from crumbling neoclassical mansions to striking Bauhaus designs with rounded balconies and graphic front doors. And pretty soon you'll notice that the neighbourhood's residents match this eclecticism, too. A mixture of African and Middle Eastern migrant communities have settled in Kypseli over the past two decades, transforming one of Athens's oldest neighbourhoods into its only truly multicultural one. More recently, the city's artist community have also begun making it their home, attracted by its low rents and proximity to the centre. The city's first ever artist residency, Snehta, was founded here, and the rotating mixture of international artists put on regular exhibitions in its space at I Drossopoulou 47. The surrounding streets are a mixture of old world Greek life and modern multiculturalism. Old men sit playing dominoes outside traditional ouzeries, and Ethiopian restaurants, Kurdish kebab houses and shisha bars can all be found nearby. RECOMMENDED: Full guide to the 50 coolest neighbourhoods in the world If you only do one thing… Do not miss a Sunday stroll down Fokionos Negri Boulevard. The cafes and tavernas that line either side give a view of both new and old Greece, and every Sunday the 1930s-built municipal market opens for pop-up shops, events and an organic food market. Get cultured British printmaker Eleanor Lines fell in love with Kypseli after completing the Snehta residency in 2016, and her work is inspired by the architectural shapes of the neighbourhood. Today she runs Kypseli Print Studio, housed in a split-level mid-war building off Fokionoa Negri, where she hosts regular printing workshops, residencies and one-off event. Stay up late With its smoky dancefloor, '80s décor and post-punk playlist, Rebound nightclub is an Athens institution. Barely changed in decades, the ambiance and music have a definite hint of gothic but the crowd is distinctly more eclectic. It only opens on Saturdays after midday, so make sure your energy levels are up. Eat here For a low-key tavern lunch head to Οι Νοστιμιές της Μαίρης (Maria's Delights) in leafy Platia Agios Georgiou and tuck into hearty plates of Greek-style stewed vegetables, salads, and meatballs in red sauce. The tiny Asia Minor is a local institution thanks to its delicious Kurdish-style spicy kebabs and meze. The tabbouleh salad and hummus are particularly popular. Booking is strongly advised on weekends. Ethiopian restaurant Lalibela is famous for its buffet events which take place on the first Saturday of every month. The restaurant features unlimited dishes for just €12 a head and are accompanied by traditional music and dancing. For a more upmarket take on traditional Greek cuisine check out The Bakalogatos. The small plates menu is focused on regional produce and you'll find speciality cheeses and meats from all over the country. The fried courgette is also said to be the best in Athens. Drink here The tiny mid-century-style Au Revoir bar is thought to be the oldest continually-operating bar in Athens, and rumour has it that Frank Sinatra used to drink here in the 1950s. Today Kypseli's art crowd gather to sip negronis every night of the week. Hip hangout Village is a cool café during the day which transforms to a buzzy bar as the sun dips. Grab one of the tables outside and participate in the great Greek sport of people watching, as the city's mix of residents pass through the platia. For an old-world style Kafeneio, head to Violeta on Platia Kypselis. This traditional café features a fabulous collection of knick-knacks from the previous century, plus cheap drinks and hearty snacks. Its beloved by local old men during the day but at night a younger crowd gathers to take advantage of the drinks prices and spacious outdoor seating. How to get to Kypseli Buses 5, 11, 2 and 4 go from Syntagma Square in the city centre to Fokionos Negri, or you can take a taxi in around 15 to 20 minutes. What else is nearby? The so-called anarchist neighbourhood of Exarchia, famed for its street art, sits just to the south. The two areas are separated by Pedion Areos, one of central Athens's few parks, which is worth a daytime wander.