Drink and dance at these 11 Austin bars open on Christmas
Need to get out of the house during the holidays? Head to one of these bars open on Christmas or Christmas Eve for a festive drink.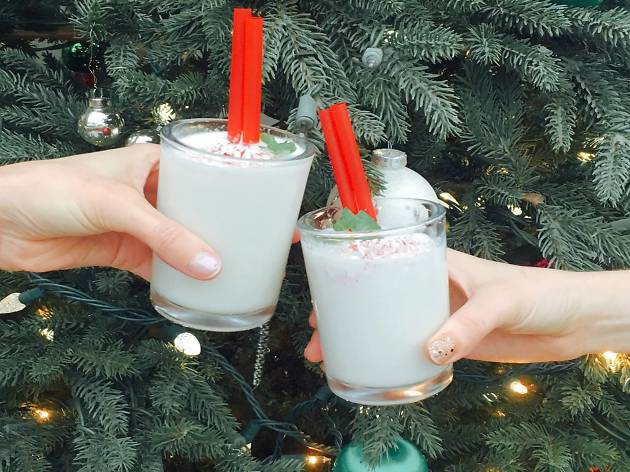 Your sister-in-law just popped on Frozen, your friends are out seeing Christmas lights with their family, but all you want to do is find a bar open on Christmas and knock back a couple drinks. Luckily, some of the best bars in Austin are staying open this Christmas Eve and Day, serving holiday cocktails that put your aunt's weird candy cane punch to shame. Grab your cool cousin and head to these Austin bars that are doing Christmas right.
RECOMMENDED: Our guide to Christmas in Austin
Bars open on Christmas
Nearing the end of the Christmas-themed pop-up's run in Austin, Miracle will host their Misfit Christmas party from 8pm to 2am on Christmas Day. There's no cover to attend the party to watch Christmas movies, and each guest will receive a free welcome punch at the door. If you want to dine here (A Christmas Story-style), they'll also host a $19.99 all-you-can-eat Chinese Buffet. Don't forget to rock your ugly sweater!
Hotel San Jose's hip lounge is open on Christmas Eve and Christmas Day from noon to 10pm serving holiday-inspired cocktails. You'll want to order the warm Hot Tropic (mango spiced cider with apple and clove), the minty Coconut Vanilla Frosty (frozen vanilla and coconut milkshake, topped with crushed peppermint) and the bubbly Snowflake (frozen sparkling mojito) to sip on the lounge's sweet patio.
Okay, so this dance party technically goes down on December 23, but it's not one to miss—especially if you're a 90s kid. The Middle School Dance Party returns to Cheer Up Charlie's with a viewing of Spice World on the patio, as well as a dance party with DJ GirlFriendATX featuring the best and worst of the 90s and 00s. Even better? It's free!
Kitty Cohen's, a 1970's Palm Springs-inspired East Side bar, will be closed Christmas Day—but on Christmas Eve, they're screening modern holiday classics Die Hard (7pm) and Scrooged (9pm) and offering free hot dogs and Christmas drink specials. Heaters on the patio will keep you warm and toasty.
W Austin's Living Room Bar will be open Christmas Eve and Christmas Day from 1pm to 1am for anyone needing a drink by the city's coziest fireplace. Enjoy one of the bar's new cocktails, including Freedom Fighter made with pecan syrup and Ben Milam rye, Blood Moon made with Emerald Absinthe and strawberry syrup, and Night Moves featuring 512 Tequila and blackberry sage.
Nickel City, the Eastside "anytime bar," is open from 2pm to 2am on Christmas Eve and from 8pm to 2am on Christmas Day, with $6 Makers Mark cocktails and Christmas "carol-oke." And since Christmas Day will be the official launch of Nickel City's select, barrel proof Makers 46, you'll get a free pour with a donation of three items to Caritas of Austin.
What better place to celebrate the holidays than Lala's? The Christmas-themed bar celebrates the spirit of the holidays all year round and will be open on Christmas Eve and Christmas Day from 7pm to 2am. New seasonal drinks at Lala's include the Caramel Apple Shot, Hot Apple Cider, Peppermint Hot Chocolate and Santa's Dreamsicle.
The lounge and open air patio on the second floor of the very new Aloft hotel is always open to the public and will celebrate Christmas Eve (11am-midnight) and Christmas Day (4pm to midnight) in truly festive style. In addition to serving tamales, mac and cheese and an egg nog tart, holiday-inspired cocktails will be flowing; try the R + D Sour, a spin on the classic whiskey sour with Disaronno amaretto liqueur and cinnamon, or a classic spiked eggnog.
With three locations at South Lamar, Rock Rose and Downtown, you can have a drink at Lavaca Street Bar on Christmas Eve no matter where you are in town. Will you sip on a Lavaca Hot Chocolate (hot cocoa with Rumplminze or Cointreau) or a Rock Rose Toddy (Makers Mark, lemon juice, honey)? Enjoy these seasonal cocktails and the advent shot of the day at each location's festive surrounds.

Do holiday drinking the right way with cocktails at Hyde Park's drink.well. The bar is open from 4pm until 10pm on Christmas Eve, meaning you can skip the store-bought eggnog and enjoy a Horchata Milk Punch (Oaxacan rum, basmati rice horchata, orgeat, lime, vanilla, cinnamon) at drink.well.'s cozy counter.
Check out these dive bars
Including one that's decorated like Christmas year-round.