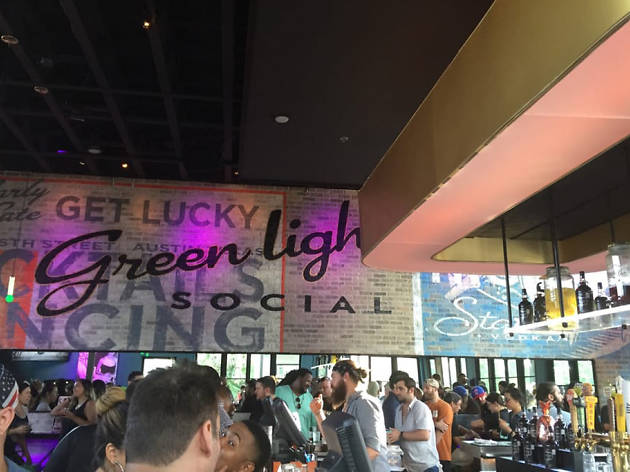 Located in the west Sixth street entertainment district, Green Light Social boasts a large interior and an adjoining roof deck overlooking the street. The bar carries local craft beers and liquors in addition to offering a creative cocktail menu that includes an interesting twist on a throwback childhood favorite. A cozy but modern vibe and a regular DJ make this a must-visit spot on weekend nights.
Venue name:
Green Light Social
Contact:
Address:
720 W 6th St
Austin
78701

Cross street:
at West Ave
Opening hours:
Mon-Thu 4pm-2am; Fri 4pm-midnight; Sat, Sun noon-2am
Do you own this business?
Average User Rating
2.3 / 5
Rating Breakdown
5 star:

1

4 star:

0

3 star:

0

2 star:

0

1 star:

2
Unparalleled staff and unbeatable concept that serves a diverse crowd - Benny's Room is amazing!
Moved here 9 months ago, my first time out and about on 6th street. ( so I didn't know where I was really!) I don't drink,so I don't really frequent bars. It was a friends birthday, be we had about 12 people and went to this bar. Blonde door guy who looks coked up, w the curly man bun was screaming at me to put my plastic cup down. Screaming at me. I told him it was water and I was going to give my (20 year old, who was longboardjng downtown) nephew some. That I was coming right back. He continued to straight up yell at me that it was their property. A plastic cup?! That I just bought? So I put it down walked outside, back down to Kung Fu, And then went to go back up stairs. Blonde man bun guy stopped me and told me I wasn't allowed in. What?! Why? It was 4pm, and again I don't drink, so I wasn't drunk. All while my entire party is upstairs. I went to the other door guy who was beside him on the Lamar st side, and was like this guy won't let me bc of a cup I was still drinking from that was water?!??? Please explain! And my entire party is upstairs, whom I was now separated from. I was pissed. Fuck that guy, and fuck this place! That shit was sorry as Fuck!!!!!
You should really think about the people you employ. Some little boy with a bun got his panties all in a twist is now going to give you bad reviews everywhere due to his feelings. Shameful, bc you had live music, and I was about to order a round for my friends birthday, glad I kept my money!
"I find it particularly disgusting and bothersome that discriminatory tactics are being used to exclude certain races from entering this bar. I came to watch a playoff game one Sunday evening and was told I could not enter because I was wearing Jordan brand sneakers. Mind you, there is no dress code, AND you can wear any other brand sneakers. While questioning the bouncer at the door why this specific brand was not allowed, a Caucasian male walked out from the bar wearing a pair of Jordan's himself. I asked the bouncer, Amilicar, why this was okay and he claims to have missed the guy.
I find it funny that this specific brand of sneaker is not allowed but others are, especially being that it tends to be popular amongst many African-Americans. I guess it's just an easy way to keep blacks out.
I recently moved here from the DC metro area thinking that Austin was similar, a liberal non-discriminatory place I might enjoy. I guess this may not be the case. I will NOT visit this bar again and I will also make sure my friends and colleagues avoid it as well. If you sit back and allow discrimination to take place, you are also part of the problem, no matter how large or small the issue."