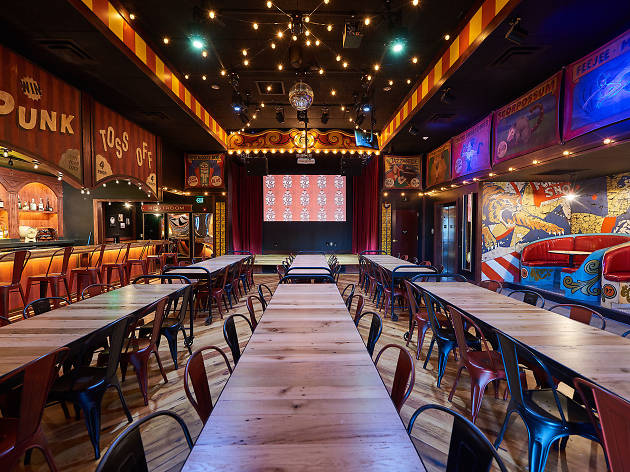 The best way to sum up the difference between this Alamo Drafthouse and others is that it's a little more upscale. That isn't as snooty as it sounds—it's the newest location with the most updates, which includes every seat as a cushiony power-recliner (relax, but don't doze off!). Add to that a creative menu (more health-friendly foods and beers/cocktails), ample validated parking, plus the in-house Barrel O' Fun bar downstairs (which also functions as an occasional live music venue) and you've got yourself an almost unbeatable cinematic experience.
Venue name:
Alamo Drafthouse Mueller
Contact:
Address:
1911 Aldrich St
Austin
78723

Do you own this business?
Period dramas involving royalty are a test for actors and directors: On a scale of I to V, where does your ability to find humanity in the folds of history rank? Jean-Marc Vallée's contribution to the lives-of-the-regal-and-famous genre chronicles...

Read more

Calling the new A Star Is Born a "valentine" from its star, Lady Gaga, to her fans sounds a bit coy and delicate, so let's call it what it really is: a hot French kiss (with full-on tongue), filled with passion, tears and a staggering amount of ...

Read more

Thinkers debate with passion in Mimi Leder's intellectual On the Basis of Sex, a knowingly old-fashioned (but far from dated) biopic of the inimitable Supreme Court Justice Ruth Bader Ginsburg. Written by the 85-year-old Ginsburg's nephew Daniel S...

Read more

You're not going to a movie called Vice—a chaotic, psychologically dense thicket out of which slinks the Beltway swamp creature Dick Cheney (an astounding Christian Bale, invisible under prosthetics)—expecting a revisionist perspective. That's nev...

Read more

Thought we'd reached peak Spider-Man? Think again. After what seems like umpteen movie versions, here's one that embraces the most out-there elements of Spider-Man lore and forges something new from them. Yes, it rips through yet more origin stori...

Read more

Nobody likes a spoiler. And when it comes to the twist-laden movies of M. Night Shyamalan, I would be dead in the water, unable to see the forest for the trees, if I even hinted at some of those big reveals. So consider this a warning—your only wa...

Read more