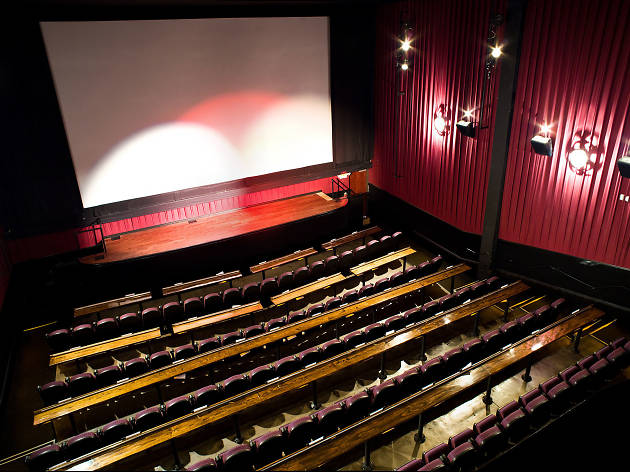 We're not sure if there's a group of people more passionate about their movie theater than Austinites when it comes to Alamo Drafthouse. This cinema and restaurant rolled in one started in Austin but has since made its way around the country, and the flagship location is nestled in the middle of Sixth Street. Besides current movies, the Ritz hosts one-of-a-kind signature series like Terror Tuesday, where you can see classic horror hits; Weird Wednesday, where you can embrace the weird with some oddball flicks; and Master Pancake events, which pair movies with sidesplitting live comedy. The unconventional previews and famously strict "no talking or texting during the show" rule add to the charm of this local favorite.
Venue name:
Alamo Drafthouse Ritz
Contact:
Address:
320 E 6th St
Austin
78701

Do you own this business?
Leone-style face-off between gun-toting gangs at a gas station: outright street-warfare is evidently imminent, which presents something of a problem for young Montague when, at an absurdly extravagant costume ball thrown at the Capulets' mansion, ...

Read more

Like Aliens retooled as a militant librarian's fantasy, actor-director John Krasinski's relentlessly effective horror film thrives on a nifty premise: In a post-apocalyptic world, a family holes up in a farmhouse and tries to survive in a countrys...

Read more

If you've been pining for the return of the fiery, political Spike Lee of Do the Right Thing and Malcolm X, good news: BlacKkKlansman is the director working at his electrifying best. Maybe the optimism of the Obama era robbed him of some of that ...

Read more

With his white-knuckle sci-fi thriller Gravity, Mexican auteur Alfonso Cuarón extracted an intimate character study from the vastness of outer space. Now he goes in reverse: In his deeply personal b&w marvel Roma, Cuarón—a director of erotic road-...

Read more
Terror Tuesday

The Sixth Street theater celebrates everything scary, gory and psychological at its weekly horror movie showing. But don't count on catching a truly terrifying flick every time—some of the D.I.Y. films are, well, terrible. Of course, that's part of the...

Film events

Tuesday February 26 2019 - Tuesday April 9 2019