10 Austin moments when you really need a Xanax
Deep breaths. These stressful Austin moments have impacted both locals and newbies—all you need is a Xanax.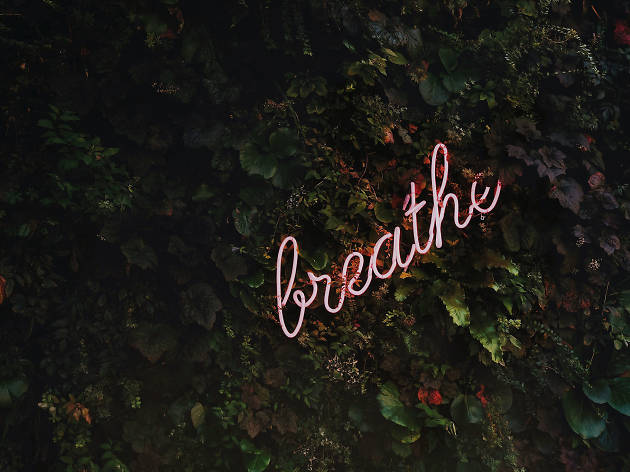 Native Austinites and transplants alike talk about how wonderful it is to live in Austin, and it's true—except for those times when a Xanax is in order. No longer a sleepy college town, Austin is bursting at the seams with people, cars and the second most overvalued real estate market in the country. So until the real estate bubble bursts and hovercrafts are a reality, you're going to need a chill pill (or three) in order to deal. Sure, there are hundreds of yoga classes to help center yourself, but we don't see these trends slowing down anytime soon. Here are 10 moments when you need to take a breath and say to yourself: Jesus, take the wheel!
1. When you go downtown to eat and realize Grizzly Bear is playing at ACL Live, so not only is the street parking all taken but the garage is charging $25.
2. Those dreaded four letters: SXSW.
3. When you're single and not getting many bites on Tinder or Bumble as you had hoped, so out of curiosity you make a fake account to check out your competition. It's fierce, y'all.
4. When you're trying to get home but it's Relay weekend, and Lyft and Uber surge pricing is at 4x. (This author may have learned the hard way one New Year's Eve with a $200 ride to South Austin's Laser Castle.)
5. When your favorite band is in town, the tickets sell out the first day and then you see them on StubHub marked up three times the amount.
6. When you decide you're ready to quit renting and buy a house, then realize the shitty, run-down shack next door is on the market for $375,000.
7. When your friends plan to meet downtown for happy hour margaritas at 5:30pm and you work in Cedar Park.
8. When you decide you want to take your date to a nice dinner at Emmer & Rye but the only reservation times left are at 4:30pm and 10:45pm.
9. When you're hungover and need BBQ to continue living, and the line at La Barbecue is full of people who get to the counter and have the audacity to stare at the menu while saying "ummmm" after standing in line next to the freakin' menu for over an hour. (deep breath)
10. When you are so broke from eating, drinking and living in Austin that you have to go to sleep for dinner.