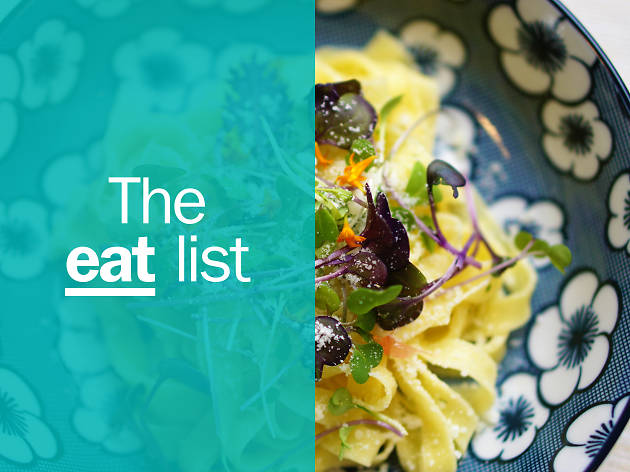 The 11 best restaurants in Banff
If you're after true Canadian cuisine, Banff's the place to find it
One of the major plus-sides about a town like Banff – as in, a town almost purely populated by visitors – is that places offering cultural experiences magnify the Canada factor to the nth degree. And this is most apparent in the cuisine. Banff's restaurants are much like the town itself – a touch of warmth and comfort nestled among the spectacular peaks of the Rockies, a must-visit in our list of the best things to do in Banff. Top chefs have brought their skills here, with dishes from all over the world represented, but each restaurant has a Western Canadian stamp of its own.
Best restaurants in Banff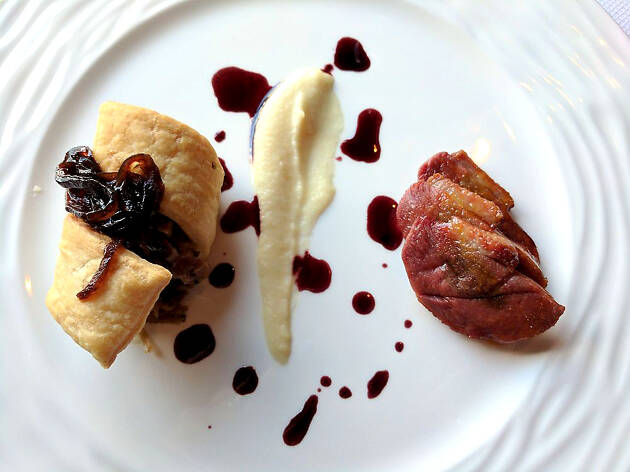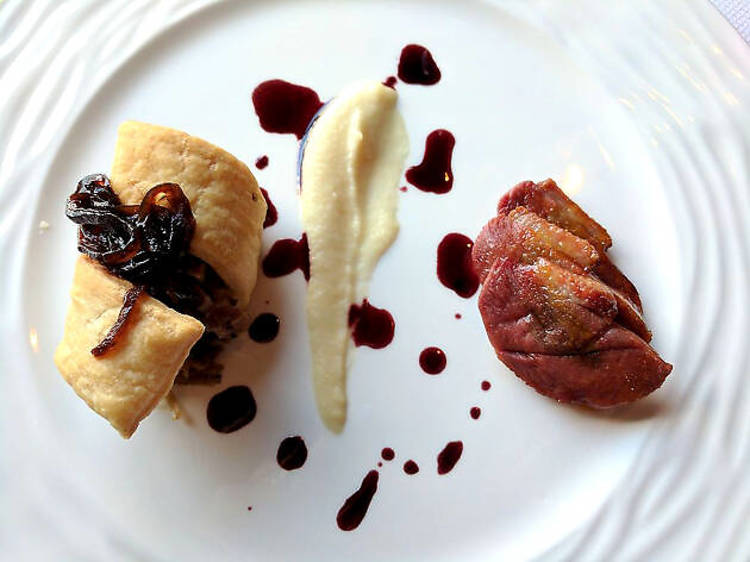 Photograph: Courtesy Yelp/Kell J.
What is it? A fine-dining establishment pairing intricate, gorgeously presented cuisine with awe-inspiring views over the Bow Valley and Rundle Mountain. As the only restaurant in Western Canada to win the coveted AAA/CAA Five Diamond award, reservations need to be made way in advance.
Why go? Aptly named Eden is a paradise crafted specifically to be grand yet intimate, with secluded tables near the windows perfect for a lovers' celebration. The ever-changing menu is packed with quintessentially Canadian ingredients – think Saskatoon berries and Bison steaks.
Price: Blowout
What is it? A casual Mexican joint offering all your favorites in a rustic wood setting dotted with antiques. The vibe is Wild-West-meets-Tijuana, and the spot has proved a favorite of people passing through and locals alike.
Why go? If you aren't paying attention, you might just get 'sombreroed' by the clever bartender, who has access to a string snaking along the ceiling to a hat near the door that he or she can drop on unsuspecting patrons.
Price: Average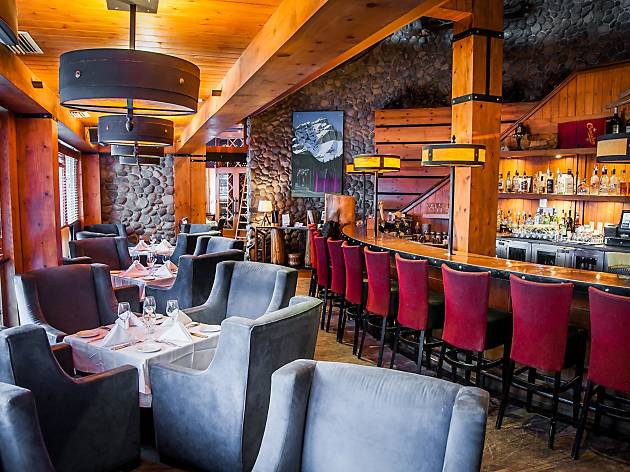 What is it? A Canadian cuisine experience of the upscale variety housed in an après-ski-influenced setting. It is well known for its focus on all-Canadian products, from British Columbia salmon to Alberta bison and maritime lobster.
Why go? Smack in the middle of the Banff high street, this spot might turn foodies off just by the nature of its location, but the food is no joke. Do yourself a favor and grab the bison steak.
Price: Pricey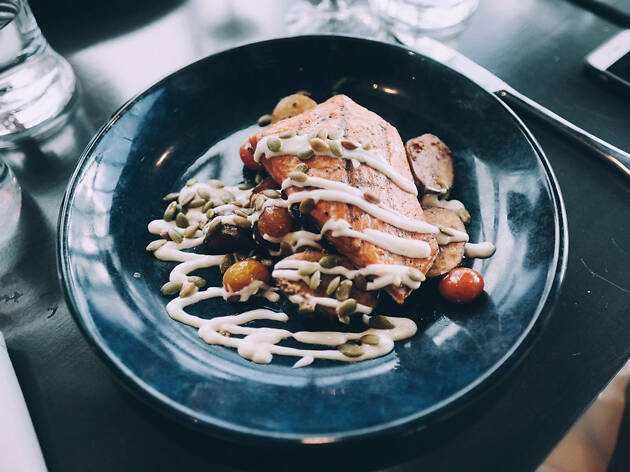 Photograph: Courtesy Yelp/David C.
What is it? Accessible via the famous Banff Gondola, going to the Sky Bistro is a lot more involved than just stepping out for dinner. Open since 2016, the Bistro is located on the third floor at the gondola summit.
Why go? Once you've made the trek to the top and worked your way through the multi-level interactive exhibit that is the Banff National Park interpretive experience, you can sit down to a luxurious meal of local fare surrounded by floor-to-ceiling windows.
Price: Pricey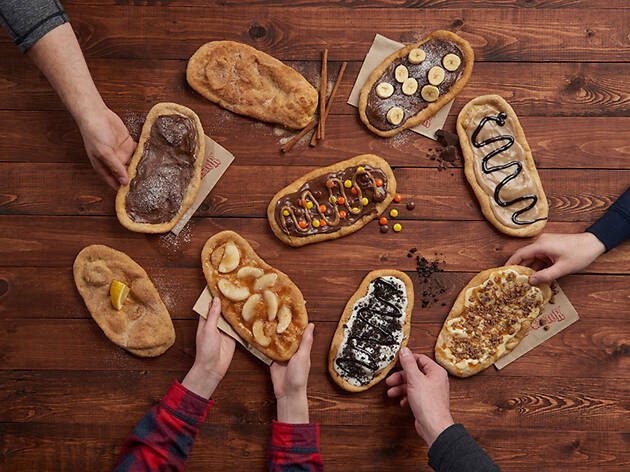 What is it? While Ontario enjoys many locations of this staple-peddling restaurant, Alberta has just a small handful – including one in Banff. Back in 1978, the pastry was invented by the founders of the chain and was later trademarked.
Why go? The treats are made from hand-stretched dough, shaped like the tail of Canada's national animal and fried before being garnished by an array of sweet toppings. Perfect for picking up while on the move in Banff's downtown area.
Price: Bargain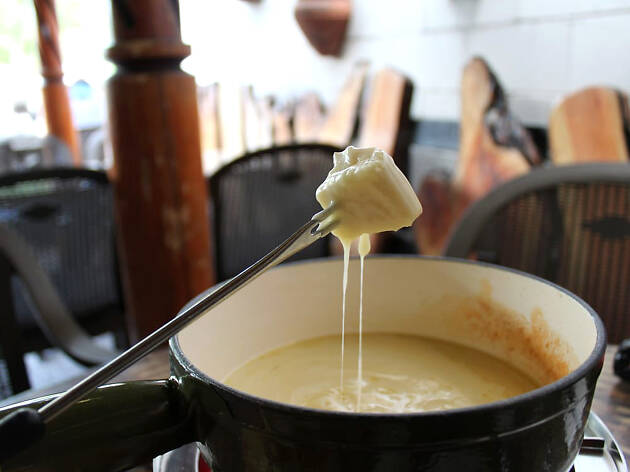 Photograph: Courtesy Yelp/Felix L.
What is it? On top of its fondue specialty, The Grizzly House could well be the most recognizable restaurant on Banff Ave, with its exaggerated A-frame entrance and lodge-like interior.
Why go? If you're looking for a truly unique experience, this local mainstay (established in 1967) is best known for the bubbling pots of cheese in which customers can dunk cubes of quality meat including venison, buffalo, and lobster, as well as some 'exotic' options like alligator, shark and ostrich.
Price: Pricey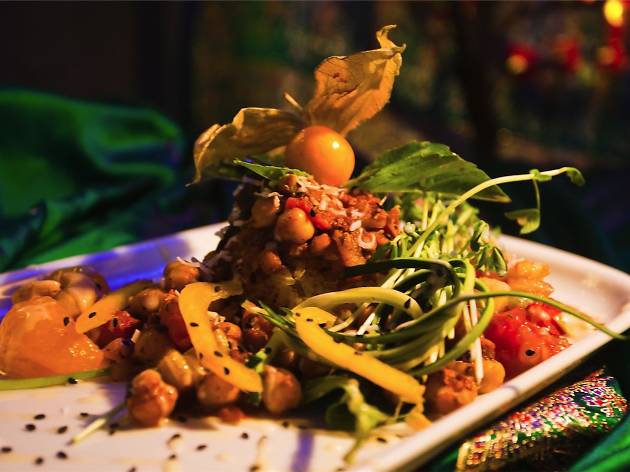 What is it? Nourish takes its vegetarian fare very seriously, with dishes inspired by countries from around the globe. The casual atmosphere and comfort food-heavy menu make it a popular hangout for veggie-leaning locals.
Why go? If you are vegan or vegetarian, this spot will likely be manna from heaven for you after traipsing through the rest of Banff's meat-loving dining scene. And there is no sniffing at the variety on the menu – including ramen, tacos, burgers and curry.
Price: Average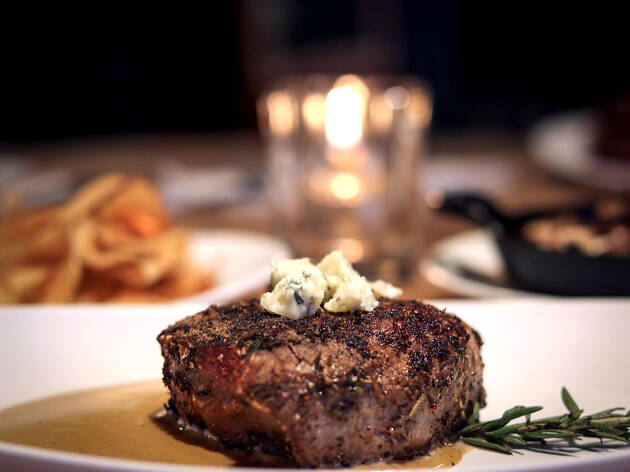 Photograph: Courtesy Yelp/Saltlik Banff
What is it? Unless you are indeed a vegetarian, no visit to Alberta is complete without a stop at a steakhouse. This one is known for offering a variety of cuts to satisfy every aficionado at the best value for money.
Why go? Alberta steak is considered by many to be some of the best in the world, so any restaurant offering true local beef should deliver. But what makes Saltlik unique is that it does so without any pomp – it focuses on the food.
Price: Average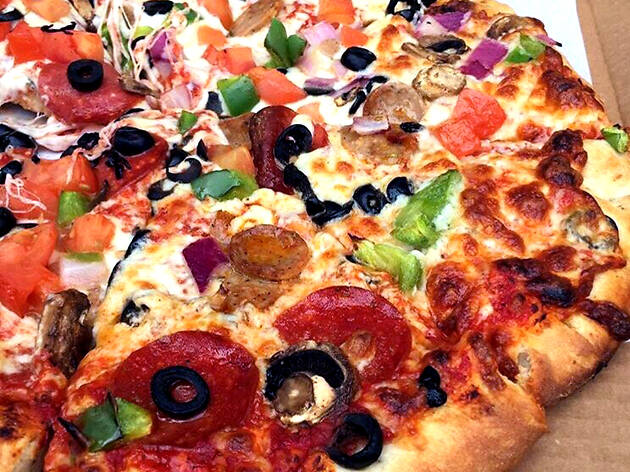 Photograph: Courtesy Yelp/Anna M.
What is it? This unassuming hole in the wall is known for serving hearty comfort food all day and all night (until 4am) – and for delivering to weary travelers unwilling to venture from their hotel rooms.
Why go? Call up or walk in for surprisingly great pizza, Italian-style sandwiches and to check off your list perhaps the most important Canadian bucket list dish: poutine.
Price: Bargain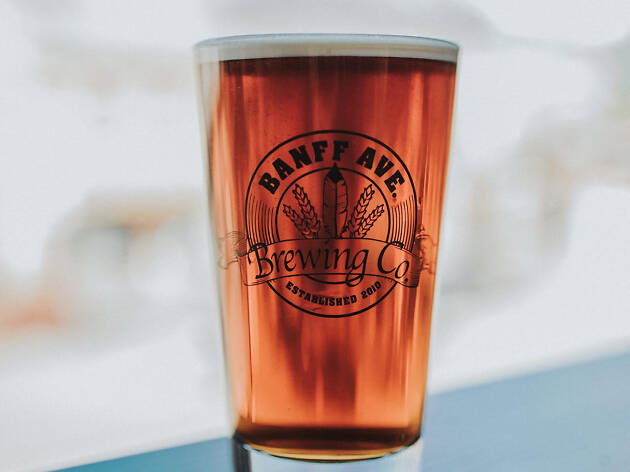 What is it? For the younger crowd keen to mingle in the local scene, this late-night pub food spot boasts a selection of local beer, lively conversation and massive plates of nachos, fish and chips and spaghetti.
Why go? The locals brews are bound to impress, but sadly due to Banff being a protected national park, the beers can't be exported. This means you can get them here and nowhere else.
Price: Average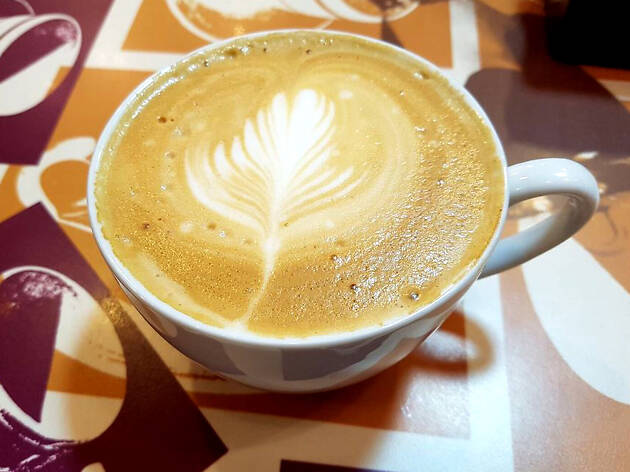 Photograph: Courtesy Yelp/Rushi T.
What is it? Sure, you can pop into Starbucks or one of the other major chains for a cup o' joe, but you can do that anywhere. When in Banff, keep it local and head to Evelyn's Coffee Bar.
Why go? There were once four branches of Evelyn's in Banff, but Mr and Mrs Pauw, who run the joint, had to close the others and pour all their focus into this remaining shop, which they do with much care and attention. You'll find different coffees from all over the world here, including beans from Papua New Guinea, Nicaragua and Colombia. They also serve sweet and savory snacks.
Price: Bargain
Discover Time Out Market: the best of the city under one roof
Seeking adventure in the scenic mountain town?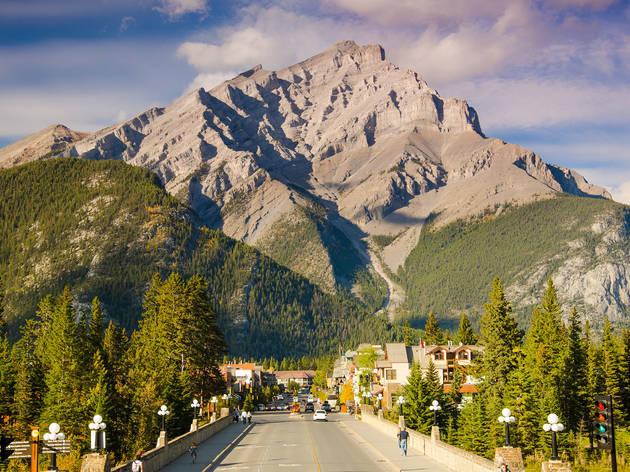 While some other places in the area have their ski spots or their spa days, Banff National Park truly has it all. From 360-degree mountain views from the town's main street to summiting peaks via ski-lift, gondola or sheer willpower, there are countless places where you can take in the atmosphere.
Best selling Time Out Offers