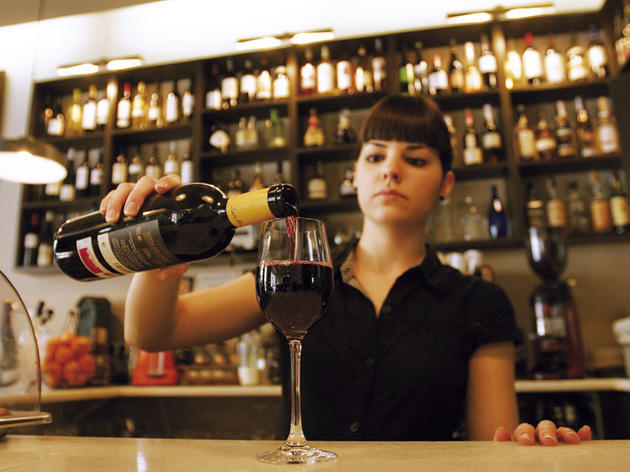 1/2
© Marta Pérez
Bohèmic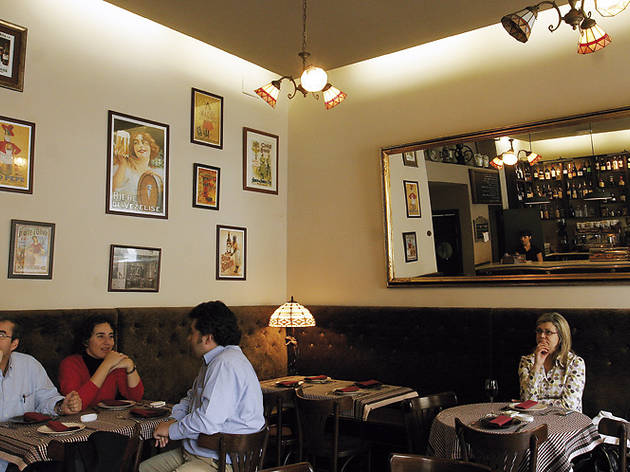 2/2
© Marta Pérez
Bohèmic
Time Out says
This restaurant has closed.

It's good to find a place where the kitchen serves up more than just a nice dish, and can also evoke memories and bring out flavours that have been too long untasted. Bohèmic more than earns its place among the wonderful small family restaurants (Casa Lucio, Rincón de l'Agüir, Can Vilaró) where you're always pleasantly surprised.

Francesc Gimeno has an extensive background working in reputable restaurants, and has now taken refuge in a more diminutive kitchen than he might be used to, but in his case, big things do come in small packages. He cooks dishes that nobody else is doing right now in Barcelona, ​​such as as roasted eggs with spicy sausage and Siberian cabbage, which could bring back the late Xavier Domingo, one of the country's leading cookery experts who was always in search of such delights. Sublime and singular, with the Siberian cabbage and tart Riojan potatoes, which are very of the moment, delicious and consistent. The foie gras from Empordà is without comparison and done in a 'pot-au-feu' with calçots – it's absolutely amazing. Other guests tried the Empordà duck, cooked over ashes, with pears, sauerkraut, mustard and riesling jelly, prepared for two people.

Although the 'plat de résistance' and what already looks to be positioned as Gimeno's signature dish was 'muddy' pork ribs, cream of Jerusalem artichokes and black chanterelles, and Costa Rican pineapple sorbet. All with Chef Gimeno's ideas for presentation in pretty bowls with silver cutlery, ceramic pots and the best plate or bowl possible for each creation.

Francesc's mother, Maite, explains it all, and his father, Francesc Sr, makes the rounds. The family treats everyone as one of its own, and they are fully committed to their customers. And while the Gimeno family puts on a show, it's without fanfare or haste. If you're an impatient diner who can't wait for a good meal to be made after the order is placed, if you're always looking at your watch instead of enjoying a fine wine, you might not want to even set foot in the door. These are times of luxury dining – not in a fancy interior design, but in the quality of the food prepared with care and knowledge. In this bohemian environment with a touch of a French bistro, leave your busy life at the door and savour every minute.
Details
Address:
Manso, 42
Eixample Esquerre
Barcelona
08015

Transport:
Sant Antoni (M: L2), Poble Sec (M: L3)
Price:
€30-€50
Contact:
Opening hours:
Tue-Sat 1.30pm-3.30pm, 8.30pm-11.30pm.
Rating Breakdown
5 star:

0

4 star:

0

3 star:

1

2 star:

0

1 star:

0
While the food was certainly good, we were really expecting (for a restaurant off the beaten track and at this price) wow. We didn't get wow, and while the service was competent and not unfriendly, it certainly didn't feel to us like a warm, welcoming family business. The patatas bra as were excellent - most probably the best I have eaten, crisp potatoes, served with two sauces - a creamy mayonnaise and a brown, piquant compote of almost chutney-like consistency. The lamb, slowly braised for what tasted like days was delicious, but came with a bright yellow sauce within the jus that tasted like processed cheese. Not very nice. The chicken cannelloni was too creamy, and neither myself or my partner understood why they had chosen to mince the chicken within the pasta. This gave it a feel of school chicken lasagne. The crab salad was beautifully dressed, but only truly got a smack of the fishy crab in one mouthful, on account of it being mashed in with too much rich sauce. I certainly wouldn't say this was a bad meal, or a negative dining experience. The wine was lovely, and the waitress wrote out the dishes in English for us to help us to decide. With so many exciting options elsewhere in the city though, we won't be going back to this restaurant.