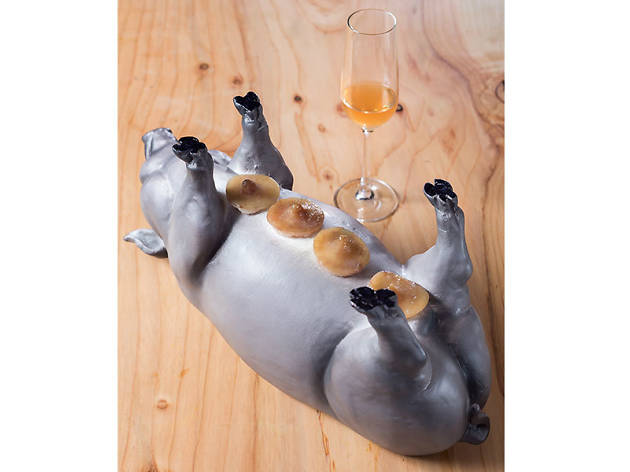 1/4
Dos Pebrots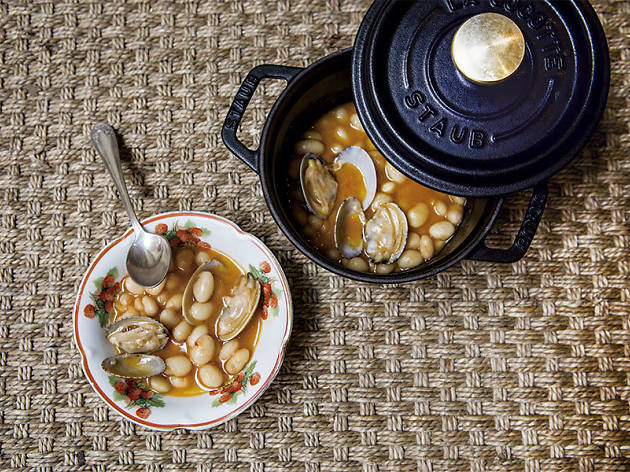 2/4
© Maria Dias
Dos Pebrots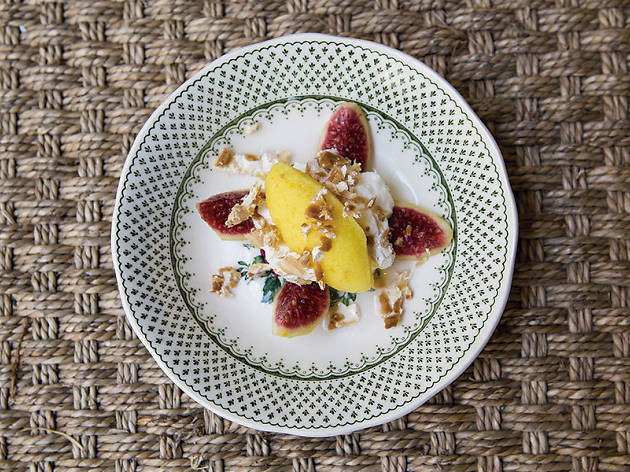 3/4
© Maria Dias
Dos Pebrots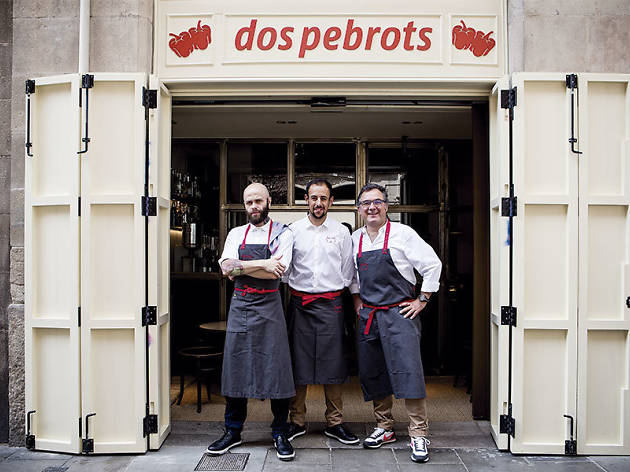 4/4
© Maria Dias
Dos Pebrots
Time Out says
Albert Raurich, one of the former chefs at the world-famous El Bulli and owner of Dos Palillos, is now also the owner of Dos Pebrots. We talked with him a while ago and asked if it was true that he had plans to open a tapas bar. 'Yes,' he'd said, 'something simple – four tapas and a good selection of vermouths.' The result, Dos Pebrots, is the new chip off the El Bulli block, and it is a bar of exquisite tapas, but so much more.

While Raurich and his team were setting up Dos Pebrots, they went to work, three hours a week, collecting and ordering data in the catalog known as the Bullipedia, and they decided to apply the Bullinian method – creativity systematised through cataloging and analysis – to old cookbooks, searching for recipes in 'the history of native dishes and in others that have been lost', according to Raurich. Dos Pebrots, therefore, is a tapas bar that interprets recipes from the Mediterranean, some from the Roman era, and most before the arrival of tomatoes and peppers.

The menu at Dos Pebrots has ended up being one more based on mathematics than poetry, with the name of the dish, the main ingredients, the technique and date of origin. An example: 'Black Onion. Black onion + garum. Grilled. Since the Neolithic Age, there have been onions and fire, though we weren't there.' And then you bite into a grilled onion with Raurich's version of garum, a fermented fish sauce typical in Ancient Rome and Greece. This quite happily coexists on a menu that also lists a potato with a very powerful 'alioli' garlic mayonnaise as well as some outstanding 'empanadillas' stuffed with Atlantic horse mackerel with a touch of ginger, with a surprising texture to the dough and a concentrated sea flavour. If you're a meat fan, whatever you do, order the pork udders – a part of the animal that was eaten in the days of the Romans – caramelised with the fat from ham. It's an explosion of pure pork flavour.

As for the section on forgotten dishes, Raurich learned that the original version of salpicon (as seen in 'Don Quixote') had neither seafood nor pepper nor tomato in it, but rather was meat dressed with onion. And here you'll find salpicon in the form of veal tail, snout and tripe, served with a celestial vinaigrette. What they're offering is radical: instead of making variations of 'patatas bravas' and stir-fry, Raurich is doing culinary anthropology, supported by the oldest possible documents, taking diners on a retro-contemporary journey where the conceptualisation of the restaurant is not just a surface-deep fad, but the way to make the food, and only the food, the true star of the show. Bravo!
Details
Address:
Doctor Dou, 19
El Raval
Barcelona
08001

Transport:
Catalunya (M: L1,L3; FGC)
Contact:
Opening hours:
Mon, Tue closed; Wed, Thu 7.30pm-11.30pm; Fri-Sun 1.30pm-4pm, 7.30pm-11.30pm
Rating Breakdown
5 star:

0

4 star:

0

3 star:

0

2 star:

0

1 star:

1
It's one of the worst restaurants I've ever tried and I love innovative food. The prices are exorbitant for what they offer and for the standard of Barcelona's restaurants. I am from the city and I know what you can ask for a three-digit bill. One example: the menu offers cod for more than 20 euros. This is directly a robbery, if you take into account that you are eating the head (nobody wants the head of a fish)! They try to justify their prices with explanations that the dishes are from old recipes, but there is no possible justification: It is all bullshit! The service was ok, but extremely slow. Don't go there if you don't want to lose your money and your time.