Heads up! We're working hard to be accurate – but these are unusual times, so please always check before heading out.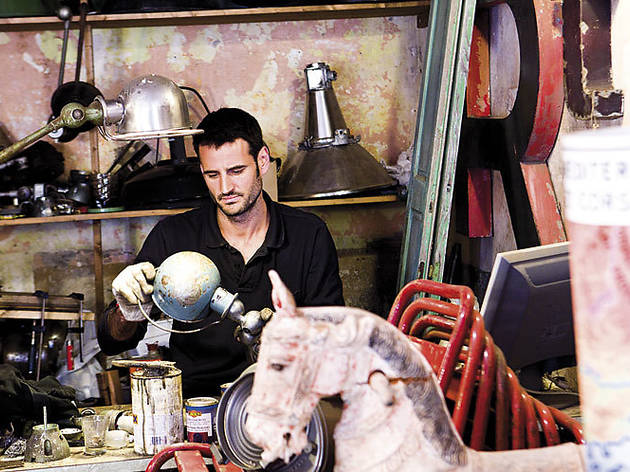 Antic Beauty: exquisite metal and light
Jieldé lamps are a classic of French industrial design. At Antic Beauty, a workshop-store in the Born, Cyril Sauzay lovingly preps them for their second chance.
France in the late 1940s. Jean-Louis Domecq is an industrial designer at a Peugeot factory. He is tired of the bad light at his work station and decides to build his own lamp. It has an articulated body and a moveable head and attaches to the desk. A sturdy, resilient and very practical lamp that paved the way for his future business. A few years later, Domecq began to market the lamp under his own initials: Ji-el-dé (pronounced in French). The lamp inspired by a workplace necessity soon appeared in countless workshops and factories across France. Few could have imagined that six decades later, Jieldé lamps would conquer the most beautifully decorated homes in the world. Industrial design, be it Tolix, Fase or Jieldé, exerts a seductive power, both then and now.
Today, the Jieldé brand continues to produce and reissue its catalogue, adapting it to current tastes. But these lamps do not interest Cyril Sauzay. He likes the originals, the real thing. Cyril, who is French, worked in publishing for ten years, but during that time he also cultivated a hobby: he bought old lamps at antique fairs and restored them. When he moved from Paris to Barcelona a decade ago, he brought his hobby with him. As it so often happens, his hobby eventually transformed into a career. Cyril is now a respected restorer of Jieldé lamps, a self-taught expert known for his meticulousness. About a year ago, he left his job negotiating publishing rights to open a small workshop-store on a narrow street in the Born. The space has wood and iron beams, and faint traces of pencil sketches on the stripped walls point to its past as a carpentry workshop.
Antic Beauty is an oasis of iron and wood. Not a trace of plastic, that icon of the 1970s. The small space pays tribute to industrial furniture, which reigned supreme during the 1940s, 50s and well into the 60s. Sturdy, resilient and bombproof. Filing cabinets, tables, chairs, posters...everything here is metallic and, trust me, absolutely beautiful. The furniture bears the marks of its history. Dents and scratches that reveal what it has experienced and overcome. The most abundant items, of course, are lamps, Cyril's great passion. The Jieldé clearly dominates the selection, but Cyril also has Cremer and even some RTVE spotlights. Each one is a small marvel.
Respect and meticulous care: the guiding principles, according to Cyril, of restoring a lamp. He doesn't indulge in aesthetic spectacle. He wants to give them a second chance without gratuitous modifications. All he wants is to return them to their original splendour. In truth, the Jieldé hold such power that they really don't need anything else. Their robust nature is part of their appeal, along with the elegance of their articulated frame. Cyril likes to maintain their patina, which is why he prefers to finish them in a graphite polish. The base of certain lamps catches my eye. He makes them himself, he explains, using the brake pads of a car. Of course, they're iron after all. The original Jieldé were designed to attach to a desk, which is why they did not have a base. Given that several clients asked him for standing lamps, he came up with this solution, which is both functional and aesthetic. Here's to Cyril's talent, may it live long and prosper!
Practical info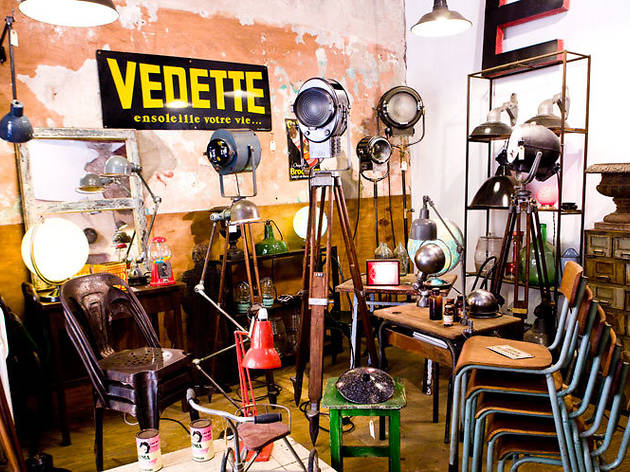 Cyril Sauzay is a professional restorer of Jieldé lamps, originally designed by Jean-Louis Domecq and characterised by their articulated frame and moveable head. His workshop, Antic Beauty, is an oasis of iron and wood, a small tribute to the industrial furniture that reigned supreme during the 1940s, 50s and well into the 60s. Lamps, Cyril's great passion, are the most abundant item.