Heads up! We're working hard to be accurate – but these are unusual times, so please always check before heading out.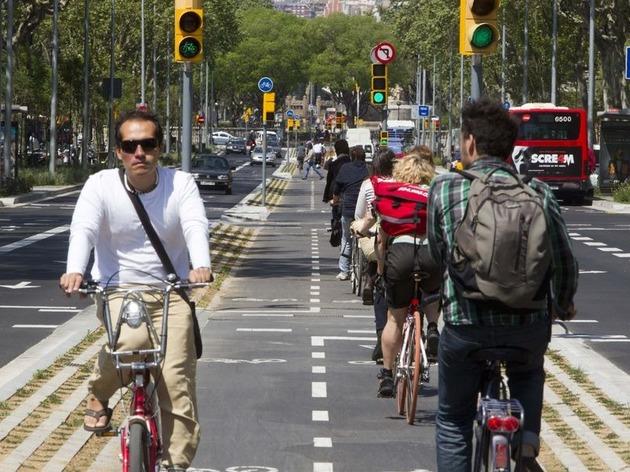 Barcelona cycling guide
Your ultimate guide to biking around Barcelona, from routes to rentals to road rules. Happy cycling!
There's never a shortage of things to see in Barcelona, but for visitors, there's often a shortage of time. Cycling around to take in the city's sights is an incredibly efficient, fun and healthy way to enjoy everything Barcelona has to offer, from the sea to the monuments to the vibrant streets that make this the energetic place it is. Taking a spin around a city as bustling as Barcelona can be intimidating, but beginners, have no fear – most of the stretches on these routes are equipped with a designated bike lane. So grab a friend, hop on a bike, and get pedalling.
Barcelona Bike Routes
A ride around Barcelona's Ciutat Vella district has something for everyone: seaside, parks and monuments all take their turn on this route. Start anywhere along the loop — bike rental shops are especially common near the port and the beach, which is something to keep in mind as you choose a starting point. Along your ride, you'll enjoy looking out at Barceloneta beach and Port Vell, as well as the towering W Hotel and the Mirador Colom (Columbus Monument). Go from blue seas to green trees by taking a spin through the beautiful Parc de la Ciutadella, stopping to admire the enormous fountain. Exit out the top left of the park and ride up to admire the Arc de Triomf, and then head down to the Barceloneta beach to make your way back to your starting point. (9.25km / 5.75mi)



Rental shops near the route:

Bike Rental Barcelona (C/ de Montserrat, 8; T. 666 057 655)
Barcelona Rent a Bike (Psg. de Joan de Borbó, 35; T. 93 221 27 90)
Deviant Bikes (C/Méndez Núñez, 10; T. 600 113 560)
Green Bikes (C/ dels Escudellers, 48; 93 301 36 12)


If you're looking to combine city and beach views on your spin around town, this route covers it. Starting at Port Olympic, glance over at some of Barcelona's less-crowded beaches (read: not Barceloneta) as you ride toward the Fòrum. Then take a turn to find yourself on the median bike lane spanning the length of Av. Diagonal. Check out the Torre Glòries up close before heading back down toward the sea, and if you're into it, take a slight detour to the Poblenou Cemetery (Cementiri de L'Est) for an eerily beautiful sight. (10.75km / 6.68mi)




Rental shops near the route:

Bike Service Barcelona (C/Consell de Cent, 519; T. 93 246 48 65)
Rental Scooter Barcelona (C/Salvador Espriu, 63; 640 559 468)
Poble 9 Bikes (C/Dr. Trueta, 202; T. 691 768 835)
Pedal Bike Rental (C/Camí Antic de València, 2; T. 93 300 45 06)

A ride through one of the liveliest areas in the city is a great way to see some of Barcelona's most renowned architectural masterpieces. Almost synonymous with Barcelona architecture is Antoni Gaudí — take a spin past his most famous work, the jaw-droppingly huge Sagrada Familía. While you're in the area, ride up Av. de Gaudí to check out the old Hospital de la Santa Creu i Sant Pau, a building designed by Lluís Domènech i Montaner. This route also includes a spin past Domènech i Montaner's Casa Lleó Morera, Josep Puig i Cadafalch's Casa de les Punxes and Casa Amatller, Salvador Valeri Pupurull's Casa Comalat, and Gaudí's Casa Batlló and Casa Milà (better known as La Pedrera). And if your legs can handle some post-cycle shopping, the route passes through Passeig de Gràcia, where there's no shortage of shops and restaurants. (8.25km / 5.13mi)


Rental shops near the route:

Cruising Bikes (C/Santa Tecla, 7; T. 93 518 75 33)
Rent Bike in Barcelona (C/Sicília, 330; 93 457 99 16)
Terra Bike Tours (C/Santa, Tecla 1; 93 416 08 05)

The Olympic mountain is a good place to admire the city from on high while getting your legs in shape. From Plaça d'Espanya, the gentlest incline is along Av. de l'Estadi, but you can also take C/Lleida or Passeig de Santa Madrona, where there are some truly incredible curves. From the stadium, go up to the castle via Passeig Olímpic and the streets Doctor Font and Quer, followed by Can Valero, which lead to Passeig Migdia. From here, turn right, and, a bit farther along, on the left of Passeig Migdia, there's a car park that opens to a path created just for bicycles. It's 1km (0.62mi) long and takes you to just under the castle walls. There's a spectacular view of the Port of Barcelona, and next to the car park is a bar with a terrace that serves sandwiches and lunch. The descent is via the Carretera de Montjuïc until you get to Passeig de Miramar (go easy on the brakes, it's quite a hill) and the Plaça de Colom (where the statue of Columbus is). You can get back to Plaça d'Espanya via the cycle lane on Av. Paral·lel. (11km / 6.83mi)

Rental shops near the route:

Bike Rental Barcelona (C/ de Montserrat, 8; T. 666 057 655)
Rabbit Bike (C/Assaonadors, 19; 93 009 35 80)
Feeling bold? If you can't decide between the first three routes above, here's your chance to combine them. At just over 24km (14.91mi), it's not for the casual cycler, but if your legs are up for it, this 'super route' allows you a chance to see the best of Barcelona on wheels (minus Montjuïc). If you're willing to dedicate a good part of your day to biking, start anywhere on the route and enjoy your spin around town. Feel free to make it a hop-on, hop-off tour and stop for lunch, explore different areas, and pop into interesting shops (just make sure you lock your bike up well). (24.5km / 15.22mi)


8 rules to biking in Barcelona, official and unspoken
1. More often than not, pedestrians have the right of way, so keep a healthy distance from anyone on foot and avoid cutting them off. Even if they're crossing a bike lane, you still need to stop for them.
2. Speed limits exist for cyclists, too. Designated bike lanes still require you to travel slower than 20kph (12.5mph), so don't be zooming down them like you're training for the Tour de France.
3. Watch out for cars if you're riding on the road; you never know how closely (or not) they're paying attention to you. Stay in the lane closest to the pavement and ride toward the side, following the flow of traffic.
4. Make sure others on the road know if you're turning by going slowly rather than making sharp or sudden movements — nothing ruins a holiday like a cycling collision.
5. If you stop somewhere, lock your bike up, and lock it up well, weaving the chain through the wheels and securing as much of it as possible. Tying a bicycle to a tree, bench, traffic light or rubbish bin is not allowed, so seek out a designated bike rack before you grab your coffee or check out that statue.
6. If you're cycling in a pedestrian area, such as on a pavement or through a square, keep your speed under 10kph (6mph).
7. If you're in a busy area, your best bet is to get off your bike and walk it until you can safely ride around again. There's nothing more annoying than someone attempting to pedal through a crowd.
8. Pay attention to traffic signals when you're riding on roads or in bake lanes in busy areas. They're easy to overlook when you're cruising around, but they do, of course, apply to bikes. So keep your eye out for them — really, it's for your own good.