Heads up! We're working hard to be accurate – but these are unusual times, so please always check before heading out.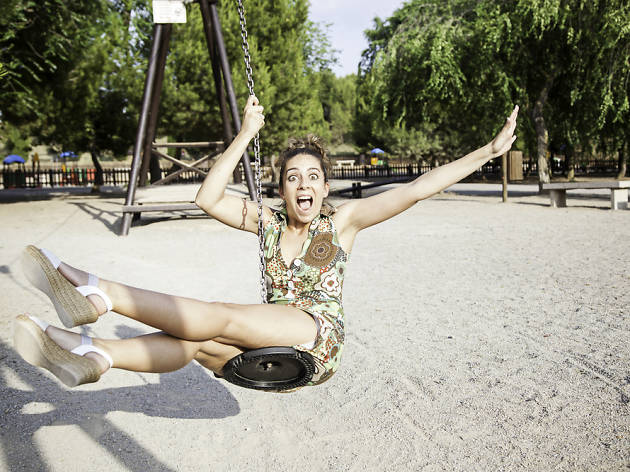 Barcelona parks with zip lines
These Barcelona parks have a big draw: zip lines where you and the kids can hang on, jump off, and fly!
These days zip lines aren't just found in campgrounds or on pricey guided nature adventures. In fact, right in some of Barcelona's public city parks there are a handful where you can take hold and take off. Sure, you're not soaring over a canyon or flying long distances, but you can get a mini rush just the same. And if you've got the kids in tow, they'll have a blast.
The Parc de Cervantes is where you want to go if you're a fan of roses, and it's one of my favourites for jogging with friends. One day when we were at the end of an exhausting run... bam! A zip line! Seeing the pulley-and-tire system waiting for us to jump on was the best push to end the day's workout, even though our shouts of joy scared more than a few dogs out for a walk with their people.

If you head out of Les Corts toward Plaça Espanya, you've got to make a pit stop in the park some call l'Escorxador (which means 'slaughterhouse' in Catalan because of what used to stand here), but most know as the Joan Miró park, and over which the artist's 'Woman and Bird' statue presides. You'll see it right away. Wait your turn and get on with a friend or on your own. Just put the 'seat' between your legs, jump off the platform with a push and away you go! Be sure to give yourself or have a friend give you a little push or you might not make it to the other side, finding yourself stopped somewhere in the middle.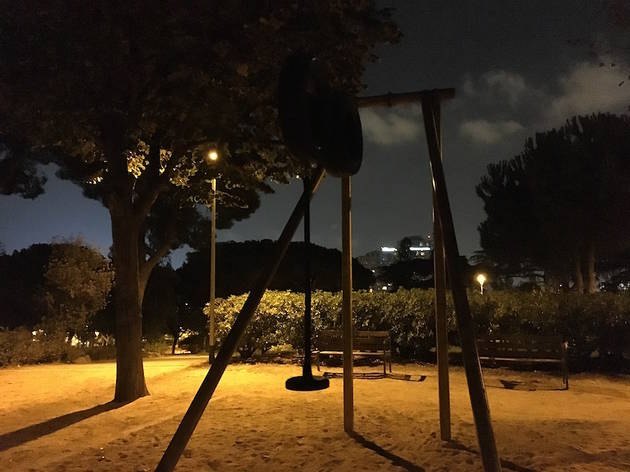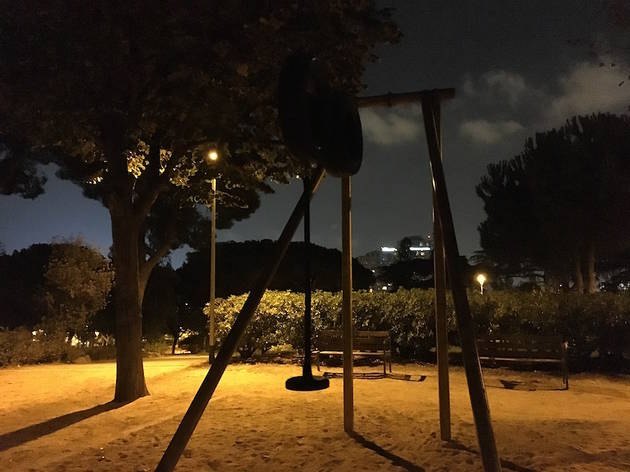 Not much farther away is Barcelona's magical Montjuïc mountain. Synonymous with views, nature and kids. If you've got children, take them immediately to the Jardins de Joan Brossa. Low-standing balance beams, slides, climbing ropes... and a giant zip line! Classic, with a pulley and some wooden support beams, and in fun surroundings. This is an urban park, but it also boasts lush vegetation and a bit of wild nature. What's more, its past perfectly explains its current adventurous spirit: years ago this was the site of the old Montjuïc funfair.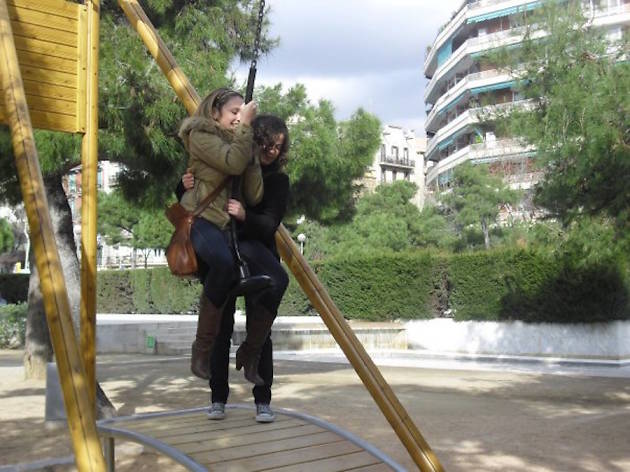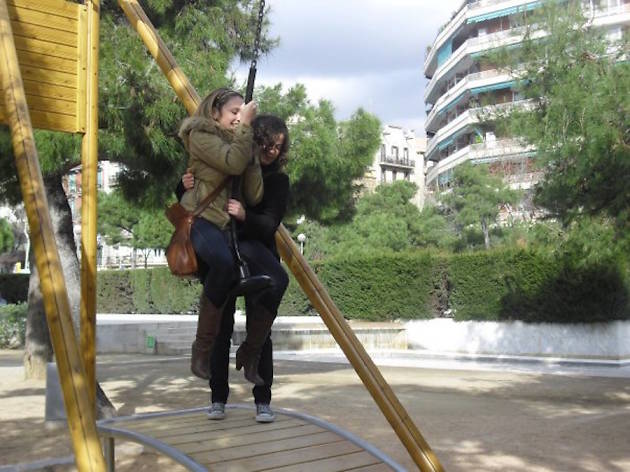 If you've still got energy left for more, your next stop is clear: head to Nou Barris and Sant Andreu. Your first stop is at the small but plentiful park in Plaça Virrei Amat: there's a kids' play area, but the zip line is for everyone, big and small. If you're looking for a bigger space, a ten-minute walk takes you to the immense Parc Central de Nou Barris. One of the park's biggest draws is the Romanesque aqueducts, and the park itself is all about water – fountains, lakes, and other water features. And among all of that is the sought-after zip line. If anyone asks you what you're doing wandering around the park, say it loud, say it proud: heading for the zip line to go for a flight!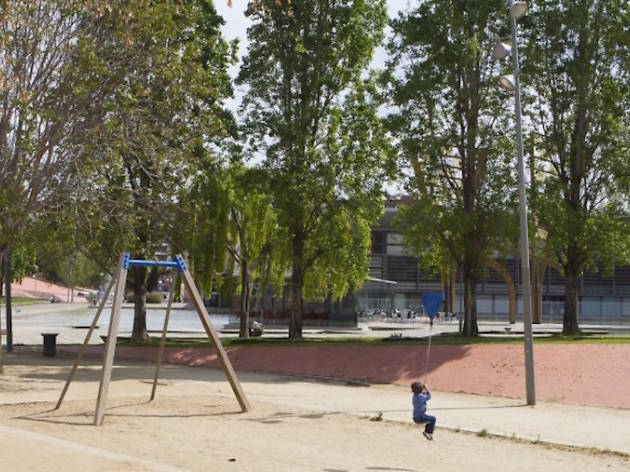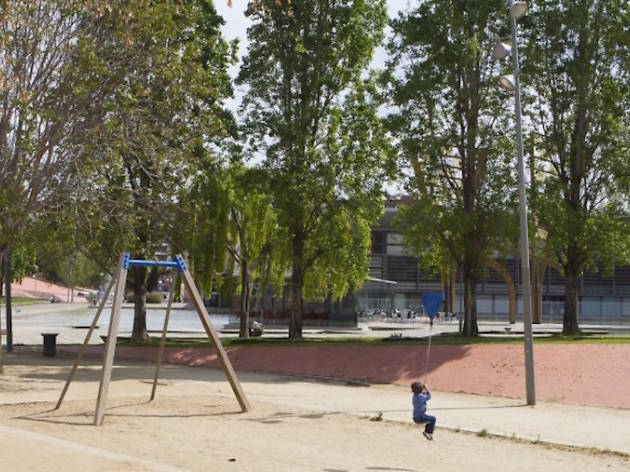 Parc Central de Nou Barris
If you're around the Sant Andreu neighbourhood, the most popular park there also features a zip line. The park has something for everyone: lush zones full of trees, and others that are more open where you can get a bit of sun, and there's a multipurpose sports area where you can play volleyball, basketball or football. One piece of advice: be sure you make time to stroll along the canal that surrounds the space and features different bridges. It's like being on the set of an adventure film.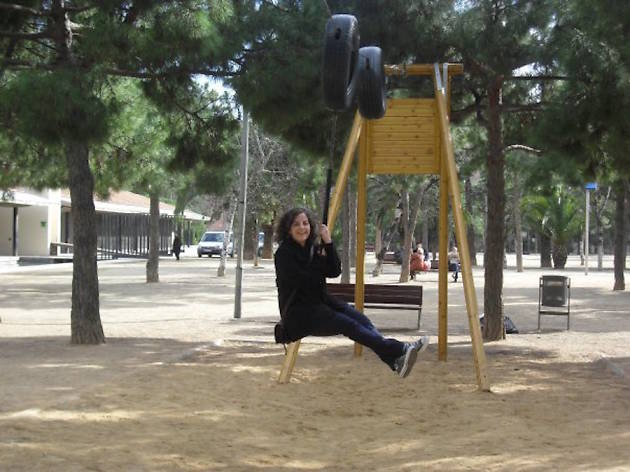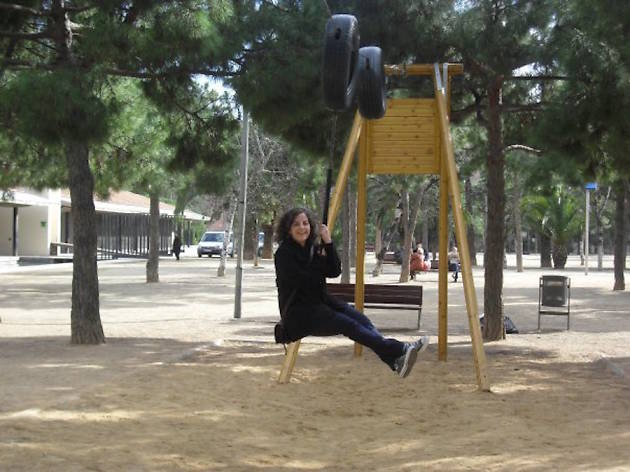 Spending the day on zip lines in parks costs exactly zero euros, which is great! But if you have got a little pocket money to spare, and you're looking for a bit more excitement, you could visit the Barcelona Bosc Urbà (Urban Jungle). In the Parc del Fòrum, the Bosc Urbà offers bungee jumping, walking on logs, swinging from vines, and having a fantastic time on the zip lines.

If you've got a free Sunday and you're at a loose end, head to Parc del Turó de Can Mates. It's out of town, in Sant Cugat, but easy to get to on the FGC trains, and it's slide mecca. This is serious stuff. And not only that but they've got two zip lines. Get your adrenaline going, and that of the kids as well.