Heads up! We're working hard to be accurate – but these are unusual times, so please always check before heading out.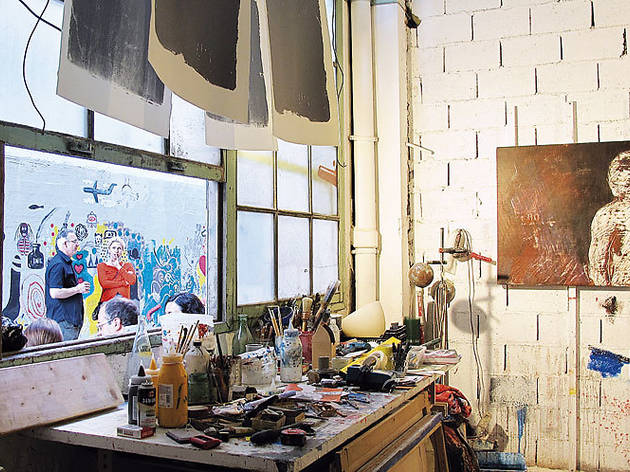 Barcelona's open studio days
Don't miss your date with city's local artists
It would really wear you down if you were to wander around the desolate streets on the outskirts of Poblenou and Poble-sec, then struggling to find the quiet streets of Gràcia on a rainy afternoon, all in pursuit of creatives and artisans eager to share their work. The sessions of the 'Tallers Oberts del FAD' or FAD Open Studios (FAD stands for 'Foment de les Arts i del Disseny', or 'Fostering Art and Design') will make it much easier on you and your feet: you can start in Sarrià, Farró-Putxet and Gràcia, continue through Poble-sec and Ciutat Vella (May 10-12) and end up in Poblenou (May 18-19). You'll be able to ask questions, participate in organised activities or simply cup your chin and observe what the artists outside the city centre have come up with. We've struck gold. You can't miss it - you'll recognize the old textile factory (Pere IV, 345) by the graffiti-covered doors. I peek through the mail slot at the space's interior, which in 1999 was turned into an artists' refuge and, later on, a creative studio. Oh, if these walls could talk. Kike Bela, the director, draws back some of the curtains to the artists' workshops: in some, order reigns supreme, while others, like Joan-Marc Llapispanc's, are performance art in themselves. Bela advises that La Escocesa is a restricted access space, so we're in luck that it's part of FAD Open Studios. They'll invite you to paint the Scottish Wall and visit the resident artists' studios. Here, outside the city centre, you can feel the art in the air. If you speak Italian, you'll feel right at home in this architecture studio/furniture restoration shop owned by three neighbours in Poble-sec (Tapioles, 30). Giulia, Roberto and Gabriele are amusing themselves by looking at the map of studios opening in the neighbourhood. 'Our numbers are growing more and more,' they say. Though they seem surprised, they say that there are even more talented people who still haven't decided to jump in. Their recycled furniture has shocked and triumphed in Milan, and, among other projects, the café Babèlia and the remodelled flats in Palau Reial are particularly impressive. On their open day they'll explain the details, probably also mentioning how much they like their place in this world, and getting out and walking around the art-filled streets. They're the kind of architects that don't hide away. At Elies and Gaby's studio (Perill, 39), the Helveticas and the Times, made of lead or of wood, rest in drawers waiting for their turn to make an impression. At Granja Gràfica they specialise in letterpress, a technique that is 'blindingly obvious', they tell me with a smile. They just need a mould, paper and pressure, and the results, if you like typography and screen-printing, are spectacular. Don't pass up this one if you take the route through Gràcia: you'll be able to watch them work or have them instruct you on how to use the old printing machines. Ironically enough, the use of old-fashioned methods has become one of the hallmarks of modernity. Magda Polo, director of FAD Open Studios, advises that many studios are standing precariously on the brink of eviction, and that they are vital in keeping peripheral art alive in the city. Julia Grima (Carretes, 5) never gives up: she's been dedicated to furniture for 30 years and has searched for alternatives to survive the decreased demand. That's why she has created displays for Mucha Fibra and Cera 23, and she'll soon have an exhibit at Sala Fènix. Many artisans have needed to reinvent themselves, and she explains the secrets to never stop touching wood.