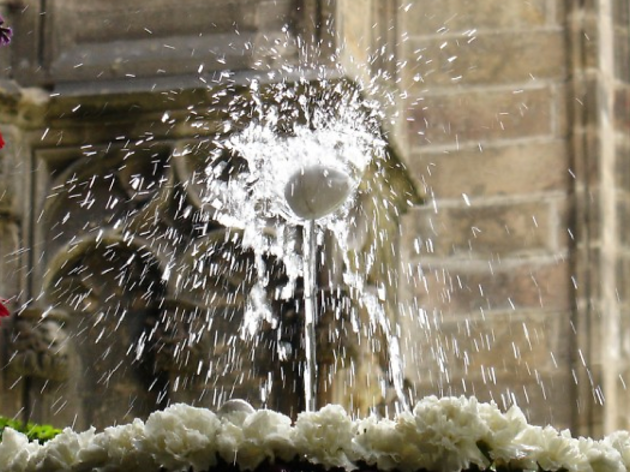 Sixty days after Easter Sunday, on Corpus Christi, locals celebrate the tradition of 'L'ou com balla', or 'the dancing egg'. For this day, church fountains all across Barcelona are lavishly decorated with flowers, and an egg is set atop the stream of water, where it does its dance. No one knows exactly how the curious tradition started, but the most widely accepted start date is 1637 at the Barcelona Cathedral. Today, locals flock there or to one of the other city churches to witness the egg, which represents rebirth or Holy Communion (depending on who you ask), bounce and twirl and dance. This year, from June 15 to 18, you can see the dance for yourself at the cloister in the Cathedral, as well as the cloister in the Basílica de la Purísima Concepción (Aragó, 299), the gardens of the Frederic Marès museum, or at the Historical Archives of the City of Barcelona.

In recent years, the tradition has grown in popularity, and the egg also dances in other traditional spaces such as the Capitania General palace (Passeig de Colom, 14), the Maritime Museum, the Casa dels Entremesos, and the gardens at the Ateneu, among others. At the Jardins de Rubió i Lluch (Hospital, 56), they've even prepared a carpet of flowers to go along with the dance.

Another highlighted activity during Corpus Christi is Open Day at various emblematic buildings around Barcelona. From the Ajuntament government building to the Pedralbes monastery, to other lesser-known places such as the Acadèmia de Bones Lletres (Bisbe Caçador, 3). Find more spots celebrating Corpus Christi Open Day.

What's more, on Sunday 18 you can catch the festive parade that closes the celebrations. It kicks off at 7.15pm from Plaça Sant Jaume, and heads along C/ del Bisbe and Plaça Nova, where it joins up with the Corpus Christi procession, which itself leaves from Av de la Catedral at 7.45pm, heading then to Plaça Nova, C/ dels Arcs, Portal de l'Angel, C/Comtal, Via Laeitana, and C/ de Joquim Pou, before heading back to the Av de la Catedral once again.