Heads up! We're working hard to be accurate – but these are unusual times, so please always check before heading out.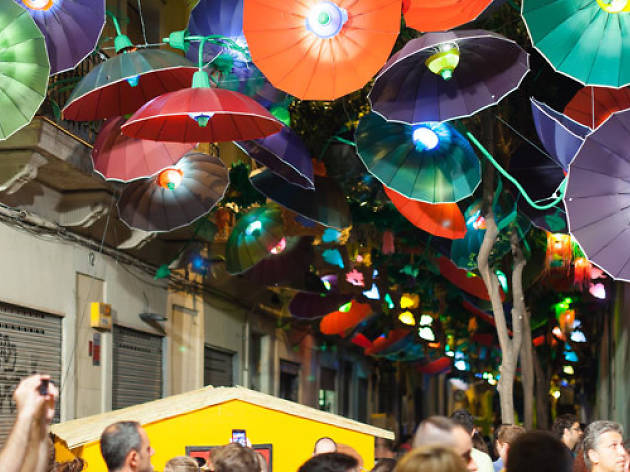 Festa Major 2016: Gràcia's big party!
Your guide to the best of the concerts, festivities and phenomenal street decorations during Gràcia's big neighbourhood party, from August 15 to 21
The barrio of Gràcia throws Barcelona's most popular Festa Major (basically, a big street party that goes on for days and days) of the year. A huge attraction is the effort the neighbours put in to decorating their streets for bragging rights of having done the best job. A tip: Wander the streets during the day to see the most decorations and avoid the sometimes overwhelming crowds at night. It's also best to check out the street dressings earlier in the week in case the elements or over-excited revellers disturb the works of art. There's also a packed programme of concerts, events and activities, so to help you out, we've made a selection of our favourites. Get over to Gràcia and enjoy the fun and festivities any or all of the seven days of the festival.
Map of decorated streets and squares
Click or tap on any point or line to find out about the decorations in each street and square!
What's on in the streets and squares
You'll find plenty of things to do every day during the Gràcia Festa Major. For example, from August 13 to 21, at 6pm daily, you can visit the bomb shelter in Plaça del Diamant, and you'll also find a wine route featuring D.O. Catalonia vintages in various decorated streets each evening.

There will be plenty of food on offer too. The Plaça Jardines Manuel Torrente turns into Tasta Gràcia, a space that brings gastronomic culture to the Festa Major. There's also an Artisan Fair in Plaça de la Virreina, and another on Passeig de Sant Joan.
Kids can cool off in Plaça de la Vila de Gràcia every day at noon with a fiesta of water games.
Every Festa Major worth its salt starts off with a bang. So Sunday the 14th at 6.30pm, drummers mark the beginning of the party in a parade that starts in Plaça de la Vila, where local journalist Imma Sust also reads the opening speech, at 7.30pm.
On Monday you have a date with popular culture and a parade that leaves from the intersection of Gran de Gràcia and Santa Àgata at 6pm and heads along Gran de Gràcia, Travessera de Gràcia, Torrent de l'Olla and Diluvi, ending up in Plaça de la Vila de Gràcia.

In C/Perla check out the Roller Derby (7pm) tease, and in Plaça del Diamant (known as Plaça del Swing these days) you can dance the lindy hop at 10pm. Kids will have a great time with the inflatable pool set up in Espai Joanic (from 11am).

You can also take part in the barbecue at 1pm in Plaça del Poble Romaní. At 6pm, local and African drummers perform in C/Mozart, and at 7pm, you can test your powers of seduction in the speed dating set up in Travessia de Sant Antoni.

Kids can work on their dance moves in the children's rock workshop on at 7pm in C/ de la Llibertat.


In C/Perla, from 7pm you can check out an exhibition of street art, and earlier, at 12.30pm, in Plaça de la Vila, there's a huge Tapas Competition with chef Fermí Puig.

Other options include a rumba dancing workshop for kids at 11am, and at 1pm, there's vermouth with a rumba vibe, all with Rumba y Son, in Plaça del Poble Romaní.

In C/ del Progrès, at 9pm, get in on the cinema dinner featuring 'bikini' sandwiches (ham and cheese toasties) and popcorn at pleasing prices.
If the heat's getting to you, head to Plaça de la Vila from noon for water games, or to C/Mozart at the same time for a big water fight.
Dine on grilled sardines and delicious 'pa amb tomàquet' (tomato bread) at 9pm in Plaça de Sant Miquel, or enjoy a night of outdoor cinema and brushing up on your language skills with 'La rumba de Barcelona' (1992) and 'Triana pura y pura' (Ricardo Pachón, 2013), from 10pm in Plaça del Poble Romaní.
Get the day started with a pilates class in Plaça Rovira i Trias at 11.30am, and to cool off, head to Plaça de la Vila at noon for water games.

To check out a traditional Catalan dance, and to get the kids involved if you've got them, head to C/ de la Perla at 12.30pm for a 'sardana' beginners' workshop for children.

In C/ del Progrès there's a vermouth charity event to benefit people of the Sahara at 1.30pm. And at 7pm in Plaça del Poble Romaní there's a rumba-clapping workshop with Peret Reyes. Also in C/ de la Perla, at 9.30pm, you'll find hairdressing and beard styling available.
The 'castellers' (human tower builders) are the stars of the day today, with local faves, Castellers de Gràcia, doing the Baixada del Pilar Caminant – this is a walking human tower! – from Plaça del Sol to Plaça de la Vila (7.30pm). Once in Plaça de la Vila, you'll see 'castells' (the human towers themselves) built by groups of castellers: Castellers de la Vila de Gràcia and La Colla Jove Castellers de Sitges.

Earlier in the day, on Passeig de Sant Joan, you can check out a demonstration of the canine unit of the Mossos d'Esquadra, at 11.30am and again at 12.30pm. For kids, at 11am there's a ceramics workshop in C/ del Perill, and at 5pm they can try their hand at guitar with Marc 'Dantuvi' Menéndez in Plaça del Poble Romaní. In the same square, at 8pm, you can have a Cuban dinner. Later, if you want to see if swing dancing is for you, head to Plaça del Diamant where there's a workshop at 10pm.
But the big castellers party of this year's Festa Major is on Saturday the 20th at 6pm in Plaça de la Vila de Gràcia, featuring the casteller groups Xiquets de Reus, Castellers de Vilafranca and Castellers de la Vila de Gràcia. If you want to see how the Xiquets de Valls do their thing, check them out also in Plaça de la Vila, from 5.30pm.
Fans of dancing should head to Plaça del Diamant at 7.30pm for some traditional dance, and there will also be an open class for salsa and bachata (7pm) in Travessia de Sant Antoni. In the same street, at 11pm, there's a big party with Chica B, the session DJ from hugely popular local club parties Churros con Chocolate and La Ká, who'll play '80s and '90s electropop tunes.
The Espai Joanic goes 'beastly'. At 11.15am and at 5.30pm there are workshops with dogs and interactive toys; at noon there's a circuit of canine activities, and at 12.30pm and at 6pm, those who are looking to share their home with a pet will be able to choose from the catwalk of animals up for adoption. At 7pm you can take in the show of dog tricks and dancing dogs. And if you're hungry, there's a vegan dinner at 9pm.

For something different, at 11.30am you'll find games with water balloons for kids in Plaça de Sant Miquel, and at noon a reflexology workshop in C/Mozart. At 5pm, put your wrists to the test in the table football championship in Plaça Rovira.
It's the last day of the festival, but there's plenty of sparks flying still, with the 'correfoc' (literally 'fire run) on today. First there's a correfoc for kids at 6.30pm in Plaça del Diamant, which heads along C/Astúries, Plaça de la Virreina an Torrent de l'Olla, among other streets, and ends up in Plaça de la Vila.
The 'big' correfoc lights up at 9.30pm and goes from Plaça Trilla along Gran de Gràcia, Maurici Serrahima, Torrent de l'Olla, Bellver, Plaça del Nord, Rubí, Torrent d'en Vidalet, Terol, Diluvi and Plaça de la Vila.

But there's much more going on in the day as well. At 10am you can check out the giants parading along the decorated streets, and at 3.45pm the gymkhana gets underway in Plaça de la Vila.
If you've got kids, you might want to head for the puppet show in Plaça del Diamant at 11am. And then at 12.30pm and 6pm in Espai Joanic you've got two more chances to adopt an animal that needs a loving home.

If you fancy lunch in the neighbourhood, join in on the big fideuá (similar to paella but with noodles instead of rice) feeding fest in Espai Joanic at 2pm.
Live music and performances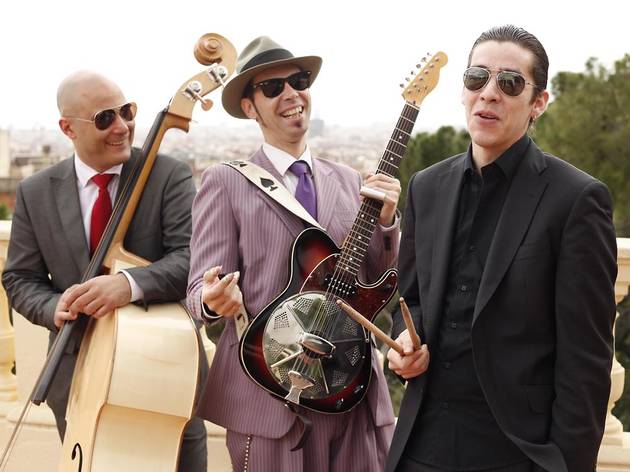 Hernan Senra – better known by his nickname 'Chino' – has taken his music all around Europe with his band The Big Bet, and now you can catch them in the Gràcia festival on a night filled with rhythm and swing in Plaça del Diamant, which this week is known as Plaça del Swing.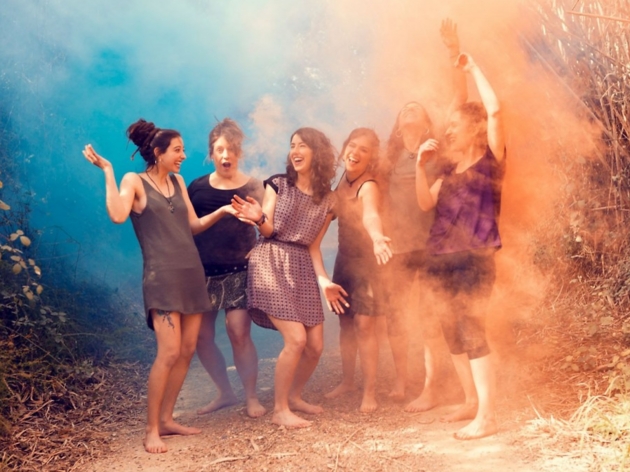 Roba Estesa, a band that represents the spirit of the old troubadors, closes out this edition of La Plaça del Folk with their personal style and their music that moves from rumba to folk, and touches on traditional Catalan and signature melodies.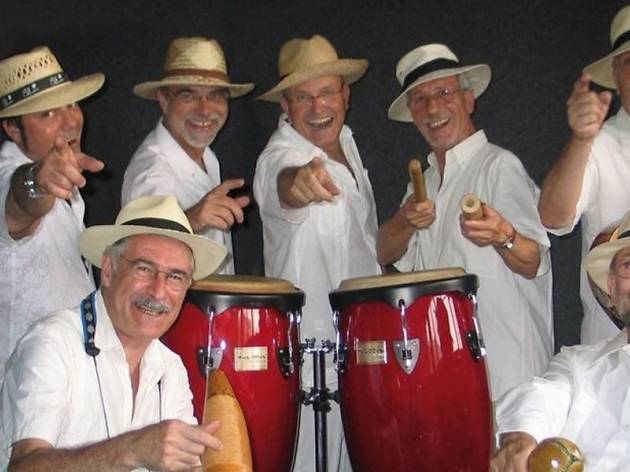 The Catalan version of the Buena Vista Social Club brings to the Gràcia festival their 'dream' ('son' means dream in Catalan) to fill the festival with guaracha, bolero, nengon and trova rhythms. If those words are all strange to you, don't miss Son de La Rambla and it'll all become clear.