Ice skating in Barcelona
Get your skates on, grab the family or friends, and go ice skating in Barcelona!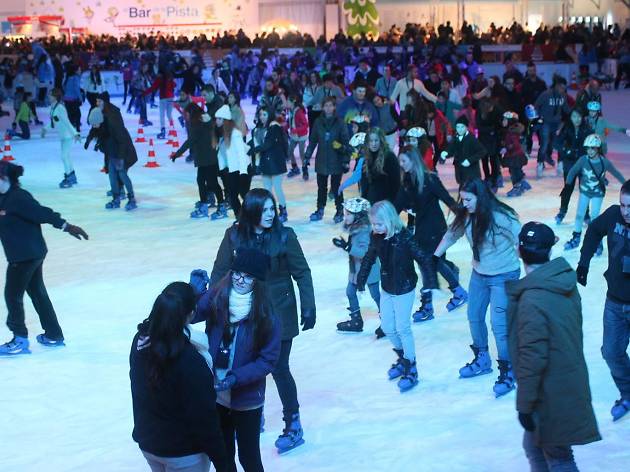 By

Carlota Martí (Lymbus)
|
Most of us just stumble round and round on ice skates like a herd of clumsy sheep, as we hold on to anything we can to try not to fall. Yet we still go mad for the ice. If you're looking to scrape around in your own ice show in Barcelona, look no further. We've compiled a list of ice rinks in the city where you can perfect your figures of eight or just see who can remain upright for the longest.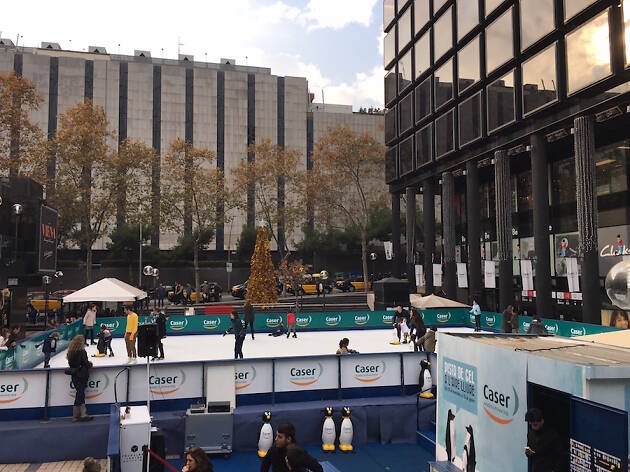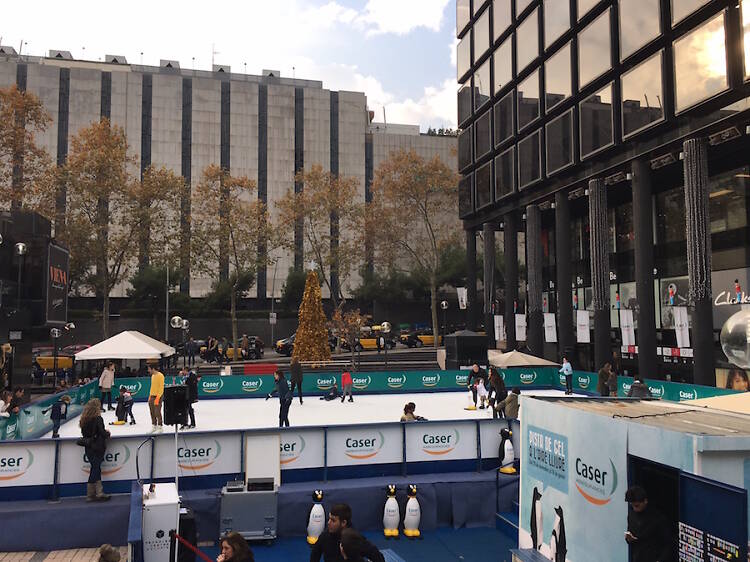 Most of us can bring to mind the famous ice rink at Rockefeller Centre even if we've never skated across it. We've seen it in so many films and TV series, and whenever we head to the rink at the Pedralbes Centre, we feel like we've been transported straight to New York. Though smaller than some of the other ice rinks in town, this one has plenty of charm, and it's ideal for kids. The rink is a pioneer in Barcelona, having first opened in 1999 at this shopping centre in the Les Corts neighbourhood, livening up the holiday season.

Dates: Nov 25, 2017 – Jan 7, 2018
Times: The timetables change depending on the day
Prices: €8 (€5 during 'low-cost' timetable, subject to change: 11am-noon, 2pm-4pm, 8pm-9pm)
Jump on the metro and head out to L'Hospitalet for a day at the annual ice rink in Kaliu Park (previously known as BarGelona). La Farga hosts Kaliu Park, a Christmas fun space divided into three zones: Ice, Creativity and Fun. In the first you'll find a 4,000m² ice rink with room for 350 skaters and a giant 50m ice slide. There's also a 200m² rink for kids equipped with trained helpers. In the Creativity zone, you'll find circus and percussion workshops, dance activities, or kids' concerts. And in the Fun zone try your hand at 3x3 basketball, table tennis, the 'world of games', bouncy intallations, and a play area for the littlest ones. What else could any kid (big or small) ask for?
Dates: Dec 21, 2017 – Jan 7, 2018
Times: Daily 11am-9pm. Exceptions: Dec 25, 11am-2pm, 5pm-9pm; Dec 31, 11am-7pm
Prices: 1/2 hour skate: €7, 1 hour skate: €10; 3 goes on the slide: €5; glove rental: €2; crampons (adults can accompany kids on the ice): €3
At La Maquinista shopping centre, you'll find their annual outdoor ice rink ready to go. Adults and kids can skate on the 200m² icy surface for €5 per half hour. There are special days when the price goes up to €7. Anyone with a Maquinista VIP card gets a discount. The shopping centre is decorated with traditional Christmas lights, and the outdoor rink is located in Plaça del Rellotge, surrounded by shops and cafés, as well as a giant Christmas tree. The set-up is similar to that of the Pedralbes Centre rink – cosy and with the advantage of combining your shopping with a nice ice-skating break (or vice versa).

Dates: Nov 24, 2017 – Jan 7, 2018
Times: Mon-Fri 5pm-9pm (last entry 8.30pm); Sat, Sun, holidays, and Dec 23 to Jan 7 11am-2.30pm, 3.30pm-9.30pm (last entry 9pm); Dec 24 and 31, and Jan 5 11am-2pm, 3.30pm-8pm (last entry 7.30pm); Dec 25 and Jan 1 5pm-9.30pm (last entry 9pm)
Prices: General: €5/30 min. Special days: €7/30 min (Fri, Sat, Sun when the shopping centre is open; holidays and evenings before holidays; during the school holiday period). Gloves are available for rent for €1.50/pair
Things to do, Quirky events
This indoor year-round rink is a sure thing for having a great time on blades. Any day of the year you can try out your fresh moves for about €15, skates included. Be sure to check their website for discounts and deals for solo skating or for you and three of your friends. And if you have kids, it's a great place to throw a birthday party for them.
Dates: Year round
Times: Mon-Fri 10.30am-2pm, 4.30pm-8.30pm; Sat 10.30am-2pm, 4.30pm-9pm; Sun, holidays 10.30am-2pm, 4.30pm-8.30pm
Prices: €15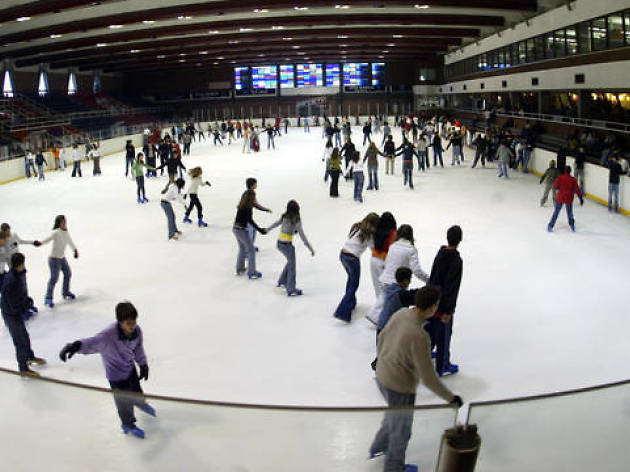 Sport and fitness
La Maternitat i Sant Ramon
You've likely heard of this place before... The Barça ice rink is one of the most emblematic in the city, where a blue-and-red heart beats. Near Camp Nou and the Palau Blaugrana, the FC Barcelona ice rink hosts training sessions and competitions of figure skating and hockey, and the rink is open to the public every day of the week. With prices similar to Skating Club (above), you get skates and turns on the ice for €13.40 (Barça members get a discount). Note that gloves are obligatory, as are helmets for under-12s.
Dates: Year round
Times: Mon-Thu 10am-2pm; Fri 10am-2pm, 5pm-8pm; Sat, Sun, holidays 11am-2pm, 5.30pm-8.30pm.
Holiday season: Dec 24, 2017 – Jan 7, 2018: Mon-Fri 10am-2pm, 4pm-8pm; Sat, Sun, holidays 11am-2pm, 4.30pm-8.30pm. Closed: Dec 24 evening, Dec 25 all day, Dec 31 evening, Jan 1 morning, Jan 6 morning
Prices: €13.40 (€8.70 for Barça members); glove rental €3; helmet rental: €3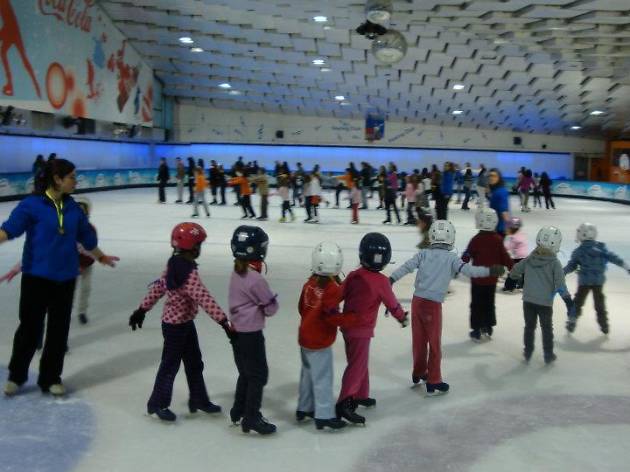 Finding a place to ice skate in Barcelona is easy enough. You can take to the rink practically whenever you want at Skating Club or the Barça installation. But learning how to do pirouettes, figures of eight and other fancy moves is not so simple. If you've always had dreams of swirling with grace around the ice, know that these same two places also offer classes for all ages and levels, so you have no excuse not to try it out. The courses are quarterly, and you'll invest about €200 in your lessons. Barça's are one hour per week, and at Skating Club they're an hour and a quarter per week.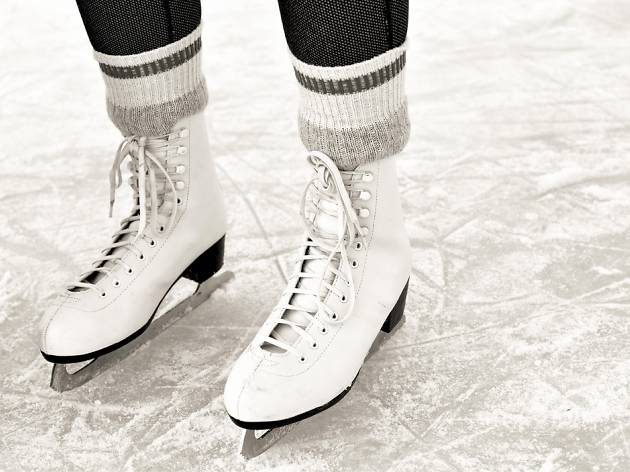 Get your own pair of skates
If it's clear that you were born to ice skate and you're tired of wasting all that money on ill-fitting rental skates, it just might be time for you to buy a pair of your own. At L'Estel Skates (Canigó, 3) they offer a variety of figure skates, hockey skates and roller skates; in fact, they're the official suppliers of the Spanish Federation of ice skating and roller skating. In addition to kitting out your feet, you can find great clothing and accessories like skirts, thermal tights, backpacks and much more than you can possibly imagine.