Heads up! We're working hard to be accurate – but these are unusual times, so please always check before heading out.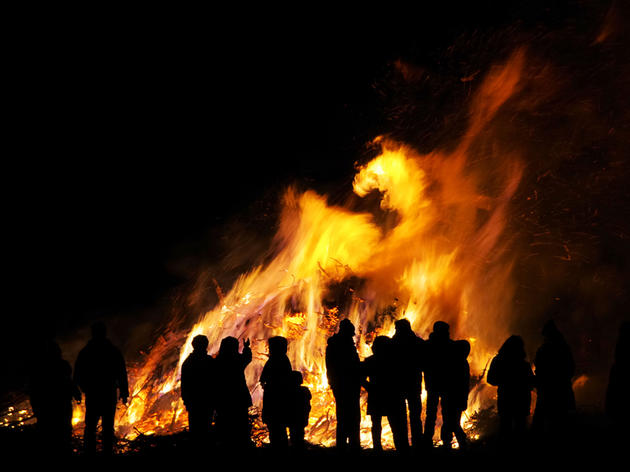 Sant Joan eve parties around Barcelona
Bonfires, bangers, sweet 'coca' pastry, music, dancing... Find parties for the eve of Sant Joan in Barcelona's streets, squares and clubs, to celebrate the summer solstice
Sant Joan 'verbenas' (parties the night before a holiday) are some of the most anticipated and most celebrated in Barcelona. So don't panic if you're wandering around town and you see a bonfire in the middle of a square. You'll also find dancing, outdoor neighbourhood meals, and even concerts all around the city. If you want to plan in advance, here are some we can guide you to – and you can always head down to the beach where you're sure to find a massive party.

RECOMMENDED: Don't miss out on the traditional Sant Joan pastry! Find out where to get the best Sant Joan cocas in town.
Sant Joan parties and events
Authorised bonfires
– Rambla del Raval
– Plaça del Poeta Boscà
– Passeig de Lluís Companys, near the Arc de Triomf
– The corner of C/ d'Espronceda with C/ de Ramon Turró
– C/ de Huelva, 57
– Jardins del Clot de la Mel gardens
– Av de Meridiana, 99 (between Aragó and Corunya)
– LGBTI Sant Joan verbena in Consell de Cent (between Muntaner and Casanova)
– The intersection of Provença and Rocafort
– C/ Lepant with Ribes / Casp
– Consell de Cent, 158
– Passatge Lluís Pellicer
– C/ Viladomat (between Floridablanca and Tamarit)


– Plaça del Sol
– C/ Fraternitat (between Torres and Tordera)
– C/ Berga (between Cigne and Sant Marc)
– Centre Cívic El Coll - La Bruguera - Espai de Gent Gran
– Jardines Can Brasó gardens
– Jardins de Cal Sèbio gardens, as part of the Marina Festa Major festivities
– El Sortidor Civic Centre
– Casa del Rellotge
– Parc de l'Espanya Industrial
C/Europa (between Galileu and Gandesa)
– Plaça de Virrei Amat
– Plaça de Sóller
– Plaça de Can Fabra
– Plaça dels Jardins d'Elx
– Plaça Congrés Eucarístic, 1
– Plaça Orfila
La Llosa de Via Augusta, between C/Graus and C/Dolors Monserdà